Munnabhai looks for his roots in Lucknow
But fails to visit the house where his father stayed as a tenant
Shahira Naim
Tribune News Service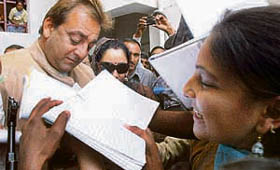 Samajwadi Party candidate from Lucknow constituency Sanjay Dutt signs autographs for fans during his daylong visit to Lucknow on Wednesday. — PTI
Lucknow, February 18
The mission is political entry into the Parliament. And the route chosen by actor Sanjay Dutt, the SP candidate from Lucknow, is through the by-lanes of family history.
Yet, Sanjay Dutt's attempts to reclaim his family roots in the city today turned out to be a bit of an anti-climax that left thousands of his fans disappointed. He was expected to pay a visit to a run-down house no. 102 in Ganne Wali Gali in the crowded Aminabad area earlier in the day.
It was this house where his father Sunil Dutt stayed as a tenant for three years after he came to India following the Partition in 1949. Working for AIR, the senior Dutt soon left for Mumbai to try his luck in films. The house remains where it is. Rizvis, its original occupants, have moved to a flat in the posh Jopling Road area, leaving the old, dilapidated house locked.
Today, the locked house no 102 had been opened. The road had been given a wash and the area cleaned and decked up to welcome the celebrity son of its once-illustrious occupant. However, the thousands who had lined up to have a glimpse of the famous actor-turned-politician were sorely disappointed.
Owing to "security reasons", Sanjay Dutt had to drop his visit to the house in Ganne Wali Gali at the very last minute. While he had never visited the house earlier, Sanjay did not miss the chance to completely forgo his so-called Lucknow roots.
Instead, he decided to visit the Rizvis. For the Rizvi family, it was a walk down memory lane. During the 40-minute stay, the Rizvis showed Dutt and his wife Manyata the many mementos that they treasure. There were letters and photographs proving their nearness to Sunil Dutt. As per tradition, the elders in the Rizvi family gave Manyata the new 'bahu' her 'moonh dikhayi'.
Visibly touched by their warmth, Sanjay told news channels: "I am overwhelmed by their affection. I now have a family in Lucknow as well."
Later, in an interaction with the media over lunch, it was this emotional connect with the city that Sanjay emphasised. SP president Mulayam Singh Yadav, general secretary Amar Singh, SP MP Jaya Prada and wife Manyata accompanied him,
According to the actor, like his father he too was mainly a social worker who listened to his heart. "My father was not a hard-boiled politician, neither am I."
Promising to give as much time as possible to Lucknow, the actor is soon to start the process for clearing legal formalities for contesting elections. He hopes to begin his campaign in the city at the end of March.
Till then, he looks forward to frequently coming to the city to familiarise himself with the people who mob him wherever he goes. However, he claims to have no problem in dealing with the crowds as this is something he is used to handling.