Fluctuation damages electric appliances
Ludhiana, February 20
Electrical fixtures and appliances of a large number of houses were damaged in the New Chander Nagar locality under Haibowal sub-division following fluctuation in voltage caused by snapping of a power cable in the area.
Kidnapping of Sarpanch
Former jail supdt, ex-cop face trial
Ludhiana, Feburary 20
A local court has summoned former deputy jail superientedent, Jalandhar, Mohan Singh and former CIA in charge, Batala, Ashwani Kumar on the charges of kidnapping former sarpanch of Baunkar Gujran Amarjit Singh and making casteist remarks.
'Jag Jeondyan De Mele' scores over 'Delhi-6'
Ludhiana, February 20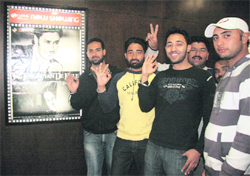 It was a good day for Punjabi cinema as Harbhajan Mann's "Jag Jeondyan De Mele" took lead over Abhishek Bachchan starrer Delhi-6 on the opening day today.






Youngsters flash 'V' sign after watching the movie in Ludhiana on Friday. Photo: Rajesh Bhambi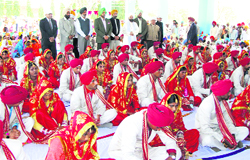 41 couples tie nuptial knot
Jagraon, February 20
In a service towards downtrodden and poor families, the Guru Nanak Charitable Trust, Glasgow, the UK, helped 41 couples to get married.



Couples at a mass marriage programme at Cheemna village on Friday. A Tribune photograph
'Clean drinking water within 3 yrs'
Ludhiana, February 20
Zila Parishad chairman Manpreet Singh Ayali said Ludhiana district was leading in implementing the Rs 1,280-crore village drinking water and sanitation project being funded by the World Bank.
'Declare bank holiday on Shivratri'
Ludhiana, February 20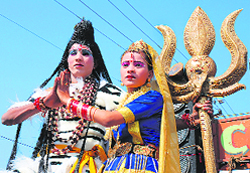 Several Hindu organisations have urged the state government to declare a holiday under the Negotiable Instruments Act on Shivratri, which falls on February 23. They said it would enable employees of the banking and insurance sector to observe their religious festival.


Children dress up as Lord Shiva and Parvati during a shobha yatra ahead of Shivratri in Ludhiana on Friday. Tribune photo: Himanshu Mahajan
Arrest of party man
Congmen gherao police station, block highway
Samrala February 20
Congress worker Gurpal Singh, who was arrested by the Samrala police last night, was today released unconditionally after Congress workers, under the command of ex-MLA Amrik Singh Dhillon, gheroed the Samrala police station and blocked traffic on the Ludhiana-Chandigarh National Highway for about 2 hours.
Virasata organises workshop for unemployed
Ludhiana, February 20
Working for the upliftment of the educated and unemployed youth, Virasata, a city-based NGO, organised a day-long orientation workshop at Sasuralli colony near Gaunsgarh today.
7 head of cattle charred to death
Khanna, February 20
Seven buffaloes, including four calves, were killed in Soiyan village late last night due to fire. The animals were owned by a family belongs to the Gujjar community, who had been putting up near bus stand of the village for past nearly four years.
Portal for textile exporters
Ludhiana, February 20
Under its initiative Project Vikas, Microsoft India announced the launch of an E-Readiness Centre (ERC) and a common portal for textile exporters and manufacturers here today.
Dhindsa lays stone of link road
Mandi Ahmedgarh, February 20
Sukhdev Singh Dhindsa, MP from Sangrur, and general secretary of the party, laid the foundation stone of a 3-km link road from Dhaler Kalan village to Kanganwal village near here today.
'It may take time to overcome recession'
Ludhiana, February 20
It may take long for the economy to come out of the ongoing global recession, said Himadari Chatterjee, senior vice-president of Axis Bank, Mumbai.
350 examined at eye camp
Jagraon, February 20
The 34th eye-checkup camp and the sixth eye-operation camp was organised by the Lions Club in the civil hospital here today. The camp was inaugurated by Bhag Singh Malla, chairman, district planning board. Gurdeep Singh Bhaini, MLA, Jagraon, was the guest of honour.
Manvir best in mask making
Doraha, February 20
The students of Green Grove Public School, Mohanpur, showed their skills in flower arranging, snack-making, salad decorating, gift wrapping, mask-making and paper folding competition under two categories ie juniors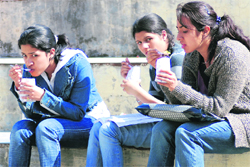 Girls enjoy food on a sunny day at Khalsa College for Women, Ludhiana, on Friday. A Tribune photograph
Board exams from today
Ludhiana, February 20
All arrangements for the examinations of class VIII and XII of the Punjab School Education Board (PSEB) have been finalised.
From Schools
Tiny tots excel in story telling
Ludhiana, February 20
Bal Bharati Public School organised a story telling competition for its pre-primary wing (Classes nursery, mont-I and mont- II). The students participated in the competition with great zeal and enthusiasm.
Punjabi University Don feted
Mandi Ahmedgarh, February 20
Recognising his contribution to the field of journalism and education, social and religious organisations of Butahri village felicitated Harjinder Pal Singh Walia, reader and chairman department of journalism and mass communication,
Payal wins declamation contest
Ludhiana, February 20
The political science department of Ramgarhia Girls College organised an inter-class declamation contest.


2 booked for gambling
Khanna, February 20
The police today arrested two persons for gambling at a public place.


Simarjeet emerges winner in 200m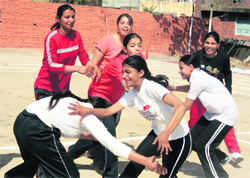 Ludhiana, February 20
Rupinder Kaur was adjudged the best athlete during the annual athletics meet of Mai Bhago College for Women held here today. The principal of Jagraon DAV College and fellow and syndic, Panjab University, Dr Satish Kumar Sharma, was the chief guest on the occasion.




Students of Mai Bhago College for women during the annual athletic meet. Photo: Rajesh Bhambi
Daudhar clinch kabaddi title
Jagraon, February 20
The team of Daudhar won the title of Kabbadi Open Championship by defeating the team of Jandi village.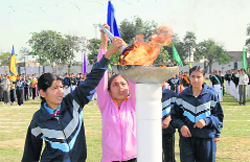 Athletics meet for girls ends
Doraha, February 20
The 35th annual athletics meet for girls of Guru Nanak National College, Doraha, concluded today. The meet was inaugurated by Dr Harbans Singh, former principal of Khalsa College, Amritsar, and GTB National College, Dakha.

Girl athletes of Guru Nanak National College, Doraha, holds the torch during the annual athletic meet on Friday. A Tribune photograph
Double delight for Rimpledeep
Jagraon, February 20
It was a double delight for Harvest Tennis Academy trainee Rimpledeep Kaur of Punjab in the AITA Championship Series Tennis Tournament being played at the sprawling campus of the Harvest Tennis Academy at Jassowal, Ludhiana.
Sukhjinder Kaur best athlete
Raikot, January 20
Swami Ganga Giri Girls College conducted a two- day athletics meet, which was concluded here today by Dr Charanjit Singh Grewal, director sports, Punjab University, Chandigarh.