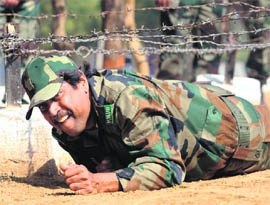 Former Indian cricket captain and honorary Lieut Col in the Territorial Army Kapil Dev takes part in an introductory military training course in New Delhi on Friday. — AFP

India flays Pak denial on Masood Azhar
New Delhi, February 20
External Affairs Minister Pranab Mukherjee tonight hit out at Islamabad for denying the presence of Jaish-e-Mohammad chief Masood Azhar in Pakistan, who was very much there until recently.

Row over promotion of ASC officers
Chandigarh, February 20
Promotion of officers in the Army Service Corps (ASC) has kicked up a controversy. The results of the Selection Board from Colonel to Brigadier have been held up for several months as a "debarred" officer was not only empanelled for consideration by the board, but also approved for promotion.

Key posts: Govt goes headhunting
New Delhi, February 20
With three months to go before it demits office, the UPA government is currently engaged in a frantic talent search for filling top official posts slated to fall vacant in the coming weeks.

PMO bills run into trouble
New Delhi, February 20
The government is in for major embarrassment, with two of its proposed legislations --- the SC/ST Reservation in Posts and Services Bill 2008 and Prevention of Corruption (Amendment) Bill --- running into rough weathers.

Manipur Killings
DC, SP suspended for 'dereliction' of duty
Guwahati, February 20
Situation in curfew-bound Imphal and other parts of Manipur remained tense for the third consecutive day today in view of raging mass protest over killings of three government employees, including a sub-divisional officer (SDO) by unidentified assailants.

Mulayam rules out truck with BJP
Lucknow, February 20
Refuting the charges that the Samajwadi Party (SP) general secretary Amar Singh was not capable of winning even a pradhan-level election, party president Mulayam Singh Yadav today declared that while Singh was keen to contest the forthcoming Lok Sabha polls, he was not in favour of it.

Residents protest over child's murder
Jaipur, February 20
Sikar town observed a complete bandh today in protest against the murder of a four-year-old boy whose body was found in a sewage drain late last evening. A different group of protesters hurled stones at the police in number of places forcing cops to retaliate with mild lathicharge.

Veteran journalist Amita Malik dead
New Delhi, February 20
Veteran journalist and film and media critic Amita Malik died in New Delhi on Friday. She was 86.

SC no to tabling of Godhra report in Parliament
New Delhi, February 20
The Centre today approached the Supreme Court seeking permission to table in Parliament the Justice UC Banerjee Committee report on Godhra fire, but the apex court directed the Gujarat High Court to dispose of a similar plea pending with it in six weeks.

SC tells Rajastahan
Close down illegal mines in Aravallis
New Delhi, February 20
The Supreme Court today directed the Rajasthan government to act on the report of the Forest and Environment Ministry on illegal mining in the Aravalli Hills and close down all such mines. The state government has also been told to file a compliance report within three weeks.

Media panel condemns attacks on journalists
New Delhi, February 20
The South Asia Media Commission (SAMC) has said it is saddened at the killing of a Tamil journalist, Punniyamurthy Sathyamurthy, who was working for Canadian Tamil Radio, Canadian Multicultural Radio and Tamil Vision International Television, based in Canada.

Elders concerned over missing kids
New Delhi, February 20
The disappearance of more than 2,000 children from Delhi alone during the past one year found a loud echo in the Upper House yesterday. Several members supported the issue raised by a BJP member during the Zero Hour, fearing yet another Nithari in the making in the national Capital.

4 PLA activists arrested from Bangla border
Guwahati, February 20
Border Security Force (BSF) personnel manning the India-Bangladesh border in the east Khasi Hills district of Meghalaya apprehended four People's Liberation Army (PLA) militants last night while they were trying to sneak into Indian territory from Bangladesh.