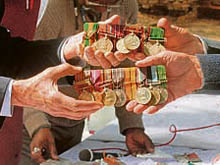 The ex-servicemen, who are demanding 'one rank one pension', collect gallantry medals which would be handed over to President Pratibha Patil, in New Delhi on Saturday. Tribune photo: Mukesh Aggarwal
Nano comments: Modi raps Rahul
Surat/New Delhi, February 21 Gujarat Chief Minister Narendra Modi today criticised Congress leader Rahul Gandhi, asking him not to comment on the state's economic initiatives. The Congress responded by saying that Modi's BJP was pro-corporate and had little concern for the masses.
Plays Telangana card to woo voters
Hyderabad, February 21
Gujarat Chief Minister Narendra Modi was the star attraction at a BJP rally held today in the Telangana heartland to highlight the party's support for the cause of separate state.
Gunbattle in UP court kills five
Lucknow, February 21
Three unidentified assailants shot dead two men in an Uttar Pradesh court today before they themselves were gunned down by the police. The two undertrials were accused of rape and murder.
4 kids charred to death in MP
Singrauli (MP), February 21
Four out of five siblings were charred to death and one sustained severe burns after the blanket they were covering themselves with while sleeping caught fire from a candle at Chakla village near here, police said today.
Arrest warrant against Raj Thackeray
Muzaffarpur, February 21
A local court today issued a warrant of arrest against Maharashtra Navnirman Sena (MNS) chief Raj Thackeray for his failure to turn up to answer accusation of having hurt Bihari sensibilities by his remark on "chhath" festival.
Reform projects in 1,420 cities
Technical losses eating into power pie
New Delhi, February 21
The Electricity Act has obviously failed to prevent power losses in India, with 34 per cent of the total generated power being wasted to technical and commercial losses.
Funds for projects lying unused: CAG
New Delhi, February 21
Even as the government hikes the budgetary allocations each year and makes grand announcements about increased plan outlays, the Comptroller and Auditor General of India has bared how crucial schemes for welfare, health, education and defence were being hampered, as ministries just could not spend the allocated money.
PG Medical Courses
Assam wants to do away with outsiders' quota
Guwahati, February 21
In need of a large number of specialised medical professionals to augment services in the state hospitals and medical colleges, the Assam government has decided to do away with 'outsiders' quota' in postgraduate courses in the state's medical colleges subject to approval of the Supreme Court.
PM likely to attend last day of LS session
New Delhi, February 21
Prime Minister Manmohan Singh is expected to put in a brief appearance on the last day of the ongoing Parliament session on February 26 which will also be the UPA government's last day in the treasury in the 14th Lok Sabha.
Peace delegation to leave for Pak today
New Delhi, February 21
Close on the heels of a "peace mission" by a Pakistani delegation to India, an Indian group of artistes, activists, academicians and journalists is leaving here tomorrow for Pakistan on a week-long visit, carrying the message of peace.
Talibanisation Remark
FIR registered against Renuka
Bangalore, February 21
The Mangalore Rural Police today registered an FIR against Union Women and Child Development Minister Renuka Chowdhury for allegedly promoting enmity between groups with her remarks on "Talibanisation of Mangalore" following attack on women at a city pub by activists of Sri Ram Sene, a Hindu right-wing group.
Former Naxalites back Chiranjeevi
Hyderabad, February 21
After attracting politicians from rival camps, actor-turned-politician Chiranjeevi is now seen as a role model for former Naxalites who have pledged support for his fledgling Praja Rajyam Party (PRP).
Pranab on Lanka
Political solution only way out
Berhampore (WB), February 21
India today expressed concern over the latest turn of events in Sri Lanka, particularly the air raids by the LTTE over Colombo, and appealed to the government and the militant organisation to come to a peaceful negotiated settlement.
Pranab may clarify his position on Lanka crisis
New Delhi, February 21
With political parties from Tamil Nadu deeply agitated over his comments on the Sri Lankan crisis, External Affairs Minister Pranab Mukherjee is likely to clarify his position in a statement in Parliament sometime next week.
Planned violence a plot to topple govt: Karuna
Chennai, February 21
Alleging a conspiracy to topple the DMK government in Tamil Nadu, Chief Minister M Karunanidhi today said "planned incidents of violence" were being organised as part of this conspiracy.
Lankan Conflict
TN leaders turn to US
Chennai, February 21
The Sri Lanakn Tamils Protection Movement yesterday appealed to the US to stop the war in Sri Lanka and save the Tamil population in the island, while actor and Desiya Murpokku Dravida Kazhagam (DMDK) leader Vijaykanth held a massive rally, disrupting traffic for several hours in the city, with a similar plea to the US.
Pranab to meet Qureshi in Colombo
New Delhi, February 21
External Affairs Minister Pranab Mukherjee is likely to meet his Pakistani counterpart Shah Mehmood Qureshi on the margins of the SAARC foreign ministers' meeting in Colombo on February 27-28.
Rampant use of Indo-Pak border by drug traffickers
New Delhi, February 21
In what is yet another signal of India being surrounded by a troubled neighbourhood, about 55 per cent of all contraband drugs like heroin seized in 2008 in India had been sent in from Pakistan. The most popular route for sending the goods being the Indo-Pak border in Punjab and Rajasthan.
K'taka to set up turmeric market
Bangalore, February 21
Turmeric farmers in Chamarajanagar and Mysore districts of Karnataka, who hitherto found it difficult to get their crops transported to the market in Erode in Tamil Nadu, now have a reason to feel happy with the announcement by Chief Minister BS Yeddyurappa yesterday of setting up a turmeric market in Chamarajnagar.
Vaccine Policy
SC notice to Ramadoss, HP
New Delhi, February 21
The Supreme Court today issued notice to Health Minister Anbumani Ramadoss, Himachal Pradesh and seven others on a PIL, challenging a January 2008 order stopping vaccine production in the public sector to the detriment of public health programmes and to the benefit of private companies.
15 Maoists held in Maharashtra
Mumbai, February 21
As many as 15 Maoists have been caught in eastern Maharashtra during an offensive by the police, nearly three weeks after the rebels brutally killed 15 cops in the same area, a top official said here yesterday.
Missing Articles
MP asks SGPC to clarify
New Delhi, February 21
Rajya Sabha MP Tarlochan Singh, today sent a letter to Shiromani Gurdwara Parbandhak Committee (SGPC) chief Avtar Singh Makkar, asking him to clarify as what was the position of the articles that were missing from the Golden Temple since operation blue in 1984.
All parties eyeing Puducherry seat
Puducherry, February 21
The union territory of Puducherry has just a lone seat in the Lok Sabha, but is drawing the attention of all political parties, including regional and state-level units.
A village whose denizens speak in Sanskrit
Rajgarh (MP), February 21
A visit to this district's Jhiri village might make you feel transported back in time to a Vedic era gurukul as all the residents use Sanskrit even while conversing with one another.