Value from waste
IT is 11 am at Kalakshetra Colony — a seaside residential area in south Chennai. The door-to-door garbage-collecting agent of Neel Metal Fanalca, the firm that the Chennai Corporation has hired for clearing garbage in the colony, is leaving with a collection trolley that is still not full.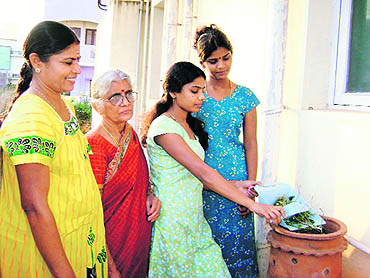 Residents of Chennai's Kalakshetra Colony and Valmiki Nagar have a self-organised garbage management system that hinges on source segregation and composting of organic manure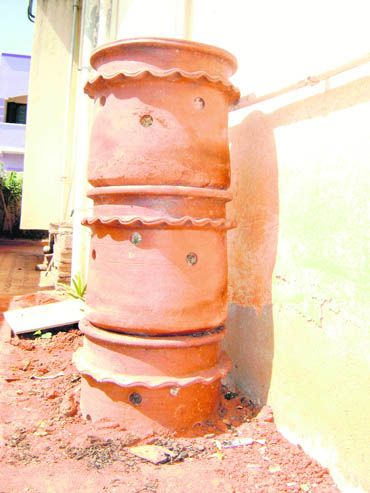 The quaint three-tiered urn-like terracotta
object is called 'kambha', a compost bin for
organic garbage Photos: WFS

A walk down the streets of the colony will reveal just why this is the case. Almost every second house has a compost pit or chamber in its yard. Some even have a quaint three-tiered urn-like terracotta object called kambha, a compost bin for organic garbage. Shanthi Krishnan, vice-president, Kalakshetra Colony Welfare Association (KCWA), has both a pit and kambha at home, having adopted the zero-garbage concept with a missionary zeal. The cement composter, a broad cylindrical structure with a mesh spread just above its bottom, allows the composted particles (manure) to fall through. Landscapist Navneeth Raghavan, who markets the kambhas in Chennai, supplies a neem powder-based composting accelerator along with the kambha to help quicken the composting process. Alternatively, cow dung or buttermilk is also sometimes utilised to facilitate the composting process.
With over 70 per cent of the garbage load comprising organic rubbish, the difference is telling. The rest of the garbage—paper and plastic—is taken away by those who make it a business to recycle paper and other material.
Kalakshetra Colony, spread over 15 streets, was earlier just known for being the location of the famed Kalakshetra Cultural Centre. Now it has become a model for a community-centric, self-organised garbage management system that hinges on source segregation and composting of organic manure.
In 1988, much before firms such as Onyx, and, later, Neel Metal Fanalca, came on board to clean the streets of Chennai, the KCWA had started to segregate garbage, employing gypsies for the purpose. Small wonder then that this year the Chennai Corporation declared it a model colony. "If we can make it (decentralised composting) successful in one colony, we can do it everywhere," said Sheila Rani Chungath, a long-time resident of this colony, and chairperson of the Pallikaranai marsh committee, set up as per the Chennai High Court order to oversee the rejuvenation of the city's dying Pallikaranai marsh. Chungath, too, has both a kambha and a compost pit in her home.
The KCWA pursues a broad-based strategy for achieving the zero garbage ideal, and its members are careful to communicate within their group through e-mail in order to avoid wasting paper. The KCWA has also thought up other innovative measures. For instance, it has coordinated with the property tax collector to put together the e-mail address list of its residents.
Seeing the successful endeavour of the KCWA, the neighbouring Valmiki Nagar Residents' Welfare Association also warmed up to the source segregation and compost concept for efficient garbage disposal. The association identified volunteers who could educate the residents, giving special attention to the domestic help who take the garbage out. On an average, an apartment complex in Valmiki Nagar uses a 200-litre drum for composting waste. After the kitchen waste is put into the drum, aerated enzymes are added. No other intervention is required for at least a month or a month-and-a-half. This results in good compost without odour or flies. "We employ a person to manage the composting process in all the apartments in the area that have taken up composting," reveals Aruna Chandrasekhar, secretary, Valmiki Nagar Residents' Welfare Association.
There is a definite need for heightened action. By 2015, Chennai will run out of space to dump garbage in its Kodungaiyur and Perungudi yards. Although the municipal solid wastes (management and handling) rules, 2000, gave December, 2003, as the time schedule for urban local bodies to set up waste processing and disposal facilities, the city's dump yards are today overflowing with garbage. So bad is the situation in some pockets that it is affecting local eco-systems. The garbage from the Perungudi dump yard is choking the bird and aquatic life of the adjacent Pallikaranai marsh, and threatening the health and well-being of people living in the adjoining areas.
Source segregation would curb the mixing of green waste with other wastes. Experts fear that mixing of waste could lead to the presence of toxins in the composted manure. Sultan Ahmed Ismail, who is a well-known Chennai-based vermiculture expert, has even said that segregating waste and composting of green waste at source should be made mandatory at all residences and commercial establishments, along the lines of rainwater harvesting, which is mandatory and is seen as a successful intervention. If source segregation is adopted by everyone, then the Chennai Corporation would only have to pick up material that cannot be composted or recycled, such as e-waste, batteries or some plastics.
Shanthi refutes that the cost could be a deterrent. As Sheila puts it, what it needs is an aware and sensitive citizenry. A kambha costs Rs 750, while a huge cement bin can be set up using well rings or other such structures at very little cost. "Money is not the issue. It amazes me that people are ready to spend so much on pizzas and at malls, but not for the environment they live in," she observes succinctly. All one has to do, if one has soil space at home, is to dig a pit and keep dumping the organic garbage till the pit is full and then cover it with soil.
So why aren't more people composting their own garbage? "The intent has to come from within... even here at Kalakshetra Colony, the initiative was possible only after sustained awareness campaigns among the residents," informs Shanthi. The local newspapers, too, have been a big source of strength in promoting such awareness.
As for the KCWA, the effort continues. On the anvil is a road show to promote and demonstrate source segregation and the composting concept to convince those residents who still haven't been won over. Says Shanti: "I believe in the ripple effect. And I believe that if you keep on tapping, results will eventually emerge." — WFS