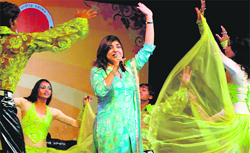 Playback singer Alka Yagnik performs at the 'Star Night Cultural Evening' of Rose Festival in Sector 16, Chandigarh, on Sunday. Photo: Vinay Malik
Mohali, P'kula to have cheaper drug stores
Ram Vilas Paswan to open outlets today
Mohali/Panchkula, February 22
Commonly used unbranded generic medicines will now be available at cheaper rates in Mohali and Panchkula. Fulfilling its commitment to open generic drug stores, the Ministry of Chemicals and Fertilisers, in collaboration with the health departments of Haryana and Punjab, are opening such shops, Jan Aushdi Store, in Mohali and Panchkula.
Drunken Driving
Co-passenger to face the music too
Chandigarh, February 22
While it is common knowledge that driving under the influence of liquor is punishable under the law, many would be surprised to know that accompanying a drunk driver may attract the same amount of punishment. So, the next time if your friend or spouse, in an inebriated state, insists on hitting the road, think twice before joining him or her.
Motorcyclist killed in mishap
Chandigarh, February 22
Sanjiv Thakur (26), a resident of Sector 22, was killed after his motorcycle rammed into an electricity pole in Sector 22 late last night.
MC to put up kiosks against UT's plan
Chandigarh, February 22
Ambitious proposals of the Municipal Corporation, Chandigarh, do not seem to fall in line with the much-professed beautification plans of the city beautiful by the UT administration.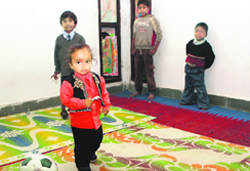 Staff crunch at ISBT-43 creche
Chandigarh, February 22
The initiative of the UT administration to facilitate the working women by establishing a creche at ISBT-43 has almost failed due to acute shortage of staff and a poor response from the public.



Children play at a crèche in ISBT-43 in Chandigarh. A Tribune photograph
Problems of Dalits discussed
Chandigarh, February 22
"No new school has been opened in the Dalit colonies for the last five years while liquor shops have been opened at every nook and corner. As the Dalit families are not being issued the SC/ST certificates, their children cannot avail even proper education, let alone jobs," said Satya Pal Jain, while addressing the Dalit rally organised by the SC wing of the BJP, Chandigarh.
Undisclosed income worth Rs 4 cr detected
Chandigarh, February 22
The Income Tax department has detected undisclosed income of Rs 4 crore by a company involved in manufacturing bus and truck bodies during a survey conducted here on Friday.
Experts: Kidney transplant viable option
Chandigarh, February 22
Transplantation is the viable option for patients suffering from end-stage chronic renal disease, observed nephro pathologists in the ongoing International CME on kidney diseases at the PGI here yesterday.
Develop medicines for different ethnic groups: Doctors
Chandigarh, February 22
A two-day International symposium on "Recent developments in molecular technology" was started here yesterday. The symposium was inaugurated by Prof P Rama Rao, director, NIPER on the campus.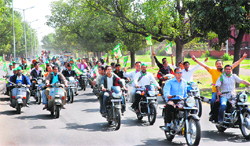 Activists flout traffic rules
Chandigarh, February 22
A rally of the Yuva Rashtriya Janta Dal (YRJD) at the road dividing Sectors 27-30 resulted in traffic bottlenecks and jams, which left commuters harassed.

Members of the Yuva Rashtriya Janta Dal take out a rally at the road dividing Sectors 27-30 in Chandigarh on Sunday. Tribune photo: S Chandan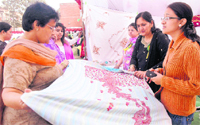 Annual fete by SBI Ladies Club
Chandigarh,February, 22
The SBI Ladies Club, Chandigarh, today organised an annual fete at the SBI officer's colony park. Kamlesh, mayor, municipal corporation, inaugurated it.



Members of the club display their products at the fete. A Tribune photograph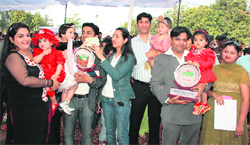 Kids' carnival at Banyan Tree
Chandigarh, February 22
A kids' carnival was organised on the lush green lawns of Banyan Tree School today. Various fun-filled contests were held for children in the age group of 0-6 years and for their parents as well.

Winning kids with their parents during the Rose Festival in Chandigarh on Sunday. A Tribune photograph
Talk on dream interpretation
Chandigarh, February 22
Dreams, why and how they occur is a mystery and one is free to interpret their significance.
3-day travel exhibition ends
Chandigarh, February 22
A three-day travel exhibition "India Travel Mart" (ITM) concluded yesterday at Hotel Shivalik View, Sector 17.
Letters
Media has vital role to play


ISB gets possession of land in Mohali
Chandigarh, February 22
Indian School of Business (ISB), which had earlier been allotted 70 acres of land in Mohali Knowledge City, has been given possession of the land for the institute with the state government registering a lease in this regard with its management.
Students suffer as academy changes syllabi
Chandigarh, February 22
Students of Arena Multimedia, an animation academy at Sector 17, today alleged that the academy management had not adhered to the syllabi committed at the time of admission, thereby duping them of their fee.
From Schools
Sports day at Vivek High School
Mohali, February 22
The Vivek High School, Sector 70, Mohali, celebrated its second sports and rhyme day for the pre-primary classes here yesterday.
Tree plantation drive at Moti Ram school
Chandigarh, February 22
Moti Ram Arya Senior Secondary Model School organised vermin culture composting and tree plantation programme in pursuit of human friendly environment on the school campus yesterday.
PU Notes
Seminar on global meltdown from tomorrow
Chandigarh, February 22
In the backdrop of global meltdown, a two-day seminar is being organised by the department of sociology, Panjab University, Chandigarh. Scholars from Jawaharlal Nehru University, Delhi University, Himachal Pradesh, Jammu and Kashmir, Haryana and Punjab are taking part in the seminar.