Oscar Slumgod
'Slumdog Millionaire' gets 8 Academy awards
Ashish Kumar Sen writes from Washington


n Rahman bags 2: Best Song, Best Original Score
n Resul Pookutty nets it for Sound Mixing
The other 5
n Best Picture n Best Direction n Best Film Editing
n Best Cinematography n Best Adapted Screenplay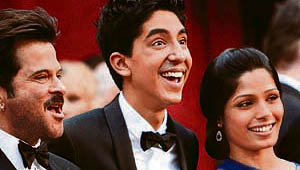 (From left): Actors Anil Kapoor, Dev Patel and Freida Pinto arrive at the 81st Academy Awards ceremony. — Reuters
"Slumdog Millionaire" was the correct answer at the Oscars on Sunday night not once, not twice but eight times. The Hollywood adaptation of a story about a Mumbai slum kid who goes all the way to win the top prize in a popular TV game show swept the 81st Academy Awards in Los Angeles and gave Indian composer AR Rahman two coveted golden statuettes.
The film won Best Picture (Christian Colson), Best Direction (Danny Boyle), Best Music Song (Rahman and Gulzar for "Jai Ho"), Best Music Score (Rahman), Best Film Editing (Chris Dickens), Best Sound Mixing (Ian Tapp, Richard Pryke and Resul Pookutty), Best Cinematography (Anthony Dod Mantle) and Best Adapted Screenplay (Simon Beaufoy).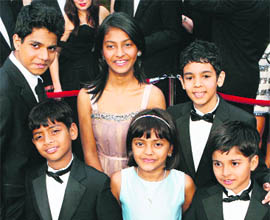 Young actors from 'Slumdog Millionaire' (front row L-R) Azharuddin Mohammed Ismail, Rubina Ali, Ayush Manesh Khedekar, (back row L-R) Ashotosh Lobo Gajiwala, Tangi Ganesh Lonkar and Tanay Hermant Chheda arrive at the 81st Academy Awards in Hollywood. — Reuters
"Before coming, I was excited and terrified. The last time I felt like that was during my marriage," Rahman joked to a star-studded audience at the Kodak Theatre. Accepting his first award, Rahman thanked his mother who travelled all the way to Los Angeles to bask in her son's glory. He ended his brief speech with a saying in Tamil, which, he said, he normally uttered after every award he won: "God is great."
Accepting his second award of the evening, Rahman thanked the people of Mumbai, where the film is based and shot. "The essence of the film which is about optimism and the power of hope in the lives, and all my life I had a choice of hate and love. I chose love and I'm here," he said to applause.
"Most of all, we had passion and we had belief, and our film shows if you have those two things, you have everything," said producer Christian Colson, surrounded by many members of the film's huge cast and crew.
Boyle jumped up and down as he accepted his award, saying he'd told his children that if he ever won, he'd bounce like Tigger from "Winnie the Pooh."
He too paid a tribute to Mumbai in his acceptance speech. "Finally, just to say to Mumbai, 'Unending, inseparable, unborn.' All of you who've helped us make the film and all of you of those of you who didn't, thank you so much. You dwarf even this guy (gesturing to the statuette). Thank you very much indeed," he said.
It was a great night for the cast and crew of "Slumdog Millionaire", who were undoubtedly the most excited guests at the event.
"This is unbelievable," said Pookutty while accepting his award. "We can't believe this. Ladies and gentlemen... sorry... I share the stage with two magicians, you know, who created the very ordinary sounds of Bombay, the cacophony of Bombay, into a soul-stirring, artful resonance called Slumdog Millionaire."
He added: "I come from a country and a civilisation that has given the universal word. That word is preceded by silence, followed by more silence. That word is 'Om.' So I dedicate this award to my country. Thank you, Academy, this is not just a sound award, this is history being handed over to me."
Another India-themed production, "Smile Pinki", won the Oscar for Best Documentary Short Subject. The documentary features Pinki, a girl in rural India whose cleft lip has made her a social outcast. She gets a chance for a new life when she meets a dedicated social worker. The force behind the production, Megan Mylan, thanked "The incredible Dr Subodh and his team, Ghutaru Chauhan and our heroine Pinki Kumari."
"Thank you, thank you, thank you for letting me tell your inspiring story," she said, "What a gift."
The biggest gift of the night, undoubtedly, was the one the cast and crew of "Slumdog Millionaire" took home.
The other major awards of the night included Best Actor in a Leading Role for Sean Penn for his moving performance as Harvey Milk, the San Francisco camera store owner whose decision to campaign for a place on the city's Board of Supervisors becomes a landmark event within the gay rights movement, in Gus Van Sant's movie "Milk".
Penn reprised the message of his character in his acceptance speech when he urged equal rights for gays. "For those who saw the signs of hatred as our cars drove in tonight, I think it's a good time for those who voted for the ban against gay marriage to sit and reflect on their great shame and their shame in their grandchildren's eyes if they continue that support," Penn said. "We've got to have equal rights for everyone."
Kate Winslet's performance in "The Reader" won her Best Actress in a Leading Role.
Heath Ledger won a posthumous Best Supporting Actor Oscar for his dark performance as the Joker in "The Dark Knight." His parents and sister accepted the award for the actor, who died in January 2008. Penelope Cruz was awarded Best Supporting Actress award for her role in "Vicky Cristina Barcelona".
Cong claims Oscar for 'governance'
Vibha Sharma
Tribune News Service
New Delhi, February 23
Claiming that it was neither trying to politicise or take credit for a purely artistic endevour that Slumdog Millionaire is, the Congress party on Monday said the film winning eight Oscars was a testimony to "conducive atmosphere created by the UPA government" for the "young achieving India."
"Congress president Sonia Gandhi and the Congress party salute the true heroes of achieving India. Each one of the winners of the eight Oscars, no matter whether they are Indian citizens or not. It is a film of India, for India and by India. This is achieving India at its best. We are proud that in the conducive environment of good governance provided by the UPA government, India has become achieving India," said Abhishek Manu Singhvi on Monday.
When asked to explain his giving credit to the UPA government for the cinematic effort, he responded by saying that the Congress was only trying to celebrate India's achievements. The achievements of the UPA government, along with youngsters of India, had come to symbolise the young and achieving India, he added.
Whether it is the first Olympic gold, the Chandrayaan success, the 123 Nuclear deal, the country becoming the second fastest growing economy, junior championship in world tennis, world championship in chess or Oscars for Slumdog Millionaire… These are all examples of young India touching new heights of glory. In all these the UPA government has made some contributions, you will agree. We are not claiming credit for Slumdog Millionaire's success but we do believe that the success of young and achieving India needs to be celebrated," he explained.
President, PM congratulate winners
Tribune News Service
New Delhi, February 23
President Pratibha Patil, Prime Minister Manmohan Singh, Lok Sabha Speaker Somnath Chatterjee and Congress president Sonia Gandhi on Monday joined a host of political leaders in congratulating the Oscar-winning Slumdog Millionaire team, especially AR Rahman, saying they had made India proud.
"I am especially happy that AR Rehman has won two Oscars in the categories of Best Song and Best Score, Gulzar for winning the award for the Best Song and Pookutty for doing so in the Best Sound Mixing category," the President said, adding that the awards to the three Indians was recognition of their incredible talent at one of the highest levels by their peers. She also expressed happiness about "Smile Pinki", winning the Oscar in the Best Short Documentary Category.
The winners have done India proud, the President added.
No tax on film in Haryana
Tribune News Service
Chandigarh, February 23
The Haryana government has decided to exempt "Slumdog Millionaire", which has made history by winning eight Oscars in a row, from entertainment duty in the state. While announcing this, Chief Minister Bhupinder Singh Hooda congratulated the entire team of the film. He also congratulated Indian documentary 'Smile Pinky' for winning prestigious Oscar in the "Best Short Documentary" category.