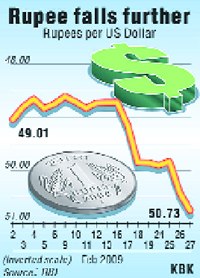 Mumbai, February 27
The Rupee today recorded an all- time low at 51.15 against the US dollar at the closing session with a loss of 70 paise on heavy dollar demand from importers and weak economic growth data, that spurred selling in domestic shares.
The partially convertible rupee opened at 50.62 per dollar and later touched a low at 51.
It fluctuated in a wide range between 50.55 and 51.17 in intra-day trade.
The rupee continued to trade at over 50 against the dollar for the second day in a row.
Dealers said concerns about foreign funds withdrawing money from Indian markets besides month-end dollar from oil companies is putting pressure on the local unit.
However, state-run banks were seen selling dollars at around 50.72 to prevent the rupee from slipping further, clearly a case of RBI intervention.
The Reserve Bank of India (RBI) today fixed the reference rate at Rs 50.73 per US Dollar, 32 paise up against its yesterday's rate of Rs 50.41 per USD.
The reference rate for Euro rose by 54 paise at Rs 64.57 per unit from its previous rate of Rs 64.03 per unit, a RBI release said.
Meanwhile, the six-month and annualised forward dollar premiums were at softer levels at 1.87 (2.00) per cent and 1.65 (1.70) per unit respectively.
The rupee ended at an all-time low at 64.62/64 (64.36/38) per unit against the Euro and against Pound Sterling at 72.55/57 (71.88/90) per unit and at 52.30/32 (51.40/42) per hundred units against the Japanese Yen, brokers added.
In the overseas market, the dollar gained against its major rival euro but slipped against Asian competitor yen.
The rupee yesterday only set a fresh low record of 50.46 on sudden surge in demand for dollar.
The previous low record of the domestic currency was recorded on last December 2 when it touched the intra-day high of 50.60.
Including today's fall of 66 paise, the rupee had slumped by a whopping 151 paise or 3.04 per cent in the straight past five sessions.
Continued selling by Foreign Institutional Investors (FIIs) in equity markets also weighed against the rupee.
They pulled out nearly $1.6 billion in the current calendar year so far, dealers
said. Weakness in equity markets also put pressure on domestic unit, they added.
— Agencies