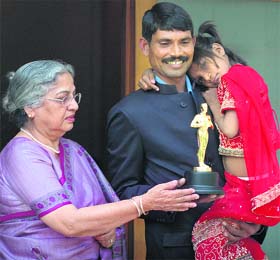 Prime Minister Manmohan Singh's wife Gursharan Kaur holds the Oscar award while Pinki Sonkar and her father Rajendra Sonkar look on in New Delhi on Friday. 'Smile Pinki', which won the award in the best short documentary film category, is the story of Pinki. Tribune photo: Mukesh Aggarwal
Poll Code Violations
EC for citizens as observers
Hyderabad, February 27
In a novel initiative to check poll code violations, the Election Commission (EC) has decided to involve citizens to act as poll observers and help in ensuring free and fair poll.
Poll Waves
Interlinking of 5 rivers in 3 yrs: Soz
New Delhi, February 27
The UPA government has had a poll time recall regarding the country's ambitious interlinking of rivers (ILR) programme. Minister of Water Resources Saifuddin Soz today said the programme was very much on the "front burner and priority list" of his ministry and all the five ILR projects would be completed by the next two to three years.
POTA Panel Findings
Modi govt moves apex court against HC verdict
New Delhi, February 27
The Gujarat government today challenged the High Court's refusal to quash the findings of the Justice SC Jain Central POTA Review Committee in the 2002 Godhra fire tragedy cases, in the Supreme Court.
New arms policy in 3 weeks: Centre to SC
New Delhi, February 27
The Centre today assured the Supreme Court that it would come out with a new arms policy covering sale and issue of licences within three weeks. Additional Solicitor General Gopal Subramaniam made the commitment to a Bench comprising Chief Justice KG Balakrishnan and Justice P Sathasivam during the hearing of a PIL.
SC stays HC order against Punjab
New Delhi, February 27
The Supreme Court today stayed a Punjab and Haryana High Court order that had made disparaging remarks against the state machinery of Punjab and the law officers and sought classified information about equipment and their use which was "unrelated" to the relevant case.
Kosi Floods
Rs 40 cr more for rehab of victims
Patna, February 27
Bihar Chief Minister Nitish Kumar had a surprise visitor at his office today. Railway Minister and RJD Chief Lalu Prasad came to meet his 'arch rival' in state politics. The purpose was to contribute Rs 40 crore to the Chief Minister's Relief Fund for carrying out the rehabilitation work for the victims of worst ever Kosi floods witnessed in Bihar.
Bihar police names infant in chargesheet
Patna, February 27
A court in Bihar's Muzzaffarpur district has served a showcause notice to a police official who filed a chargesheet against an 18-month-old boy for allegedly insulting someone with the intention of breaching peace.
Anti-Corruption Bureau asked to book Andhra CM
Hyderabad, February 27
A special court of the Anti-Corruption Bureau (ACB) here today directed the bureau to register a case against Andhra Pradesh Chief Minister YS Rajasekhara Reddy, Irrigation Minister Ponnala Lakshmaiah and nine others in an alleged corruption case relating to a controversial irrigation project.
TN lawyers unrelenting
Chennai, February 27
A day after the Supreme Court directed the striking lawyers to resume work, lawyers of the Madras High Court continued their fast for the fifth day today, gagging their mouth with black cloth and wearing black flags.
Tandon is BJP candidate from Lucknow
Lucknow, February 27
Ending months of suspense, the BJP has finally declared former Prime Minister Atal Behari Vajpayee's close aide and Chief Minister Mayawati's once 'rakhi brother' Lalji Tandon as the Lok Sabha candidate from the prestigious Lucknow parliamentary constituency.
Centre conspiring against me: Mulayam
Etawah, February 27
Coming down heavily on the UPA government, Samajwadi Party supremo Mulayam Singh Yadav has charged it of using the CBI to put him behind bars.
Thackeray's condition stable
Mumbai, February 27
The condition of Shiv Sena chief Bal Thackeray, who was admitted to a hospital here following complaints of fever is stable, doctors attending on him said today. The fever has come down but he is very weak and feeling exhausted, they said, adding he needs complete rest.
Gandhi's belongings will not go under hammer: Govt
New Delhi, February 27
The government of India on Friday decided to ensure Mahatma Gandhi's personal belongings do not go under hammer in New York next month and bring them back to the country.