Director's choice
With five box-office hits in a year, Katrina Kaif has wowed both Bollywood and the audience. Derek Bose on the actor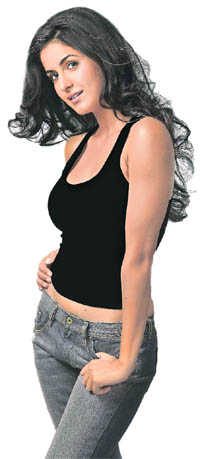 A leading international men's magazine, FHM has ranked Katrina No 1 among the world's 100 Sexiest Women
Somebody should make a film on Katrina Kaif — the British girl who came in from the cold and within a couple of years, has emerged as the hottest and the highest paid heroine of Hindi cinema. The film could well be called Luck By Chance, only that the title has already been taken by Zoya Akhtar, who made her directorial debut with brother Farhan Akhtar as the hero. Farhan plays a wannabe star, who lands in Mumbai to discover that more than merit or hard work, it is plain luck that determines success in Bollywood.
Katrina's success story is scripted along similar lines. Born in Hong Kong (of a Kashmiri father and British mother) and raised in London, she landed in Mumbai in 2003 at the age of 19, got noticed by fashion photographer Atul Kasbekar for a glamour shoot, and ended up with her first role in a Hindi film — as Popdi Chinchpokli in Kaizad Gustad's Boom. The film bombed and Katrina disappeared down South doing Malayalam and Telugu films. After a couple of years she resurfaced in Bollywood along side Akshay Kumar in Namastey London, a re-jig of Manoj Kumar's yesteryear hit, Purab Aur Paschim. Next, she is Priya in Partner, Sanjana in Welcome, Sophia in Race, Sonia in Singh is Kiing, Anushka in Yuvvraaaj`85 Today, she is everywhere.
So what is it that Bollywood directors find so special about Katrina? A lot, actually. One, she has the height. Few Hindi film heroines (and leading men) can measure up to that 5' 9" inch frame. Two, she has a flawless peaches and cream complexion and skin. Three, no Indian speaks Hindi the way she does. Four, she has certain obvious limitations as an actress because she is neither trained nor blessed with the essential skills of performing for the camera. Five, she is no classical beauty, even in the limited Bollywood sense. In fact, her big-boned structure, the expressionless gaze and certain trademark mannerisms betray a marked absence of sex appeal. Yet, she has become the heroine most in demand and is being teamed with almost all top -ranking heroes. What's even more incredible is that she is turning out one hit after another with unfailing regularity.
The miracle does not end here. Katrina Kaif has just been voted as the Sexiest Asian, the Most Photographed Woman in India and the "Most Searched" Indian on Google. A leading international men's magazine, FHM ranks her No 1 among the world's 100 Sexiest Women. She is the current Female Style Icon for IIFA and declared the Best British-Indian Actor by the Zee Cine Awards of 2008. Besides, she endorses countless consumer brands and beauty products, makes public interest appeals on TV, inaugurates health spas and gyms and has an opinion on everything from cooking to cricket to fitness to underage driving. And funnily enough, she is being heard.



Katrina's personality has innocence. Her face reflects her honesty.
— Prakash Jha Director, Rajneeti
One way of making sense of this euphoria is to position Katrina vis-`E0-vis other leading ladies of Bollywood. She came in at a time when the heroines who mattered most were Aishwarya Rai, Preity Zinta and Rani Mukherji and to a lesser extent, we had Kareena Kapoor, Bipasha Basu and Priyanka Chopra.
Of the first three, Aishwarya was settling down and had declared that family comes before career in her life. Preity, too, had cut down considerably on work and Rani, after suffering several career setbacks, suddenly found herself almost jobless. Among the latter three, Bipasha was the first to turn selective and pricey. Kareena and Priyanka could have capitalised on the situation, but an inconsistent box-office run, together with over-exposure and an unrealistic price tag proved to be their undoing. That opened the doors for rank newcomers like Deepika Padukone and Mugdha Godse. Katrina could get in edgeways because she had some experience (mainly in films like Malliswari, Allari Pidugu and Balram vs Tharadas down South), was neither choosy nor demanding and compared to Kareena or Priyanka, was under-exposed in Bollywood. Most important, she met the crucial need of our ageing heroes to be paired with a refreshingly young romantic foil. Clearly, she was at the right place at the right time.



She is a director's actor, professional and punctual.— Anees Bazmee Director, Welcome & Singh Is Kinng
The other and more reasonable way of explaining the Katrina phenomenon is to study her work. Limited as it may be, the film that brought her recognition for first time was David Dhawan's Maine Pyar Kyun Kiya. The role of a Sonia, Salman Khan's love interest, got her the Stardust Breakthrough Performance Award in 2006. The following year, she had four releases, beginning Namastey London. From Jazz, the NRI wife who cannot adjust to the ways of her desi husband (Akshay), she showed up in a bit role in Dharmendra's home production, Apne, then moved on to be paired with Govinda (opposite Salman Khan-Lara Dutta) in Dhawan's Partner and finally, was back to marrying Akshay in Anees Bazmi's hilarious crime caper, Welcome.
In 2008 also, Katrina had four films: Abbas-Mastan's Race in which she was Sophia, Saif Ali Khan's secretary who pines for him; Anees Bazmi's Singh Is Kiing where yet again, she ended up marrying Akshay; Atul Agnihotri's Hello with an inconsequential role; and lately, Subhash Ghai's grand and opulent Yuvvraaj, in which she played the cello player, Salman is smitten with. Awaiting release is Kabir Khan's New York, an action thriller revolving around three Indian friends caught in the aftermath of the 9/11 terror attacks in the US. Katrina plays one of the friends, the other two being John Abraham and Neil Nitin Mukesh.
There are of course, several other projects on the floor, such as Ajab Prem Ki Ghazab Kahani, Blue, De Dhana Dhan, Rajneeti, Rave, Party and so on, all of them reinforcing the stereotype she has projected so far — a vulnerable upper-class westernised woman, answering to names like Sonia, Sanjana, Sophia`85 and landing a simpleton from India. This is the character Katrina has come to be associated with and it is out of this audience-identification that Katrina has created a niche for herself.
Accordingly, roles are written for her and more often than not, the setting is a foreign country so as to both complement her looks and justify her character. This explains why her films, despite all the hilarity, fun and games, bear a ring of truth about them and are finding acceptance with audiences.
Can Katrina do a Kareena Kapoor in Jab We Met? Maybe not. Can she do a Bipasha Basu in Corporate or say, Priyanka Chopra in Fashion? Sure, she can. Can she do a Mallika Sherawat or Rakhi Sawant? She will not. Can she do Asin in Ghajini or Deepika Padukone in Om Shanti Om and Chandni Chowk to China Town? Of course, she can. And what's more, she should be able to pull off these parts brilliantly. Obviously, she has yet to perform to potential. So while it would appear that she is cautiously feeling her way about, one fact that has escaped critics and viewers alike (as far as Katrina is concerned) is that Bollywood has little use for heroines these days. Just about any glam girl will do. Nobody is making any demands on an actress's emoting skills, screen presence, physical attributes, her ability to slip into the skin of a character, even diction. For what matters to every producer ultimately, is his film being "packaged" in a manner that it is able reach the maximum number of the markets worldwide.
Among the top Bollywood heroines currently in circulation, Katrina undoubtedly provides the best packaging in marketing terms. Her appearance on screen, for whatever duration it might be, automatically gives a Hindi film the much-desired international look. This is crucial for our filmmakers in their eagerness to go global. They know that distributors and exhibitors in the West instinctively find a connection with the fair-skinned, Caucasian presence in films. So it is not as though just Katrina is on a success trip by chance. Bollywood has also got lucky finding her.
'I'm doing substantial roles now'
Katrina speaks about her forthcoming films and the issues close to her heart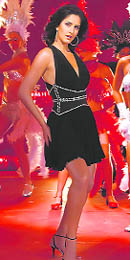 Katrina Kaif in Singh is Kinng
You finally find yourself in the big league with so many hits.
I have been lucky for the last year or so with all my films Namastey London Partner, Welcome, Race and Singh Is Kinng becoming hits. It gives immense satisfaction but I still feel there's a lot to learn. I count myself among the new generation of actors and I have a lot to give.
Since you are in the top league now, would you become choosy?
I don't want to be choosy but certainly I am looking for variety. My next few films see me in different roles and none have any similarity. Even my role in Race had shades of grey and I enjoyed that. It gives a lot of satisfaction as an actor.
What next?
I have Raj Kumar Santoshi's Ajab Prem Ki Gazab Kahani in which I am paired opposite Ranbir Kapoor. Then there is Prakash Jha's Rajneeti, Blue, De Dhana Dhan and a film with Yash Raj Banner being produced by Aditya Chopra and directed by Kabir Khan.
There are rumours that you are emulating Sonia Gandhi in Rajneeti.
I am flattered by the comparison, no doubt. She is definitely a powerful person but I'm not emulating her.
Tell us about your role in Rajneeti.
When Prakash ji told me the story there was instant response from me and I was blown away by the story. I think it is a fantastic script. As this is political film, I did a lot of research on how politicians go about the process of campaigning, how they deliver speeches before crowds of thousands, and how they grow into powerful orators.
You are sans makeup and in simple cotton sarees in this film. This is quite different from your glamourous image.
I have got to another level with this film. People will now know that I can do other type of films as well. I have been part of successful films and now I'm glad I'm doing substantial roles. I am so pleased that I can finally prove those people wrong who has branded me as a glamourous doll.
You have worked with most of the established directors; will you work with new directors?
The first thing that I see before choosing a film is definitely the director. If a new person comes to me with a script and says 'let's go for it', I should be really willing to take risks to agree and I guess that will also happen sometime. Though working with new directors is risky. A right director is my priority not an exciting script. If a director who can't pull off a good script comes up to me with a fantastic script and I love it, it is still a meaningless and futile exercise to go ahead with the film. For me, who directs the film is of utmost importance.
— TWF