Life in the last lap
Loneliness, neglect and physical and financial infirmities are just some of the companions
of seniors in India. Nonika Singh on how India's grey population needs a helping
hand from the State and the family
OLD may be gold, but going by the condition of the elderly in our country, it is hard to say that old age is the golden age. A vast majority of the 81 million senior citizens in India battles failing health, financial constraints, loneliness, emotional stress and abuse in the dusk of their lives, leading many to end their lives in depression or to lead a pitiable existence. The State, society and family, all have a hand in the plight of the elderly who ought not to be treated as a burden.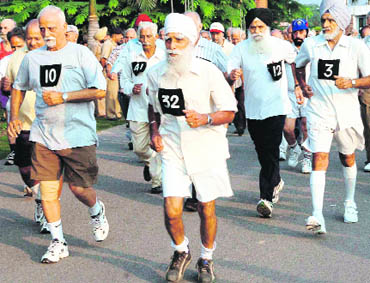 Healthcare facilities for senior citizens are in need of an overhaul Photo Manoj Mahajan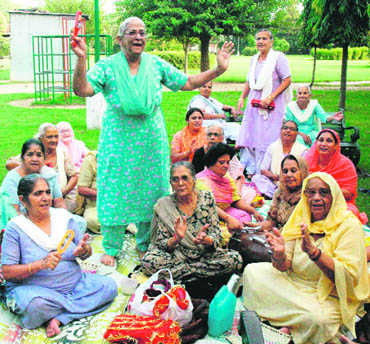 Senior citizens, who are determined to make their lives lively, have learnt to rejoice in old age. They live their lives to the fullest, with or without their children Photo: Pravesh Chauhan

In India, the elderly, who grow old with the notion that their children will take care of them, are at a loss on finding themselves on their own. Fighting the twin spectres of loneliness and neglect, they are at sea in the last phase of their lives.
In the traditional Indian landscape, elders simply merged in the growing family, getting due attention and respect. But in the changed social matrix, they are, at best, on the periphery, invariably neglected, often abandoned and in many cases exploited by their own flesh and blood.
Mathew Cherian, chief executive, HelpAge India, an organisation that touches the lives of 15 lakh elderly, observes that the problem has become more acute in the past 10 years. He says, "Like all other areas of human development when it comes to the elderly, we are in a self-denial mode."
One of the most pressing concerns of the senior citizens i.e financial security has not been addressed so far. Out of the 81 million elderly in India, a staggering 51 million are poor. As many as 90 per cent of the senior citizens have worked in the unorganised sector, which means they have no pension, provident fund or gratuity to take care of their financial needs after retirement. Thus it is not surprising to see a number of senior citizens looking for jobs in cities like Bangalore.
As children get on with their lives and move out of parental homes and cities, parents are left to cope with the empty-nest syndrome. P. H. Vaishnav, president of the Chandigarh Senior Citizens Association, singles out migration, within the country and overseas, as the main reason for the elderly being left alone.
Cherian, too, agrees, "In north Bihar and Uttarakhand, there are many villages where only the elderly are living as all younger people have moved to other places in search of better opportunities." Though the problems of seniors in rural areas might be different from those living in the cities, it is difficult to say who is more distressed.
While the PMO states that a modern system of security has to be put in place, its much-touted old-age pension scheme trickles down to only a minuscule percentage of the old. Even after the recent hike in many states like Haryana, the pension amount boils down to only a few hundred rupees. In the 21st century, the government has been compelled to pass the Maintenance of Parents and Senior Citizens Act, which makes neglect of parents a cognizable offence. Among other provisions, the Act tells children — look after your parents or go to jail.
While many like Bhavneshwar Sharma, state manager, HelpAge India, Chandigarh, do feel that the step has brought cheer to the elderly and is a step in the right direction, the Act is yet to pass the litmus test. Its efficacy can be judged from the fact that there have been just seven complaints so far from across the country.
To cap it all, though Punjab and Himachal Pradesh have given the go ahead to the Act, only few states have so far implemented it. There, too, the actual process of setting up of tribunals et al has not taken a final shape. Cherian says, "The Act seems to lack teeth and the bottomline is — can love for parents be legislated?"
But can children be really blamed? Theatre person G.S. Chani who made a thought-provoking play "Zindagi Retire Nahi Hoti", about the problems of the elderly, doesn't think so and argues, "In today's competitive world the young, too, have stress and dilemmas to face. So it won't be fair to blame them wholly for neglect." While stories of how parents are cheated, abused neglected by their progeny gain instant media attention, sacrifices of many wards go unreported. Take the example of this man from Himachal whose wife has not lived with him for the past 25 years in order to look after his parents in a remote village. In cities daughters, too, are taking the responsibility of looking after their parents, along with sons. Ready to support parents financially, physically and emotionally, daughters could be the new caregivers.
In a survey, 86 per cent of Delhi parents admitted that children do look after them when they are ill and that 75 per cent of those economically dependent on children are being taken care of. This implies that though society may be in a flux but is not completely rudderless.
C.L Chadha, however, is adamant that besides care, the elderly need creative pastimes, something to keep them busy and make them feel useful. Like he has chosen to work even at 72. Voluntary work could be another solution. Indeed with their vast experience and wisdom both the government and the private sector can benefit by utilising their services. Organisations like the Spicmacay have taken initiative in this direction by welcoming senior citizens to do volunteer work, says Dr Shakuntala Lavasa, convener of the north zone of the organisation.
Dr S.K. Sharma, president, Senior Citizens Federation (North Zone), advocates day-care centres that offer multiple recreation facilities. His forum has been successful in prevailing upon the Haryana Government to set up more such places, which will, henceforth, be known as senior citizen clubs. Undeniably, a huge chunk of the elderly, about 37 per cent, feel lonely and isolated. In a survey done on 500 citizens in Delhi and Mumbai, it was found that 12 per cent of parents reported the extreme indifference of children and a 22 per cent held that they socialise rarely, shockingly not even with their children.
Loneliness, thus, is a stark reality for a vast majority of the elderly in our country. According to the last census report, 11 per cent of those aged 60 years and above do not have anyone below 60 years of age living with them. Close to 8.5 million of India's elderly stay either by themselves or with other old people. This excludes people living in the old-age homes. The recent law can't ensure companionship for them.
Decades ago when HelpAge India began setting up old-age homes in India the concept was dismissed as a western one. But today a growing need for more old age homes is being felt across the country. While there are about 3,000 registered old-age homes in the country, unofficial figures put the number at 16,000. According to the new Act, which calls for an old-age home in each district, the government plans to build approximately 650 more in the next five years. But, as Cherian says, old-age homes can't be allowed to become dumping grounds or an excuse for the young to shun their responsibility.
Dr Mala Kapur-Shankardass, a gerontologist, health sociologist and representative for International Network of Prevention of Elder Abuse, adds, "We have to see what kind of old-age homes are needed. Are we confusing these with destitute homes meant for the shelterless? When we look at old-age homes as residential complexes, then a whole gamut of services from food to recreation have to be provided". Care of the aged is a highly specialised realm that requires skilled training. Thus she argues for mechanisms and systems, including leave to look after old parents, which can help the younger generation. She has initiated Elder Abuse Awareness Day to draw attention towards the growing neglect of vulnerable parents.
Neglect of the elderly, especially in a country where caring for one's parents was akin to serving God is another bitter reality. Almost 30 per cent of India's elderly are subjected to some form of abuse or neglect by their families. Dr Mala reveals, physical to emotional abuse by strangers as well as close relations is common, yet it is widely ignored by society as well as the state. While parents are not ready to report it, the police, too, is reluctant to acknowledge it." Rajbir Deswal, DIG (CID), Haryana, who has extensively worked with senior citizens and has been involved with senior citizen cells across Haryana, feels that social policing can play a major role in improving the lot of senior citizens. But he also confesses that the Indian police is not sensitive enough to deal with cases of such abuse of the elderly.
Physical security, too, is a grave issue. As many as 500 murders of senior citizens were reported in Delhi alone in 2005. Chandigarh, Panchkula, Ahmedabad, Vadodara — no city is absolutely safe for senior citizens. Dr Sharma lists security, physical as well as economic; loneliness and healthcare as the major concerns of those in the autumn of life.
Of course, the problems of old age cannot be viewed across the board as one single entity. Says Vaishnav, "Rather it varies with different age groups and becomes more acute for those above 80." With rise in life expectancy, the average age is only becoming higher and India has about 200,000 centenarians too.
Ultimately whose responsibility elderly are? Should the onus rest with the government or the children? With the sharp rise in the number of the elderly between 1991 and 2001and the projection that by 2050, the number of senior citizens would rise to about 324 million, the government cannot be expected to take care of all.
Yet one key area in which the government can make a world of difference, avers Chadha, is healthcare. In India, the elderly suffer from both communicable as well as non-communicable diseases. This is exacerbated with impairment of vision and hearing. Elderly people are highly prone to mental morbidities due to ageing of the brain. In fact, the elderly are more prone to fall prey to depression and other psychological problems. Hence, according to Dr Lavasa there is a great need not only to understand the elderly but also to give their inflexible attitudes due allowance.
Dr Mala advocates self-help and also stresses on the need to tackle self-abuse along with other types of abuse to which the aged are subjected to. Whether the elderly form a peer group to help each other or are helped by society at large, there is no denying that the issue needs immediate attention, as Cherian says, "The scenario is grim and if not addressed now, in the next 10 years it will assume gigantic proportions. And neglect of the elderly is only a starting point of a deeper malaise of an 'I'-centric system."
Hence HelpAge is laying stress on the inclusion of value education in school curriculum to drive home positive values and sensitise impressionable minds to the problems of elders. Among other things, before India acquires one more dubious distinction of being a 'non-caring' nation too, all of us — families, society and the state — will have to chip in. It must be ensured that the elderly live with dignity and purpose as in their final innings, they have every right to savour the pleasures of the golden years.
In India the elderly with 7.7 per cent of total population, face a number of problems, such as poverty, illiteracy, and inadequate healthcare. Policies and measures must aim at protecting the personal dignity of the older people. Caring for the elderly can be emotionally trying for both the cared and the caregiver. On the one hand, the caregiver rues the fact that a healthy individual has metamorphosed into a sickly senior, on the other the parent or senior citizen feels that he has lost his place of authority and sense of independence and is hence emotionally drained. In spite of being frail and vulnerable, the elderly could contribute immensely to the growth of the community, provided that they are properly cared for.
There is a saying in Sanskrit: matro devobhava (mother is like God), pitro devobhava (father is like God). Those who neglected their old parents earned social opprobrium and were ridiculed. Forces of modernisation, technological changes and social mobility have changed people's lifestyles and values. Now, parents are either tucked away in some dark remote corner or garage of the house. Inevitably, the old in India find themselves an embarrassment to the young. Even in the villages, with the cost of living steadily going up, the business of looking after the old is becoming difficult. It is not the money alone, which is scarce. The bent of mind has changed and the values have got degenerated.
The second generation finds parents as 'deadwood', who extracts everything from them but offer nothing in turn, not even sweet hollow words or forced company for a few minutes. Article 41 of the Constitution enjoins the State to make effective provision within the limits of its economic capacity and development for public assistance in case of old age, and in other cases of undeserved want. Social security, social insurance, employment and unemployment are mentioned in the Concurrent List of the Seventh Schedule of the Constitution of India. Thus, the Constitution specially vests the responsibility for social security, social insurance, and public assistance in cases of unemployment, disablement, old age, etc. with state and central governments. As a result of these commitments, many state governments have been providing old-age pensions, maintaining homes for the destitute aged and providing grants to voluntary organisations maintaining the homes.
The efforts of HelpAge India and the schemes of old age pensions or old age homes have not proven adequate to provide healthcare to the elderly. — Dr R. Kumar