Turning stress into success
Ratanjit Singh, author of two self-help books, was in city from the USA to discuss his work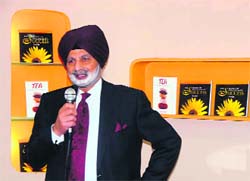 Finally! Someone inched further from the clutter of 'how to' genre and dealt with subjects today's generation's obsessed about 'success' and 'stress'. The author event at The Browser's-8, turned way beyond Ratanjit Singh interacting on the subject of his two books; The Secret Of our Ultimate Success and Tea: Recipe for stress free living. Published in USA, more than an year ago, the titles, both by nature and nomenclature, lend themselves to a never-ending heavy-duty discussion on life's biggest truths; here's an attempt at summary.
Tempo tunes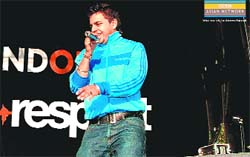 The name is synonymous with umtempo Punjabi music, and whatever he sings makes to it to the UK's top 20 music list. To add to the glamorous repertoire, he has also appeared in numerous crossover singles with some of the biggest stars like Ricky Martin, Madonna, Craig David. Juggy D is the man of the day. In city, to perform at the Heartline Concert 09 at Leisure Valley on Saturday, the modest singers shares notes on his work, and the rocking group.
Write notes
In city for the second World Punjabi conference, acclaimed poets and writers talk about the influence of Punjab and its rich culture on their works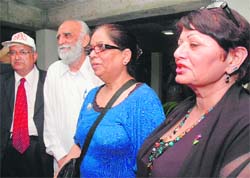 Ghurbat mein hon agar ham, rehta hai dil vatan mein. Samjho hamein vahin tum, dil ho jahan hamara; the couplet from poet Allama Iqbal veritably depicts the psyche of all NRI Punjabi writers. In city to attend the second World Punjabi conference organized by Punjab University they say their heart always beats for Punjabi ethos, which is eloquently reflected in their creative writings.
From left: Santokh Singh Santokh , Tarlochan Singh , Dr Devender Kaur and Dr Amar Jyoti, at the World Punjabi Conference at Law Auditorium in Panjab University
Picks & Piques


Puppy love
It's not another canine tale. Based on a Philadelphia Inquirer columnist John Grogan's memoir that saw three literary adaptations and went on to become The New York Times best-selling autobiographical book, Marley & Me chronicles the escapades of "world's worst dog."
Matka chowk
Lost and found
In India, we can seldom rely on Lost and Found. My daughter lost many water bottles in the premises of her school and not one ever made its way to the Lost and Found department. The railway station has a Lost and Found section but do you really expect to find your forgotten books, blankets and toys there?
TAROT TALK
What the cards say today...