Chawla set to head EC
Prez rejects CEC's recommendation
Tribune News service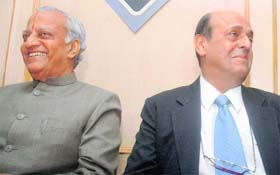 NOT LOOKING EYE TO EYE: N Gopalaswami (left), Navin Chawla
New Delhi, March 1
President Pratibha Patil on Sunday rejected the controversial recommendation by Chief Election Commissioner N Gopalaswami for the removal of Election Commissioner Navin Chawla. A Rashtrapati Bhawan communique said the President arrived at a considered opinion, and it is now expected that Chawla will head the poll panel.
The President after careful consideration of CEC's report, constitutional provisions and the Supreme Court judgement, arrived at a considered opinion and accepted the recommendation of the government, Rashtrapati Bhawan spokesperson Archana Dutta said. Chawla, a retired IAS officer, is now expected to succeed Gopalaswami on April 20 when his tenure as CEC ends.
The government is expected to name a new election commissioner to succeed Chawla in the three-member Election Commission. The other member is SY Quraishi, a former IAS officer. The decision came as no surprise since the government had made clear that the CEC was not empowered to seek removal of a fellow commissioner except if a Presidential reference was made to him.
Gopalaswami's action had also attracted sharp criticim from legal luminaries although the BJP had strongly supported the move. The full Election Commission is likely to meet tomorrow to finalise the schedule for the coming Lok Sabha polls. The battle in the Nirvachan Sadan, housing the three-member poll panel, took a new turn on January 31 when Gopalaswami recommended the removal of Chawla on a petition by opposition BJP, which accused him of partisan functioning.
Terming the government's move as unfortunate, the BJP today said the former had taken a political decision on a strictly constitutional matter. Chawla, an IAS officer of 1969 batch, was appointed as Election Commissioner in May, 2005 and will serve in the poll panel till 2010.
Within days of Gopalaswami's recommendation, Law Minister HR Bhardwaj had said the controversy should not affect Chawla's career. Hinting that Chawla will be the next CEC, Bhardwaj had said the government had a policy to have the senior most EC as the CEC. The government will begin the process well in time to put in place a new CEC, Bhardwaj had said and made it clear that the name of Gopalaswami's successor will be cleared before his retirement.
If the election schedule is announced in the next couple of days, then Chawla may also preside over most of the phases of the general election if not all. The BJP had alleged that Chawla was close to the Congress. In 2006, Leader of Opposition in the Lok Sabha LK Advani had submitted a petition to then President APJ Abdul Kalam, seeking removal of Chawla as EC.