Sound plan
Usha Albuquerque
They record & create sounds, lower or raise the pitch & can make you sound like a chipmunk or like Big B! As sound mixing gets a face with Resul Pookutty's Oscar win, here is more about audio engineering


Training Institutes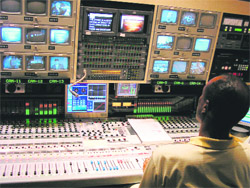 Film & Television Institute Of India, Pune, Law College Road, Pune 411004
Film & Television Institute Of Tamil Nadu, Chennai, CIT Campus, Chennai 600113
Satyajit Ray Film & Television Institute, Kolkata, E.M. By-Pass Road, PO. Panchasayar, Kolkata 700094
SAE Institute, Chennai
Whistling Woods, Digital Academy, Mumbai
AND the Oscar for best sound mixing goes to Slumdog Millionaire: Resul Pookutty! What a great day it was for India with three Oscars — all in the category of music and sound. Along with A.R. Rahman, who won two golden statuettes for best original song Jai ho and best original score for the film, Pookutty has done the country proud with his Oscar. More than that, he has put sound mixing and audio engineering on the career map and given it its due importance. By recording the varying sounds — "the soundscape of this very noisy city" of Mumbai, as he calls it — and mixing it in the manner he did, he was able to make the film viewer feel like he were actually walking the narrow lanes of Juhu and Dharavi! In fact, some of Rahman's success can also be credited to the sound engineers who work with him on his musical creations.
Be it a movie soundtrack, a music record or live concert, success largely depends on the sound quality of the final product. Sound engineers are responsible for this: capturing like a photographer the sound ambience or musical performance of an artist and recording or mixing and arranging it so as to bring out the best. With the use of sophisticated sound equipment, sound or audio engineers — as they are also called — can record and create sounds, lower or raise your pitch, make you sound like a chipmunk or like Amitabh Bachchan or bring a forest or war zone into your home.
A sound engineer is someone with experience and training in the production and manipulation of sound through mechanical (analog) or digital means.
In a recording studio, the sound engineer records, edits, manipulates and mixes a variety of sounds, operating mixing consoles, microphones, signal processors, tape machines, digital audio workstations, sequencing a range of software so as to produce the kinds of sounds required. Most work in the area of music production involves dealing with sound for a wide range of applications, including post-production for video and film, live sound reinforcement, advertising, multimedia, and broadcasting.
Sound engineering has come a long way from the days when it was recorded on analog machines and there were only three tracks for recording: one for lead vocals, the second for melodic instruments and the third for rhythm and percussion. Nowadays, all sound is recorded digitally using new technology — with new methods of sound mixing and new software — so you can have any number of tracks and create almost any kind of sound in a studio for any purpose.
Getting InWHILE many sound engineers get into this field after working at DJing, or in studios as assistants, and move up from there learning on the job, to succeed professionally in this field does require formal training. In this way you will not only get a better and indepth understanding of the discipline of music, but also get exposure to the latest equipment, and trends in sound recording.
A background in science with physics and maths is advisable, as you will be dealing with sound, which is physical energy, and working on a range of calculations, converting sound waves into electric energy, calculating a delay time or reverberation of the room and so on. You have an added advantage if you possess an ear for sound and music, as well as good knowledge and interest in music. If you are passionate about music, your sensibilities would be fine-tuned to the music you listen to, and your understanding of a particular genre of music would be polished. This would help in better recording of similar music, as you will understand the best musical arrangement for the song.
Some computer skills are also useful, and to start off, one can get a basic idea of sound and recording by setting up a small home studio system. With softwares like Nuendo and Ableton, it is possible to indulge in low cost home recording.
There are specific training institutes for sound engineering. The Film & Television Institute Of India, Pune and Chennai, offer sound engineering programmes that are highly sought after. Resul trained at the Pune Film and Television Institute of India (FTII). It is reported that he failed the first time he applied for admission but then returned home to Thiruvananthapuram and read up all the books he could find on sound engineering! In the next entrance examination and group discussion, he passed.
The Satyajit Ray Film & Television Institute, Kolkata, Whistling Woods Digital Academy, Mumbai, and the SAE Institute, Chennai, are other institutes offering diploma courses in recording arts (audio engineering). Mumbai University also offers a course on sound engineering, while IIT Kharagpur has an M.Tech in media and sound engineering.
A course in sound engineering would involve a comprehensive study of all the disciplines influencing the field, including the mathematics and physics of sound, acoustics, the business of recording and production, and music. You are exposed to all kinds of studio equipment and learn about music theory, digital recording, mixing, post production and so on. Some courses also include work experience and internships with recording studios.
With the flourishing music and film industry, there is increasing demand for sound engineers. The entertainment business with stage shows, performing arts in music and dance, and any number of events has also increased opportunities. Moreover, with the Oscar wins and the focus on music and sound, this can only open up the market for talented people. As a career option, sound engineering is becoming a popular choice, particularly among the musically-inclined. Several aspiring musicians choose this field so that they have a better understanding of how to improve the quality of the albums they produce.
Jobs in this field include working as a sound recordist in a studio or with a film or television company. You can also specialise in voice and dialogue recording, music and sound mixing and editing, in sound designing, or as a sound effects editor — creating different kinds of sounds. You can also work as a free lancer on live sound on location.
Most sound recordists are associated with music, studio work, light and sound for live concerts, speaker designing as well. One can get into recording studios for music, jingles, work with dubbing studios or work on live sound for concerts and the like. Radio stations have their personal studios where jingles and play music is composed. One can also work on cruiseliners as their sound and light technician. Sound engineering is also vital in film mixing, as we have realised with Resul Pookutty's Oscar win. Recording and dubbing voices, catching the ambience of the environment and mixing it together so that the audience can even hear a whisper in a noisy slum is just some of the possibilities for a sound engineer.
So, if you are passionate about music but have been wary about taking the plunge, I hope Rehman and Pookutty's Oscars will inspire you to let the sound of music become a possible career choice!