Act two
After her date with the small screen, she seems set to make it to the big screen. Fiza in conversation with Chetna Keer Banerjee from tinsel town…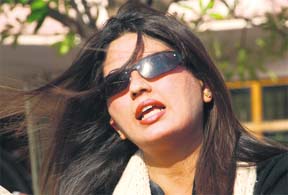 Fact and fiction. In a filmi script, the two can merge seamlessly. But when it's a report about a protagonist whose story is near-filmi, it becomes imperative to sift the fact from fiction. So, when we received a report from Mumbai about the city's own Fiza, aka Anuradha Bali, getting set to face the camera (nah, not the small screen this time), it was best to hear it from the lady herself. Yes, she attended the muhurat of upcoming flick Deshdrohi 2: 26/11, War on Mumbai in tinsel town on Tuesday. And has she been offered any role? "Kamaal Khanji (co-producer) was very nice. He said he'd like to give me a deshbhakti kind of role, but the details are not known yet," Fiza says on the telephone from Mumbai. "Kamaalji said that I'm a bold woman, so he would like to give me a role in his film."
Clone calibre
If you are thinking why on earth all Punjabi pop singers look almost alike, Gippy Grewal has a justification. Read on…
We bet most Punjabi singers visit the same saloon, they shop for their wardrobe at the same outlet and they have more or less attended the same grooming classes. For, they all look the same. Spiked hair, ear studs, lots of oxidised chains, a chainta and the invincible 'Yo-man' style. Gippy Grewal, a Punjabi singer, too falls in the same league.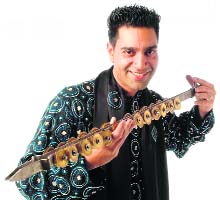 Rooted to music
Unlike others, Kamal Heer wants to sing his heart out, for times to come
Whether you call it a gradual shift or a conscious decision, acting always figures in the scheme of things of models and singers. But, we have someone tell us that it is not important, and he doesn't see it happening. Kamal Heer, the almond -eyed Punjab singer, does not want to get into something, which his heart does not accept. "When I look into myself, I see a singer sitting. I don't find an actor there," says Kamal Heer, who too will perform at Lakshaya.
Art for a cause
The workshop on Global Warming, Nature and Environment saw a host of colours and dash of concern
Haven't we heard the Miss India's in their swimsuits declare how Mother Teresa's their idol and they would like to devote their lives for the cause of global warming? Global warming. The concern that has Ivy League's research teams to geological scientists the world over in a tizzy. Hit and trial and something's gotta give. Perhaps, when artists unite, it will make a difference where it ought to and just like how it needs to. Somewhat analogous to Wednesday's art workshop on Global Warming, Nature and Environment organised at the Chandigarh Museum and Art Gallery-10.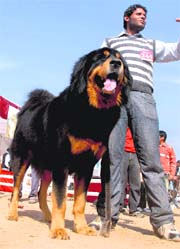 Show me not
Dog shows definitely steal the attention with your furball decked up for the show, but is all that grooming worth the effort? We check out
A straw- hat, jazzy mango shaped sunglasses and a deep reddish bow, Brownie reluctantly takes his place under the sun. This is his third year at the dog show and he knows about the drill that starts in the morning and goes on till evening. Dog lovers (really?) are all over the place, and some even stop by to throw an admiring glance. "I must be looking really funny with this cap. People, I am dog. Not a hippie from Goa," contemplates Brownie. And so do the 'real' dog lovers.
Photos by Pradeep Tewari
Pet pick
One for your home
People for Animals, Chandigarh has the perfect companion for anyone who is ready to be loved unconditionally and forever.
Test of parenting
Exam times are hard for kids to cope up with. But parents can really make things better or worse
Come March, when most of us enjoy the longer days, there are others who are too preoccupied to take pleasure in anything. We are referring to the horde of hassled parents and kids for whom this month is synonymous with exams and worse still, if it's the Boards.


A different Roop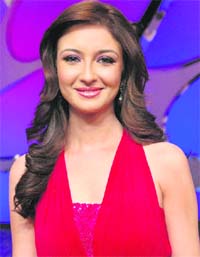 Saumya Tandon, Roop of Jab We Met fame, talks about her experience of hosting Dance India Dance, a reality show, during a web conference on Wednesday.

King-sized problem
Researchers say teen obesity crisis is linked with food habits of parents A new study has suggested that one of the keys to solving teen obesity crisis starts with parents. According to a new policy brief released today by the UCLA Center for Health Policy Research, researchers have found that teens are more likely to eat at least five servings of fruits and vegetables a day if their parents do and also, teens whose parents eat fast food or drink soda are more likely to do the same.
Name game
Cool veggie names leave preschoolers wanting more
Having trouble making your preschooler finish his veggies? Well, trying naming peas 'Power Peas' and see the magic unfold. According to a new study, labelling vegetables with catchy names, such as X-Ray Vision Carrots and Tomato Bursts, leave preschoolers wanting for more.
Wedding bells
A host of Bollywood and political celebrities descended upon the wedding reception of actor Ayesha Takia
Takia who wedded her long time restaurateur fiancé, Farhan Azmi on March 1 at a simple ceremony, hosted the grand reception here, which saw the who's who of film and political fraternity making it to the function.
Book bencher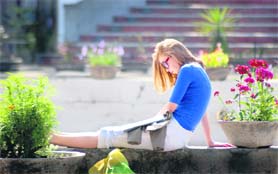 A Swedish tourist makes the most of the Chandigarh sun to bask and browse. Lifestyle photo: S.Chandan

Grace marks
Sonam Kapoor the first Bollywood actor to be dressed by Chanel
Sonam Kapoor's metamorphosis as a fashion diva came a full circle at the Filmfare Awards ceremony when she became the only Bollywood actor to wear a specially-designed gown by Paris-based fashion house Chanel. "I just kept staring at the beautiful basic but simple white gown that they sent me. Yes, I think I'm the first Indian celebrity to be dressed by Chanel in Bollywood. I'm so excited. I felt like Cinderella before the ball. Never before have I been so excited about dressing up for an event," Sonam, who attended the award function said.
Two to Tango
Jodha Akbar receives two more accolades at the Hong Kong International Awards
Return to romance
Tamil star R Madhavan, who began his Bollywood career as a lover boy in Rahna Hai Tere Dil Mein, wants to return to the romantic genre after exploring various characters in the Hindi film industry.
Back on track
Yesteryear heartthrob Mel Gibson all set to make a comeback
Hollywood actor Mel Gibson, who has been out of the scene since his 2006 scandal, is keen to make a comeback. The Braveheart actor is all set to make a comeback with the Edge Of Darkness.
Naked truth
Hollywood actor Nicole Kidman was knocked down with a feather when she recently saw her husband Keith Urban's age-old nude Playgirl photo shoot. Keith revealed that his wife was bowled over after she saw the venerable pictures.
Spoof on Hitler
British comedian Russell Brand, known for his cheeky sense of humour, has decided to name his next book Mein Kampfy Wampf in a tribute to Adolf Hitler.
Write to Renee
Caught in crossfire
at lifestyletribune@gmail.com or Life Style, The Tribune, Sector 29-C, Chd
I am a 28, married for the past two years to this extremely beautiful but very domineering young woman of 23. We met on the campus, fell in love and made a commitment.