M A I N N E W S
A Tribune Exclusive
Taliban terror haunts India
Rope in China, US to tackle the menace: Security agencies
Swati Chaturvedi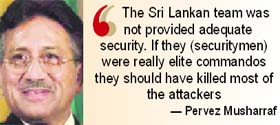 New Delhi, March 5
"Taliban is a mere five hours away from India," states a matter-of-fact report by security agencies to the Union cabinet. In a joint report to the cabinet committee on security, the agencies have called for urgent, joint action by India, US and China to take on the Taliban.
China, despite being an ally of Pakistan , is said to be worried about the growing influence of its home-grown extremists and radical groups of Islam. The unrest in the provinces in China is also being fanned by the economic slowdown. China, therefore, might not be averse to fighting what is perceived as a Frankenstein. India on its own does not have the strategic resources to counter the growing strength of the Taliban in Pakistan and Afghanistan, point out the agencies.
Warning that India is surrounded by a virtual 'ring of fire', the report says that the mutiny in Bangladesh and the attack on cricketers at Lahore indicate a convergence of forces which are opposed to the very idea of India. Describing recent events in Bangladesh as a time-bomb 'ticking', the report warns of a large-scale influx of people into India, if disturbances persist in the neighbouring country.
The possible connections between radical groups like the LTTE in Sri Lanka, Tehrik-i-Taliban in Pakistan, Jehadi elements in Bangladesh make it imperative to take effective action against terrorists.
Sources in the Home ministry expressed their concern about Nepal being used as a hub by the ISI. The strength of the Pakistan High Commission at Kathmandu, they say, is disproportionately high and more than half of them are suspected to be ISI agents. Government of India, these sources claimed, has taken up the issue with Nepal and has communicated its concern over overt and covert ISI activities carried out from Nepal.
The report rubbishes the claim that there are 'good' Taliban, namely those who are demanding the rule of the Sharia, and that there are 'bad' Taliban, namely the global jehadis. Even Mohammad Sufi, the Talib with whom the Pakistan government struck a deal to implement Sharia in Swat, has made no secret of his mission to implement the rule of Sharia over the whole of Pakistan and fight in Kashmir for oppressed Muslims.
Sources here indicate that the report is being shared with 'friendly' countries, including the United States. Government of India, they said, is convinced that the situation in Pakistan is out of control. The situation, said a source grimly, is 'almost' a 'code red', a term used to describe a state of nuclear alert.