Fatal Attraction
Drug addiction has assumed alarming proportions in Punjab over the past few years. Thousands of young and old are in its grip, reports Krishna Kumar
Stooping lifelessly amidst lush green fields in Narli village in Tarn Taran district, a stone's throw from the India-Pakistan border, Sukhwinder Singh, 29, curses the day he first touched heroin. His pale eyes well up as he bites his thin lips constantly to stifle snivel. "I have killed myself," he grieves.
Easy availability of drugs owing to proximity of the area with the Pakistan border and relentless habit of using a cocktail of drugs, has made Sukhwinder pay a heavy price. An AIDS patient now, he buries his face in his hands: "I've nothing to look forward to in life.
What will I do?"
AIDS has took its toll on Sukhwinder's world as he has lost his wife and a daughter to complicated illnesses. His son also died two years ago. He has lost six of his close friends, who were constant companions in his dreadful revelries. "I am awaiting my turn," he says as his eyes reflect the doom that he has brought on himself and his family.
Sukhwinder's is a despairingly familiar story in drug-plagued Punjab. The vibrant Punjab that had ushered in the Green Revolution is today living in a dazed stupor, as 67 per cent of the rural households in the state have at least one drug addict, a survey conducted by the Department of Social Security Development of Women and Children reveals.
Once an affluent village in Amritsar district, Maqboolpura has come to be known as a "widow village", where almost every home has lost some of its male members to the menace of drugs. Drug addiction has become a stigma that belies claims of prosperity in the state.
The vibrancy of Punjab is virtually a myth, as no cereals are being sold here by the youth, especially drug addicts (Amali is the local term used for addicts), to earn their livelihood. Instead, many sell their blood to procure the daily dose of deadly drugs, and even beg on the streets to satisfy their addiction.
Sukhwinder was once caught by the in charge of a blood bank in his district when he went there to sell his blood. His skinny frame, death-like pallor, deep sunken eyes, and particularly the multiple injection marks on his arms, gave him in, telling the tale of his notorious past. "It is no longer a question of a village getting ruined. The whole state is in the stranglehold of this death trap," informs Virsa Singh Valtoha, ruling party MLA from the Valtoha constituency that spreads across 96 km along the India-Pakistan border. "It is complete disaster all the way as the number of addicts keeps on increasing", he rues.
Younger victims
Not only are more and more people getting hooked to drugs, unfortunately, they are falling prey to this lethal habit at a much younger age. Youths gets lured into the world of drugs by tasting bhuki, which grows like a wild grass and is freely available in the fields. Or they take to gutka or tobacco pouches.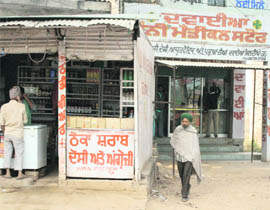 Mushrooming of illegal chemist shops in villages of Punjab has resulted in unrestricted supply of drugs
"The problem has assumed epidemic proportions in the rural areas where unemployment is rampant," says a patron of Punarjyot, an NGO working for the welfare of youth in Punjab. "A whole generation is as good as destroyed. Not a single village is without scores of drug addicts."
Once hooked, these young men graduate to cough syrups like Phansydril and Corex, Proxyvon, Dormant 10, Diszepham tablets. From this stage they, then, move on to a more lethal menu of opium, charas, ganja, mandrax, smack, heroin, lizards' tails and many more items like application of shoe polish in hair while sitting in the sun, smelling petrol and spreading Iodex on bread, to get that heady feeling. "Peer influence, thrill-seeking and curiosity about drugs were found to be the main factors that make youth take to drugs," observes an official of Spring Dale Senior School, Amritsar. With the consumption of intoxicants having become so widespread, most boys treat an introduction to them as some kind of a coming-of-age ceremony.
The sordid story of drug addiction begins out of a curious adventure and soon turns into a nightmare. "I have seen my colleague's son selling off his land and wife's jewellery to procure his daily dose," says Surinderpal Singh, an English teacher at a Government School in Narli. "It is really frightening as he sometimes asks his mother to shoot him in order to save him from this vicious circle."
The spread of AIDS, too, is linked to the malady due to the use of injectible intoxicants. The death rate and the number of HIV positive cases have increased by 60 per cent due to the rampant use of intoxicants. As per reports, within just one year, hundreds of youths have lost their lives to drugs.
Deadly drug stores
The scenario is becoming grim rapidly, say medical experts and social workers, due to the mushrooming of illegal chemists' shops, which are adding fuel to the fire that is destroying Punjab. Even a small village with a population of about 2,000 has at least 10 to 12 chemist shops, without any physician or general practitioner nearby.
"Many chemists are surviving on these addicts as they provide drugs to them without a prescription. Injectible intoxicants, tablets and syrups are easily available," says Dr Deepak Sahdev, of EMC Super Specialty Hospital, Amritsar. "Even many of the so-called de-addiction centres are actually proving to be addiction centres. These are, in fact, supplying drugs to the inmates."
The number of such shops, mostly selling drugs, and de-addiction centres, being run to fleece the patients, have increased at an incredible rate in the state. "A misconception about de-addiction is being spread in Punjab with some centres promising de-addiction treatment with laser therapy," says Dr Debasish Basu, Professor, Drug De-addiction Centre at PGIMER (Postgraduate Institute of Postgraduate Institute of Medical Education & Research), Chandigarh. "Most of the privately run de-addiction centres lack basic facilities and are there just to mint money."
Media reports have often revealed inhuman treatment being meted out to drug addicts at private de-addiction centres where they are even chained and beaten up mercilessly on the pretext of being disciplined. In Mohali, workers of a local de-addiction centre recently dumped a youth at the gate of his house after he developed medical complications. The youth died later.
The Punjab Government has, of late, started conducting raids on illegal de-addiction centres in the state.
The increase in the number of patients at the drug de-addiction centre in the PGI is alarming. The institute gets 1,000 patients at walk-in clinics every year, while 500 patients are registered in the OPD. Nearly 250 addicts are being treated as in-patients.
Chain reaction
"Drug addiction is a chain reaction. One person ropes in others into it," explains Dr Basu.
Vikas, a student of BBA, narrates his dreadful experience of trying to make his batchmates attend a seminar on the issue. "They sought smack as compensation," says Vikas. "They also forced me to take some pills bought from a nearby chemist.
Even Punjabi kudis are in the grip of this menace. Kirat, a student of a dental college in Dera Bassi, revealed that many of her friends sail through the strain and pressure of examinations with the help of the "stuff". "A cigarette break is quite normal. Pills are provided in a purse if you need more stamina," she reveals. Girls also prefer cough syrups to other deadly forms of intoxicants. They get their 'quota' from young peddlers, mostly boyfriends, who operate in the vicinity of co-educational institutions.
Trading death
Smuggling and narco-terrorism are a natural corollary of drug menace. Youth are able to make a quick buck through drug-trafficking. "We are able to confiscate only 10 per cent of the smuggled narcotic substance. The rest is consumed in the market," reveals a senior Narcotic Control Bureau officer in Chandigarh. There are recoveries occasionally, but they are not even the tip of the proverbial iceberg.
For several years, Punjab was only a transit point for smack from Afghanistan, which was being routed to other parts of the world or to metros in the country. "Punjab is no more just a transit point now. The Afghanistani smack is being sold here and a large number of youths has taken to it," says an official of the Narcotics Control Bureau.
The drug trade has increased by at least 30 to 40 per cent in the last year , ever since the cross-border civilian movement has increased between India and Pakistan.
Recently, on Christmas eve, the Punjab Police recovered 50 kg heroin worth Rs 250 crore in the international market from a young brother-sister duo in Phagwara. The Narcotics Control Bureau, Chandigarh, reports that the number of registered cases of heroin smuggling has increased manifold since 1998, and more than 1,200 kg of the drug had been seized during the same period. The data suggests that since 2004 more than four kg heroin has been seized.
The report also suggests that cocaine, charas, methaqualone, ephedrine, acetic anhydride and amphetamine are some of the other drugs flowing in the state. Since the cultivation of poppy is licensed in certain parts of Rajasthan and Madhya Pradesh, drug trafficking from western borders as well oils the drug
cauldron in the state.
"International drug cartel and terrorists operating from neighbouring countries are actively involved in drug smuggling," says a police official. Social activists, however, believe that a police-level drive is not sufficient to deal with the situation.
"The war against drug menace cannot be fought in a piecemeal fashion," believes Dr Manjith Singh, Professor, Department of Sociology, Panjab University. "People have to wake up to the gravity of the situation. Punjab takes pride in its Green Revolution. Now to rid the state of the malady of drugs, we need another revolution. But no one knows how long it will take." However, for many like Sukhwinder Singh it is too late.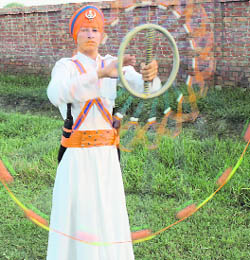 healthy thrills:

Many teenagers like Sumanjot Singh are showing a keen interest in traditional martial arts like gatka Photos by the writer
The Sikh martial art — gatka — is now being practised to fight a different social enemy. This martial art has come in handy to keep youths in rural areas away from the drug menace. The idea is to inculcate a sense of discipline and love for a healthy lifestyle. "We are catching them young," says Davinder Singh, a gatka instructor at the Shaheed Bhagat Singh Academy in Narli village.
"Youngsters are made to practice various techniques of the art for three to four hours daily. The practice involves the use of body, weapons and mind in unison, which helps in building an active body and an alert mind.
This training eventually helps in building a strong character and will power among youths." This unique attempt of Punarjyot — an NGO which has come forward to impart training in Sikh martial art to boys in border villages — has found many takers.
Eleven-year-old Parminder Singh, along with his 13-year-old friend Mandan Singh, cycles more than 12 kilometres from his village, Marhi Megha, to attend gatka classes daily. "This is a an exciting activity which helps us stay healthy and away from drugs," says Parminder. "I am happy playing with sticks, and enjoy the kick that gatka gives. I'm not interested in the kicks the drugs give and kill you eventually. Gatka is thrilling and healthy too," says Suman Jyoth Singh, who cycles 4 km everyday from Chhina Bidhi Chand village near Indian-Pakistan border to practice this unique sport. As many as 50 youngsters from Narli and its surrounding villages like Khalra, Chhina Bidhi Chand and Mari Kamboke, get coaching in this academy.
Gatka has emerged as a useful refuge for those who want to stay away from drugs. More and more teenagers in the rural areas of Punjab are showing a keen interest in it. This traditional art is proving to be a useful hobby and activity for the youth, especially those who are unemployed and are prone to fall prey to anti-social activities.
"It is a satisfying experience to see the rural youth reverting to their roots," says Surinderpal Singh, an English teacher at a Government School in Narli. "Though, gatka is no more used to fight the enemy, it has benefited the rural youth tremendously in its own unique way."