Gender & norms
Ranjit Powar
Living the Body: Embodiment, Womanhood and Identity in Contemporary India
by Meenakshi Thapan.
Sage.
Pages 190. Rs 550.
Undoubtedly, not a work that is merely another attempt to 'keep up with trends' or cater to the current passing interests in nonchalant gender issues, Living the Body is a meaningful sociological research in women's studies that builds on previous work focussing on factors that go to fashion women's identities and perspectives.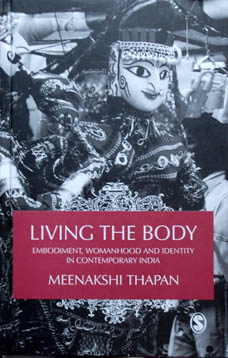 The author starts out to delineate the complex relationship between embodiment, gender and identity and how these are constructed by the social and emotional factors governing an individual. Unless the reader has been a student of social sciences, a further introduction to the key concepts in the current work is definitely needed. The 'embodied self' is constituted and understood in relation to others — social, cultural and ethnic factors that shape one's gender identity and not merely about the body or the behaviour.
Interestingly, Meenakshi Thapan has taken two samples of adolescent and adult women from the so-called well-to-do strata and the socio-economically underprivileged class and carried out a comparative study on them. In contemporary urban India, global culture, opening up of the economy, levels of education, peer group, access to the visual and print media – all play a significant role in articulating women's identities.
Family and social expectations further go a long way in formulating the desired modes of behaviour and appearances. In fact, the all-encompassing family never really relaxes its hold on a woman, whatever her age, class or position. Focusing on print media as a major modulator of ideals and goals, the author has observed the tones and insinuations of Femina, a popular women's magazine, in constructing the ideal feminine self of the modern Indian woman, trying, surreptitiously, to set standards for every woman to judge herself against. In its generosity, though, it also doles out advice about using various cosmetics to correct whatever physical flaws may keep a woman from achieving the desired glamorous image. It is interesting to note that however 'modern' or 'liberated' or professionally qualified a woman may be, she does not, at any time, stray far from 'traditional Indian-woman' norms.
The author has reproduced several interviews in which women talk about their marriages and sexuality. It's a dismal picture, to say the least, and it is revealing that there does not appear to be a significant difference between the feelings of oppression, inequality, victimisation and sexual dissatisfaction or aversion between women of different classes. Marriage, child-bearing, relationship with husband and in laws emerge as the most significant factors crucial to a woman's identity. The nature of her interaction with these significant others, her worth in their eyes and the dynamics of her communication with them – all determine her lived and embodied experience. It is an unanswered question why the author has not given a voice to women who are single through being unmarried, widows or divorcees or cared to study sexuality out of marriage.
The author has attempted to map a large canvas in this study, and it is understandable that it would not be in the realm of her discipline to explore and document the innumerable cognitive, genetic and environmental factors and their interplay in determining identity, gender and embodiment structuring. If one can be generous about these omissions, Living the Body will assist in taking further the understanding of womanhood in contemporary India.