Nun's expose
A former catholic nun in Kerala has penned down an autobiographical account of sexual abuses prevailing in convents besides ill treatment being meted out by superiors to nuns. The book titled Amen—- Autobiography of a Nun by former nun Dr. Sister Jesme from the Catholic Church in Kerala, highlights the little known moral corruption for public knowledge.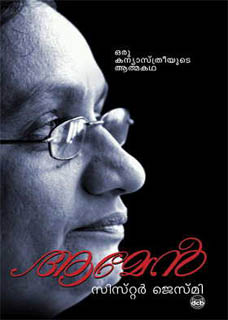 Dr. Sister Jesme recently had the book published in Malayalam. But it will soon be published in other languages including English.
Jesme, in her book, states various incidents of harassment and sexual activities prevailing in the convents besides narrating her personal trauma during her nunhood.
Fifty two-year-old Sister Jesme says, "With this book I want the society to know what is happening to the sisters in convents." Jesme quit the Congregation of Mother Carmelite (CMC) on August 31, 2008 after spending 30 years of religious life. Her superiors described her mentally sick and sent her to rehabilitation centre.Jesme has now chosen to expose malpractices within the Order.
The book reveals how a fellow nun pushed Jesme into a relationship and when she reported the matter to a senior nun, her complaint fell on deaf ears. The book has already created tension among the clergy members across the state.
Jesme holds a doctorate and master of philosophy from Calicut University in English as her core subject and has also been a reader in a college for a few years.
Sister Jesme, during her stint at CMC, held various important posts the last among them being the Principal of St. Mary's College in Thrissur district. She presently lives in Kozhikode city.
Penguin Books will publish the translated version of this book in English, Hindi and Marathi. The book to be titled Amen - Autobiography of a nun will be in the stalls by this week and the author is sure it will ring the bells at Vatican. — ANI