BACK OF THE BOOK
Human Rights and Peace — Ideas, Laws, Institutions and Movements.
Ed. Ujjwal Kumar Singh.
Sage.
Pages 345. Rs 420.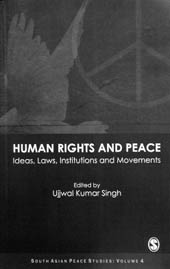 Human Rights and peace: Ideas, Laws, Institutions and Movements redefines the ambit of peace, presenting a radically different perspective of looking at its relationship with human rights. It deals with the transformation of both the definition and practice of peace, showing how it has now taken the domain of human rights into its fold.
Through experiential articles on the themes of ideas, laws, institutions, and movements, this collection reveals how people's struggles against specific forms of institutionalized violence take the form of calls for 'peace'. It brings together hitherto unpublished writings on peace and human rights. It also includes some rare articles extracted from landmark published pieces.
This book is an insightful resource for students and researchers of Peace Studies, Human Rights, Politics and International Relations. It is also an invaluable idea bank for activists, think tanks and policy makers who seek to understand the evolving paradigm of peace and human rights.
An Insight into Dementia Care In India.
by Leena Mary Emmatty. Sage.
Pages 118. Rs 240.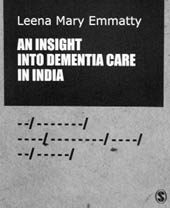 With the rapidly increasing population of the elderly in the country, dementia is increasingly becoming a cause for major concern. Apart from the patient, the disease also has a significant impact on caregivers and the patient's family. This book outlines the existing research studies on dementia and explores the caregiving scenario in the country.
Among other issues, the book explores the following areas: epidemiology, common types and causes of dementia; caregiving activities and daily chores; person-centred care and support; assessment and management of dementia patients; psychosocial interventions in the Indian context; resources and services available in India.
Based on original research, this book will help bridge the gap between the dementia-related literature of the west and care-giving practices in India.
This book will serve as a reference book for students and research scholars studying psychology, psychiatric nursing, social work and rehabilitation. Professionals like psychiatrists, psychologists, social workers, nurses, and paramedics and caregivers working with the elderly will also find the book to be valuable.