The jail that was
Chennai's 152-year-old Central Jail building is soon going to become history as
the stage is set for its demolition. Tribune Correspondent N. Ravikumar goes through
the pages of history after visiting this once-dreaded prison
NOT many gave a thought to the Chennai Central Jail, even though it was located right in the middle of a busy area in the city, till the news of its demolition became public. And suddenly, almost everyone in Chennai, is longing to 'go to jail' to catch a glimpse of the prison, before bulldozers raze it. Hordes of visitors, armed with cell phone cameras, can be seen thronging the prison premises, which have been thrown open to public. A thick haze of dust, kicked up by hundreds of visitors walking up the pathways, envelops the 152-year-old building.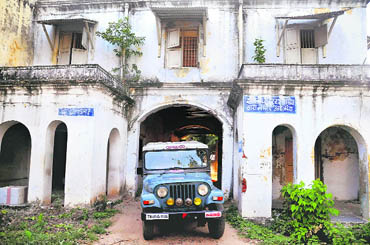 A view of the cell where LTTE chief Velupillai Prabakaran was kept in 1985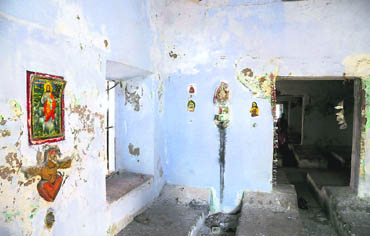 A dormitory cell with cement slabs that served as
beds for inmates and paintings of deities on
the walls Photos R. Jayakantha

The prison, which has been in disuse for a long time now, is just a stone's throw away from the Madras Central Station and is one of the city's landmarks next to the municipal corporation headquarters, the Ripon Building. Government General Hospital, too, is in the neighbourhood. The imposing colonial structure, constructed in 1837, is spread over 13 acres, housing 257 cells within a total of 12 blocks. It is a sprawling campus virtually in the heart of the city complete with the typical frills a jail should have — massive, imposing walls, barbed-wire fences and the works.
The grim ambience and the air of secrecy that a prison is usually swamped with, are attracting a number of visitors as well as former inmates to this soon-to-be-history jail.
"It had been painful to pass each day here. I used to be seething with anger in the evenings on being locked up in my cell in the 25th block. However, now, I'm happy to be here again as I'm not a prisoner anymore, and I even wish to spend some time in the cell," said a 60-year-old man, who had served a term here after being convicted in a murder case.
Many others have come simply to see how a prison looks from within and to know more about its historical links.
Brush with history
The prison, constructed in 1837, served as transit point for prisoners being sent to the dreaded Cellular Jail in Andaman and Nicobar islands. What started as a transit point was made a full-fledged prison in 1855.
It was here that Veer Savarkar was kept before he was transported to the Andamans. Besides, Congress and Communist leaders from Tamil Nadu, several leaders like DMK founder C.N. Annadurai, Chief Minister M. Karunanidhi and former Chief Minister J. Jayalalithaa were lodged in this prison. Various leaders of the DMK, too, were lodged here during the Emergency. LTTE chief Velupillai Prabakaran was, too, was kept here in 1985-1986.
Looking at the prison, one remembers the midnight drama of June 30, 2001, when the then Chief Minister M. Karunanidhi was brought to this jail. He sat in front of the building and threatened to go on a hunger strike if he was not allowed to get medical aid. The police had to resort to cane charge several times to disperse his followers outside the jail. Earlier in 1996, former Chief Minister J. Jayalalithaa was brought to the jail and was lodged in one of the cells for four weeks.
Some of the officers, who are there to guide the visitors, still remember the 1999 prison riots during which 16 persons, including jailor Jayakumar and warden Natarajan, were killed.
A prison official was burnt alive, while firing and indiscriminate cane charge had left several wounded. The prisoners, however, were not able to escape as they had to pass through two heavily guarded gates. Moreover, high walls and electric fencing had made the prison building very secure.
The riots also brought to public attention the problem of overcrowding in the prison and the need for a bigger and spacious location. The prison was having double the number of inmates than its capacity.
The Central Prison was shifted to Puzhal on the outskirts of the city as the original building lacked adequate facilities.
Another reason was its proximity to the railway station, bus terminus and port, which could provide an easy escape route to its inmates. The first prisoners to escape the jail post-Independence, in the late 1980s, were the notorious criminal Auto Shankar, his brother and two of his accomplices. After Shankar's escape, eight LTTE cadres, detained under TADA, used a gun, ropes and bedsheets to scale the prison walls and escaped on the night of February 27, 1995. While one of them, Shanmugasundaram, who was in the jail in connection with the LTTE submarine case, and another cadre Kutty, consumed cyanide just outside the jail premises and died. Two others — Balan and Balendran — were recaptured.
The fascination of people for this landmark has made authorities defer the demolition process for a few days more. Director-General of Police (Prisons) R. Natraj said, "We have decided to keep the prison open for public viewing until the government issues an order for its demolition".
He said information boards had been put up inside the complex for the benefit of the visitors and prison staff had been posted to answer their queries.
Old order changeth
This historic prison will make way for the upcoming Metro Rail Project and an extension block of the Government General Hospital.
The 14.3 acres will be used for expansion of the General Hospital and construction of a station for the proposed Rs 10,000-crore Metro Rail Project, Natraj said. He expressed happiness over the jail giving way for a large blood bank and railway station.
People have been the life force of this building and even after a metro rail station is built, many people entering the building to board the trains will remember the large walls and the big gates memory of which will stay alive in the history books.
THE VIP cell is located near the entrance. It is an air-conditioned two-room cell with a large attached bathroom. The common prisoners' cells are quite different — each is around 6x6 ft having a cement slab that serves as a bed and a toilet in a corner. There are at least 100 such cells on two levels.
The visitors then pass through the huge kitchen and laundry areas. Next in line are the dormitory cells. These are long rooms with cement blocks or concrete beds crowding the area.
Far in the depths are located the cells meant to restrain hardcore criminals. Dingy and secluded, these 4x4 ft cells having a concrete bed and a toilet.
After this comes the de-addiction wing. It is a cold, white-tiled structure with walls stained with blood or vomit, reminding one of the despair of those who lived there.
Although, execution of death sentences was stopped in 1970, the scaffold is still there. There is also a block for foreigners, which is attracting huge crowds here. Many of the visitors could be seen picking up mementoes in the form of jail registers scattered in a room.
The Parvayalar Arai where inmates were allowed to meet visitors, is a surprise to many people as it is very different from what is shown in movies and TV serials. There is a big gap between the place where the visitors and prisoners stand. The visitor would not be able to touch the prisoner, leave alone pass on something. Both the visitor and the prisoner must have had to shout at each other in order to be heard because of a number of 'meetings' going on simultaneously.
Though, overall it is grim, there are some redeeming features like a small temple for worship and a dhyana mandapam to meditate. There is also a computer-training centre though it is filled with filth now.
Most of the prisoners have left their signatures on the walls of cells along with the names of their dear ones — a desolate young child at home, a loving wife, a caring mother or father, an affectionate sister or brother. Some had scribbled lyrics of a film song, which had moved their hearts. It is difficult to comprehend how those lines were connected to their lives. There are some lovely pictures too, pretty faces of women, children, green fields, mountain valleys, rivers and Gods. Suddenly, one feels that these social outcasts, too, had passions, emotions and aesthetic sense, similar to ours. Many of them had been locked in these cells for years, or, in some cases, till a kiss of a rope finally released them from a miserable, lonely life. — N.R.