Da Vinci had blonde hair, blue eyes
Going by the details of a portrait that has come to light in southern Italy Leonardo da Vinci had long blonde hair and piercing blue eyes. The slightly damaged oil painting on wood shows the Renaissance master in a three-quarter profile and wearing a hat.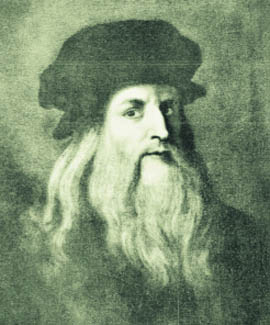 The painting was discovered by a medieval historian in the private collection of an aristocratic family from Acerenza, a hill town near Potenza in Basilicata.
"The link with Acerenza is not so unusual. We know that Da Vinci visited this remote region. We know that a powerful Florentine family, the Segnis, lived in Acerenza around the 16th century. Leonardo had a close friendship with this family, and even gave them one of his drawings as a gift," medieval historian Nicola Barbatelli told Discovery News.
It is believed that the 60x44 centimetre portrait was made by an expert hand, since it doesn't show any sign of preparatory drawing.
"Moreover, the back of the painting has revealed an inscription written in the typical Leonardo's reverse handwriting which reads 'Pinxit mea', basically hinting to a self-portrait," Barbatelli said. Experts are now investigating whether the painting really dates to Leonardo's time. — ANI