Here goodwill prevails
Despite mobiles, ATM cards and other gizmos surrounding the whole area near Guwahati, thousands of tribesmen assemble to take part in the annual Junbeel mela for barter trade.
Mrinal Talukdar gives a glimpse of a world where goodwill scores over money

Despite mobiles, ATM cards and other gizmos surrounding the whole area near Guwahati, thousands of tribesmen assemble to take part in the annual Junbeel mela for barter trade. Mrinal Talukdar gives a glimpse of a world where goodwill scores over money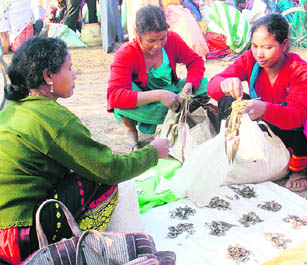 Tribals exchange food items with people from the plains during the Junbeel mela at Morigaon, Assam
Photos: Reba Kumar Borah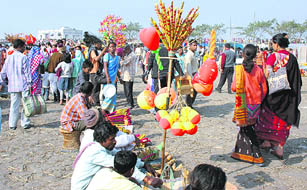 A market view of the Junbeel mela

Fiftyfive years after Frank McNmara changed the face of money by introducing credit cards, the barter system continues to flourish in a healthy way at a place just an hourís drive from a bustling Guwahati.
Driving past 50-odd bill boards of credit cards and ATM cards through the crowded National Highway 37, one can reach Jagiroad in an hourís time to see this unique event in this material world, where everything is counted with money.
"Not here. We still value goodwill and encourage the barter system between participating tribes," said the Tiwa king Deepsing Deorajah. He is a king without a kingdom. But in the areas surrounding Jagiroad stretching up to Meghalaya and Karbi Anglong, his goodwill still commands unquestioned respect.
Every year during the third week of January, thousands of tribal people assemble in the annual Junbeel mela for this unique barter trade.
Despite mobiles, ATM cards and all kind of gizmos surrounding the whole area, thousands of tribal people assemble from all parts of the area to take part in the barter system.
Hundreds of Khasi people come down from the neighbouring Meghalaya hills with their produce to barter their goods with the subjects of the Tiwa king, who is also known as Gobha Rajah.
"This is a tradition. The Khasi and Jaintia people come with ginger, turmeric, wild bee and betel nuts, besides brooms. They exchange their products with dried fish, salt, vegetables and clothes with the local Tiwas," said the chief executive member of the Tiwa autonomous council, Ramakanta Deuri.
The council is a modern form of governance in the area but during the festival days it allows the traditional king to take over the proceedings. Braving severe cold, the tribals from Khasi hills descend two days in advance and camp in an open area near Jagiroad, which the king and his subjects prepare before the fair everyday.
The festival distinctly has two parts. In the first part money definitely has a value, and one can buy anything.
But the real character is in the second part of the mela, where money has no meaning. "Generally, the barter takes place between the Tiwas and the Khasis. The Tiwas are master-weavers, and their clothes are in great demand. Hence, these Khasis do their annual marketing of clothes in this mela," said the Tiwa king.
Although there is no custom of marriage between the two tribes, each considers the other relatives, and, hence, along with the head of the family, the entire clan moves to the Junbeel festival for those three days with an extended session of feast, merry making and various indigenous games.
The highlight of the festival is community fishing, in which more than 2,000 people take part. Cock fights are an addiction with all the males of both the communities. This year alone more than 400 cocks took part in the fight, drawing hundreds of onlookers.
The mela, because of its unique custom and tradition, has now attained the status of a tourist destination, as many from the neighbouring towns flock in for sheer enjoyment at a fair where money has no value. ó UNI