Jewellery for him
Men go in for diamond-studded watches and gold chains, says Harshad Somani
From tweaking their eyebrows to pedicuring their toes, men today indulge in much that was earlier written off as feminine, especially the jewellery, which was a no-no. You have seen them flaunt it, be it the flash of a diamond ear stud, or the shimmer of a bracelet. Men are wearing jewellery, including diamonds, everywhere—from boardrooms to bar rooms. Once considered supremely tawdry and garish, male jewellery in India has taken a complete somersault, and is now accorded greater respect.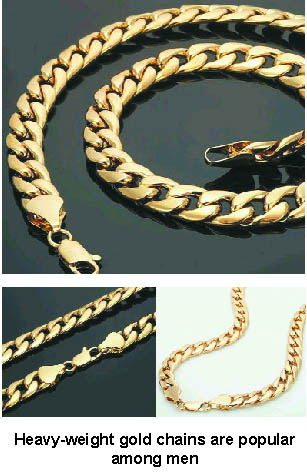 According to surveys by the jewellery industry, the Indian male, wanting to show off his jewellery, has socially a fairly wide exposure to the rest of the world (particularly the West). This has given him an awareness of fashion, a desire to look good and a strong ambition to expand his horizons.
About 75 per cent of men in urban areas in India wear rings (40 per cent of which are wedding rings and 35 per cent are gem-studded bands worn for astrological purposes). Very few wear cufflinks and tie pins. But about 80 per cent buy them at least once in their lives. Over 65 per cent wear gold chains or bracelets. The 25-34 years of age group is the highest consumer in terms of volume of men's jewellery; the 45-54 years of age group is the second highest in terms of volume, and the largest consumer in terms of value of gold jewellery. This indicates a trend towards small value and large volumes. About 75 of women have gifted jewellery at least once to the men in their lives.
However, as jewel designer Rahul Jani of Bombay points out, unlike ornaments meant for women, which are 'rather dainty with a good deal of detailing and floral patterns', male jewellery is 'robust with a masculine flavour'. Animal forms like lions, tigers, dragons and inter-twined snakes are recurrent motifs in wristlets, pendants and tie-pins.
Says Govind Tarneja of Karol Bagh jewellers of New Delhi: "Women have started experimenting with chunky jewellery and bold-coloured stones, whereas men are going more for charms, crystal studs and lighter neckpieces".
Stainless steel has fast become popular due to its strength, durability and resistance to scratches. Steel wins hands down because it is anti allergic, tough, cheap and comfortable enough to be worn daily, and yet sophisticated enough to wear to a formal event.
When it comes to diamonds, men have now awakened to its worth, are sporting a diamond or two. "Compared to a few years ago, the market for men's diamond jewellery is picking up," says Rajen Patel of Classical Jewellery of Zaveri Bazar, Bombay, and adds: "With the awareness and hype about diamonds, everyone wants to possess them. However, unlike women, men go for subdued diamond jewellery. Men often start with diamond-studded watches, followed by wedding bands with sparkling stones, and then move on to ear studs, diamond-gold chains and even bracelets." Remember, Vijay Mallya's famous solitaire ear stud?
The most popular category among men is the simple heavy weight gold chains and bracelets. To add the sparkling effect, customers are also complementing chains, with pendants and lockets. These days pendants with initials are in fashion. The bracelets for men are anything but feminine, incorporating materials such as brushed steel and rubber for a refined, yet rugged style.
Cufflinks and tie-pins, the market for which is picking up slowly, can cost about Rs 5,000, if in gold, and cost four times more, if replaced by a few diamond studs. Crystal-studded cufflinks and tie-pins are priced between Rs 3,000 and Rs 6,000. Diamond-studded watches can also be an option. But for a more sober look, one can go for gold and steel watches.