A slice of history
Antony Colaco on heritage mansions of Goa, some which are at least 400 years old
SINCE Independence a large chunk of India's architectural heritage has been lost to the realty lobby. Many historical buildings have been razed to make way for multi-storey buildings.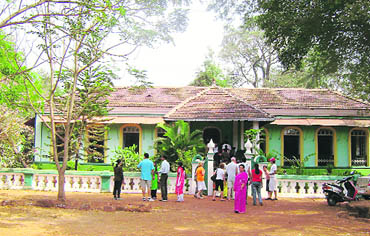 A 250-year-old Portuguese mansion. There are a large number of such structures in Goa's numerous villages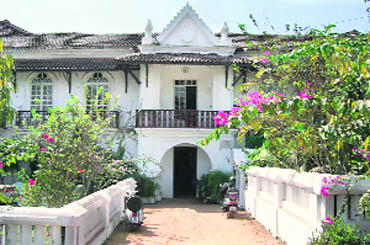 The 450-year-old Braganza House at Chandor village in south Goa is perhaps the grandest of the state's colonial mansions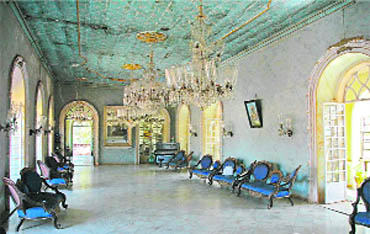 The ballroom at Braganza House
Goa, with its colonial past, has a rich variety of architectural styles. This legacy, too, may have been buried under concrete but for the efforts of a group of heritage conservators, the Goa Heritage Action Group (GHAG). It has been working tirelessly since the past 10 years to conserve the historical and cultural heritage of Goa reflected in its colonial architecture showcased in many Indo-Portuguese mansions, some of which are 400 years old. The GHAG has already taken on several restoration projects.
There are about 300 such houses, strewn all over Goa, according to archaeologists. Eminent historian Gerald D'Cunha and Heta Pandit have put together the history of many such mansions in Houses of Goa. They have recorded the condition of at least 150 of these houses in their book.
After the advent of the Portuguese in Goa in 1510, over the centuries, a local nobility evolved, consisting mostly of Hindu Brahmins, who had converted to Christianity. These converted Brahmins built grand Goan mansions having wide verandas, panelled ceilings, ornate private chapels with sculpted saints and cherubs, and window shutters decorated with oyster shells. Adventurously painted, these mansions glow red and blue and yellow behind the tropical foliage of banana and jackfruit trees. Though the Portuguese influence is obvious but many of these mansions also reflect a unique fusion of ideas, which later led to the metamorphosis to architecture in India.
There are dozens of these stately mansions in Goa, most of which were built in the 18th and 19th centuries. The coastal villages of Calangute and Candolim boast of a large number of heritage houses.
More than 500 years after it was built Proenca House still stands serenely near the busy Calangute market junction. It is not easy to miss this two-storey house, painted a bright yellow and rust. With its Hindu-style inner courtyard, this house pre-dates the Portuguese invasion. Magnificent frescos still adorn the walls of the first floor landing.
There are a large number of smaller mansions spread out among Goa's numerous villages. These mansions usually have two or three large-size reception halls, dining halls, several bedrooms, a "balcao" or veranda overlooking a well-maintained garden, as well as a flight of steps located in the centre leading to the garden and balcao. A common feature of many of these Christian homes is the presence of a small chapel within it.
The condition of most of these Portuguese-era mansions is quite bad, as it requires lot of money to restore them. "The maintenance of these palatial homes is a costly affair, as these were built with locally available material like laterite stone and limestone plaster. Burma teak wood and Mangalore clay tiles were also used in construction," says historian Gerald D'Cunha.
These materials, which were found in abundance a few hundred years ago, are difficult to obtain now. "Just changing the tiles every other year costs Rs 15,000," says Dr Loyola-Furtado about his mansion and adds " The wooden beams have to be kept free from white ants because replacing them is an expensive proposition - the Burma teak has to be imported."
The Braganza house at Chandor village in south Goa is perhaps the grandest of the state's colonial mansions. This mansion, with precious artefacts from all over the world, is over 450 years old. It was built in three stages. The sheer size of the house is to be seen to be believed. Having 28 balconies, it is 110 metres in length and flanks the full length of one side of the village square.
Braganza house also has the biggest private library in Goa having over 5,000 books in English, French and Portuguese. A variety of material has been used from room to room: the visitors' salon has Portuguese tiles; Flemish wood has been used in the library, while the ballroom is made of Italian marble. There are crystal chandeliers from Venice and Belgium. Some windows are made of coloured glass from Venice, while others are decorated with scraped and laminated oyster shells found on Goan beaches.
The house has been divided into two halves, both occupied separately by members of the Braganza family. The West Wing, which is better maintained and has finer antiques, is owned by Mrs Aida de Menezes Braganza (descendant of the freedom fighter and journalist, Luis de Menezes-Braganza). In 2005, Mrs Braganza (90) formed a trust for maintenance of the house. But this move has not brought the desired results and the owners are now looking for partnership with an organisation that will help them in preserving "the living museum of Goa's heritage".
There are many more famous mansions like the ancestral 320-year-old home of famous cartoonist Mario Miranda at Loutolim who has now settled there. This house has been featured in Shyam Benegal's film Trikaal. The Miranda mansion has intricate ceilings; rich wall frescoes and Chinese mosaics embellishing many rooms on its various floors.
Fiegueiredo mansion is another heritage house nearby Miranda mansion. At least four centuries' old, the house belongs to Maria Fiegueiredo, a Goan with a Portuguese passport, who spends six months here and the rest in Lisbon. The mansion, with its high ceilings, a huge dining hall that can accommodate 800 guests and its spacious ballroom, is a fine example of Portuguese architecture. "The Portuguese culture is a heritage of Goa, which should be preserved," says Mrs Fiegueiredo, who has recently converted a part of her home into a heritage inn.
Goa's tourism department is also doing its bit to preserve these heritage mansions. The department is helping to pay for the conversion of around 20 old Portuguese homes into inns in order to preserve them, while another hundred of these mansions have been earmarked for conversion into inns in the second phase. Hopefully, this will bring in the much-wanted revenue, which will ensure their continuation as heritage mansions. — MF