Indian circus on a tightrope
ONCE a major mass entertainment, Indian circus is virtually on a tightrope walk due to the difficulty in getting new talent to join the art and lack of institutional support for the profession.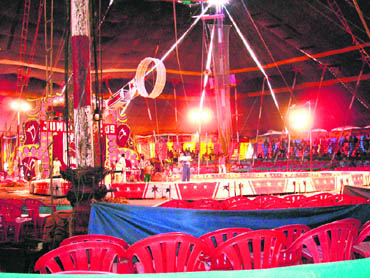 A handful of the existing circus companies in India are literally struggling to survive due to absence of new talent and the lack of institutional support

A handful of the existing circus companies in India are literally struggling to survive in the changed scenario, forcing most of them to cut short much of the pomp once associated with the art, according to managers of some companies that are still active.
However, contrary to popular notion, curbs on exhibiting animals and birds is not such a big problem as the troupes have adjusted to the reality, says M V Sankaran, founder of Jumbo circus.
"The biggest problem in our way is getting the artistes, who require constant and vigorous training from a very young age," says Sankaran, who is based in Thalassery in north Kerala.
The ancient mercantile town in Kannur district is considered the home of Indian circus as it has provided most of the big artistes since the turn of the last century.
Martial arts trainer and gymnast Keeleri Kunhikkannan Gurukkal, hailing from Thalassery, is considered the pioneer of the modern Indian circus.
"Circus is widely seen as a dangerous profession. So most families, even those who find it difficult to make both ends meet, are unwilling to send their young ones to join it," said K P Hemraj, former manager of Amar circus.
They cannot be blamed as in real life a circus artiste is quite different from the vanity and glitter with which they turn up at the shows.
Circus companies had been demanding that the state and Central governments come out with some support to save the Indian circus from a gradual death. "We will be submitting a detailed proposal to the government to set up a modern circus academy. Though the idea had been accepted in principle long back, nothing concrete has been done so far," adds Sankaran.
He recalls his own long struggle as a circus artiste ever since he joined the profession as a school dropout, partly due to the circumstances of life and partly on account of love for the art.
Sankaran, who won applause for his performance as a trapeze artist with Boselian Circus in Kolkata, later joined the Great Rayman Circus. He had also led the Indian team for the World circus festival in Moscow in 1964. Sankaran set up his own company in 1973.
Kerala has now six circus companies, all of which are struggling to survive. A minimum of Rs 75 lakh is required to put together a circus troupe of moderate standards. Unlike other media of mass entertainment like cinema, it is difficult for the circus to get institutional credit support.
Life in the circus tent is steeped in uncertainties, as the factors for its survival are quite unpredictable, he said.
"A circus troupe is always on the move, shifting camps from town to town. A host of factors like the vagaries of the weather, financial state of the people in the town where the tent is pitched and their mood determine the success or failure of the camp in a town," says Sankaran.
Since they are on the move all through their life, it is difficult for circus artistes to have a normal family life, says an artiste, who does not want to be identified.
There are a large number of cases where circus artistes find their partners from the tent itself. Still, the education of their children is a problem.
The most difficult phase in the life of a circus artiste is the old age. Once they lose their physical prowess and mental strength, they recede to obscurity. A few lucky artistes can remain as trainers and some, retained as clowns.
In old age most of them are either forced to lead a life of acute financial difficulties or eke out a modest living by doing menial jobs in the sidelines of the tents.
Though the Kerala Government has introduced a pension scheme for circus artistes, the amount given is too meagre to lead a decent life in advanced years, says Sankaran.
No wonder the misery of retired circus artistes has been the theme of some literary works and films in Malayalam. — PTI