I have tried to create my own space: Irrfan Khan
Bedika
FROM The Warrior, Slumdog Millionaire and his latest film Billu, it has been a long journey for Sahabzade Irrfan Ali Khan in the industry. He says he has always tried to create his own space in the field of acting.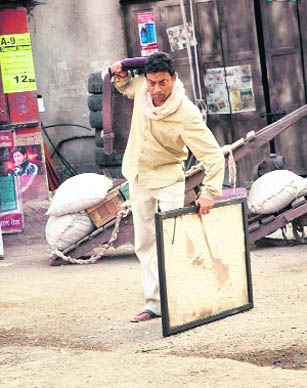 Irrfan was recently honoured by the British House of Commons for his outstanding contribution to Indian cinema

Irrfan, who is riding high on the success of Slumdog Millionaire and Billu, says things have not changed much for him after the success of these films.
"For me, there has been no change. As an actor I have always been looking forward to interesting roles and trying to create my own space in the industry," Irrfan said.
"When you try to create your own space, which is not very conventional, it is going to take time but I know what I want to do and I am enjoying the process of it," said the actor, who has earned accolades world over for his small but significant role in Danny Boyle's Oscar-winning film Slumdog Millionaire. Irrfan was recently honoured by the British House of Commons for his outstanding contribution to Indian cinema.
"I was surprised and humbled by it because as an actor you do need recognition for your work," said the actor.
His central character in Billu, which has been produced by Shah Rukh Khan, is being hailed as a coming-of-the-age film for the actor. Irrfan has played a village barber in Billu, which he considers a warm tale of friendship.
"I enjoyed every moment of working in the film. It is a very sweet, warm and emotional story told in a humourous way. I loved the film after I watched it and it is going to connect with the people," he said.
Talking about his experience of working with Shah Rukh, Irrfan said, "Shah Rukh is a nice person to be with. In Billu, he was both an actor and producer but he never let one role overlap the other one. He has high regard for the product that he is working on and works hard to make it perfect." An NSD graduate, Irrfan initially acted in television serials such as Chanakya, Chandrakanta and Darr.
Recognition for Irrfan came with his multiple award-winning film The Warrior in 2001 and in 2004 for his villainous turn in Haasil.
"Though I was appreciated for the serials that I did, recognition from Hollywood and Bollywood came almost simultaneously with my films The Warrior and Haasil," said Irrfan, when asked whether Bollywood was late in recognising his talent.
Irrfan received rave reviews for his performance in the title role in Maqbool by Vishal Bharadwaj, which was based on Shakespeare's Macbeth and his supporting role in Life in a Metro.
He has played a key role in Hollywood film A Mighty Heart with Angelina Jolie and the lead in Mira Nair's The Namesake, which was based on a novel by Jhumpa Lahiri by same name.
"I always knew what I wanted to do as an actor. My aim is to reach to as many people as I can. I want to tell stories that touch their heart and connect with their lives and I love what I am doing," said Irrfan, while describing his struggle to establish himself in the industry.
He has represented Bollywood in international cinema for quite some time but considers Slumdog Millionaire a major breakthrough for the collaboration of Hollywood and Bollywood.
"They are opening up to the talent from here but we need a proper collaboration where our technicians can work in their films and their technicians can work in our films," said Irrfan. — PTI