Off we go again
Power steering
The 4 X 4 Off Roaders Club rally saw many women proving their mettle on a rough terrain
Of course women can do just about everything that men can do. Driving. She has been doing that for ages. Driving a 4X4? What's the big deal about it! Off roading? Well, she is picking up that too. Sunday morning saw women from the 4X4 Off Roaders Club, along with other members getting dirty with their machines. And, who would know it better than the pretty ladies as how to bring the gaadi back on the track if it goes off track. — Photo by Pradeep Tweari
| | |
| --- | --- |
| | |
Girls just wanna have fun
Women's Day celebrations saw the fairer sex hit the road for a joy ride
So, what is women liberation? Unending debates on reservations for women, making umpteen laws on issues like child marriage, domestic violence, dowry, that still are effective on paper, basic education, bringing fatter paychecks home, going in for live-ins, carrying forward the political batons from their male counterparts, or just wearing jeans or dressing up the way you want, or joining the Pink Panty brigade. What is women liberation? Is it as complex an issue as the nuclear deal or just another phenomenon whose definition changes with time?
| | |
| --- | --- |
| Class apart: The vintage line of cars at the rally made for a visual treat — Photo: Vicky Gharu | Women behind wheels — Photo: Vicky Gharu |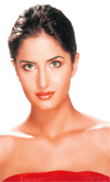 India's Razzies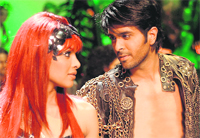 The Indian Golden raspberries are here! After a host of awards celebrating the Best in Indian cinema over the previous year, the ''best of the worst'' in Indian cinema in 2008 were recognised at a unique award function here last night.
Priyanka Chopra and Harman Baweja
Art for all


Describing art as a great binder between people of different religions, castes and communities across borders, superstar Shahrukh Khan today said art could bring about tremendous change in the atmosphere of hate prevailing across the world in general and India in particular. ''Art can change all of us, turn around and refresh all of us. It can change terrible things. Light and darkness is part of life, and if we do fall down just get up and keep going, and this is what art teaches us
Shahrukh Khan
Woman behind success
Indian actress Freida Pinto is making waves internationally for her walk down the Oscar red carpet, her designer gowns and gracing the covers of popular magazines, thanks to Slumdog Millionaire. But not many know the woman who helped groom her and introduced her to British director Danny Boyle.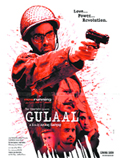 Love, deceit and power
Fresh from the success of Dev D, director Anurag Kashyap's latest offering Gulaal is a political drama complete with emotional ingredients like love, greed, deceit and power. Gulaal, which has Kay Kay Menon in the lead role, took shape in 2001 but was delayed due to myriad reasons. The film, which is dedicated to all poets with a vision for India, is finally set to hit the theatres Friday (March 13).
Kylie' s Mumbai outing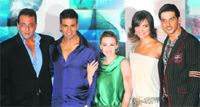 Australian pop star Kylie Minogue, who is in India for a shoot of a Bollywood film, Blue, has termed her brush with Bollywood as a totally new experience.


Australian singer Kylie Minogue (C) poses with Bollywood star Akshay Kumar (2nd L), Sanjay Dutt (L), Lara Dutta (2nd R) and Zayed Khan during a promotional event for their film Blue. Photo: Reuters
Creative battleground
Archo 09 is all about colours and competitions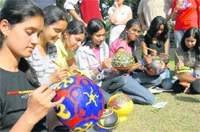 Now we're talking-The façade, the entrance, the doorway and just about every brick at the Chandigarh College of Architecture pointed something's brewing. Bunch of enthusiastic kids, backdrop of noises, chaos, clutter and confusion blending into something meaningful as if with a purpose. Someone shouts, 'Are microphone's proper' the other had an equipment resembling a battery and loads of questions on his face, while yet another screams, 'sketch pens are not allowed'. It's the college's annual affair with creativity - Archo 09. Told you we are talking!
Fiza's story


Two ways to look about everything. At least all the International Women's Day events. So there we were; with everything in place, the dais, the microphones, the reception bouquets, the long guest list. Throw in political persons, human rights commission activists, local NGOs, media's current favourite, in this case Fiza and cameras rolling, with speeches bordering on female foeticide, women empowerment, domestic violence, blah blah. Now, comes the other way.

Launch PAD
Six packs
Feature packed entry level mobile sets launched
Samsung Mobile today strengthened its popular Guru series with the launch of 6 new, feature packed handsets - Guru 1070, Guru 1100, Guru 1125, Guru 1210, Guru 1310 and Guru 1410 in the Indian market. Speaking at the launch of the new Guru Series handsets Sunil Dutt, country head, telecom business division, Samsung India Electronics Pvt. Ltd. stated, "Introduction of innovative new phones across various consumer segments contributed to the success of Samsung mobile business in the Year 2008.Going forward, we will continue with our 'Next is What' positioning in this Year and will enhance our product portfolio across the multimedia and touch screen handset segment as well." The new dual band Guru series marks the first of the Company's new product introductions in this year.

Saturday night
Live band Elements entertained the city crowd with electronic music beats
Saturday night saw crowd swaying to the tunes of Elements as Eristoff celebrated the first ever Howling Nights in Chandigarh at RIO-43 on Saturday. The band comprising the trio- Gopi, percussionist, Manoj, violinist and Gopu, DJ was formed in the year 2008. As individuals, Gopi is a renowned musician whose immense talent to create music out of anything makes him remarkable in the field of musicians.

These celebs can teach you a thing or two about protecting skin and hair from the effects of synthetic colours
Endless instructions and advices at times are simply not enough to encourage us to play Holi. We hide, run away from friends and relatives or even lock ourselves in, but that's not how we can enjoy this festival. To inspire you to go out and play with colours, we talk to some celebs, who lets us know the safety measures they will be taking on the day to protect their skin from allergies and hair from damaging.

Waist management
Abdominal obesity leads to a cluster of problems
Carrying excess weight around the middle can impair lung function, adding to a long list of health problems associated with belly fat, said French researchers. Abdominal obesity is already linked with diabetes, high blood pressure and heart disease as part of a cluster of health problems known collectively as metabolic syndrome.
Matter of heart


Depression a bigger culprit when it comes to heart diseases
A new study suggests that depression increases the risk of heart disease more than genetics. Led by researchers at Washington University School of Medicine in St. Louis and the VA, the study was presented at the annual meeting of the American Psychosomatic Society this week in Chicago this week.
BODY wise
Keep it balanced


These days everywhere we go, we get conflicting advice on diet - what's good and what's bad. This makes making a right choice difficult. It is important to learn the difference between healthy and unhealthy eating. Making a few simple healthy and nutritious changes in our dietary choices can have a positive impact on our health, well-being, energy levels and life span


Paint and brush:

Students display their work at the annual drawing and painting exhibition at the Government College-46.

Party wild

Eristoff Howling Night saw Elements at Hotel Rio-43
Photo: Parvesh Chauhan
Walking the line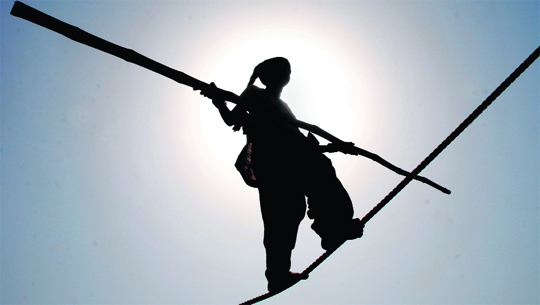 A young performer's talent got live display at the Spring Fest Lifestyle photo: S. Chandan