Naveen Patnaik keeps everybody guessing
Tribune News Service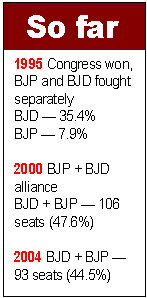 Orissa Chief Minister Naveen Patnaik is a man of few words. Visiting journalists remember their meetings with him, granted rarely, with bemusement. Patnaik would often allow the visiting journalists to speak, comment and ask questions while remaining completely silent. He would let his bureaucrats or ministers to reply to the questions while he himself would listen gravely, rarely betraying any emotion on his unflappable face.
One can, therefore, only imagine the kind of meeting Dr Chandan Mitra , BJP's emissary, actually had when Patnaik firmly told him that Bharatiya Janata Party could be given no more than five Lok Sabha and 31 Assembly constituencies to contest. A stung BJP reacted sharply and withdrew their support to the BJD-led government, hoping to bring down Patnaik to his knees.
But the move boomeranged. Patnaik calmly went about garnering support from the Left, the JMM and so on and agreed to test hs strength on the floor of the Assembly. The BJP, which had begun abusing the Orissa chief minister for betrayal, has now toned down its strident comments and is busy trying to build bridges with Patnaik, who was once described as BJP's most dependable ally.
Naveen Patnaik has spent much of his life outside Orissa. Son of Orissa's strongman, Biju Patnaik, he spent most of his life abroad and in Delhi before he became the chief minister. But after taking over as chief minister, he has rarely stepped out of the state. In an affectionate article, journalist, anchor and writer Vir Sanghvi mentioned how 'Pappu', the name by which Patnaik's friends called him, had abandoned his 'hip-hep' and jet-setting friends.
His bachelor status, his inability to speak Oriya and his past lifestyle were political handicaps and the people of his state were openly skeptical of his chances. His silence and aloofness were mistaken for indifference; his refusal to meet people at home in the evening spawned lurid stories and he was treated as a one-election wonder.
But he has come a long way in the nine years that he has been chief minister. People appear to be convinced of his integrity and secular credentials, his commitment to the state and his growing administrative capability. He is also acknowledged to be a smarter politician today, a fact that is reflected in the stunning electoral victories notched up by the Biju Janata Dal in the recent months.
Most observers believe that the Sangh Parivar's overt and covert attempts to polarize people on communal lines is what prompted Patnaik to part ways with the BJP. Vishwa Hindu Parishad's Praveen Togadia accused him of heading a government of eunuchs while VHP saints hurled even worse invectives after the killing of VHP's Laxmanananda Saraswati. Christian tribals were targeted by VHP mobs and rioting spread across western Orissa, drawing international condemnation. VHP was convinced of the culpability of Christian missionaries although Maoists took the responsibility for the killing.
The chief minister's even more celebrated sister, writer Geeta Mehta and her publisher husband based in New York, his businessman brother, Prem Patnaik, and his Christian wife also felt that the state government did not do enough to rein in the BJP and the Sangh Parivar. The last straw was BJP minister Sameer Dey's allegation that the chief minister had used black money to sweep the Cuttack municipal polls. Naveen forced him out of the ministry.
BJP has no choice but to try and woo him back into its fold. But Patnaik is likely to keep people guessing about his next move. Will a man, who has given up a jet-setting lifestyle to serve the relatively impoverished state, agree to shift to Delhi after the election ? It appears unlikely after he has marginalized both BJP and Congress in Orissa. But who knows what is in his mind ?
The last two Assembly elections were won by the BJP and BJD alliance. This time, BJD appears to believe it can contest on its own although BJP leaders and commentators are equally certain that the Left and the JMM will not be able to compensate the loss caused by the rift .