Career Hotline


Surveying the seas
Pervin Malhotra
Q. I am a mechanical engineer. How does one get the job of a surveyor with the Indian Register of Shipping?
— Manish Gaur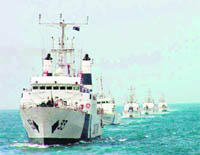 A. The Indian Register of Shipping, Mumbai, advertises every three months. Around 50-60 persons, all first class graduates in naval architecture and different branches of engineering, are recruited every year. They are provided with training, which could extend up to four years. Only after completion of five years, they are authorised to undertake surveys under the supervision of senior surveyors. They have a website that you may like to visit: www.irclass.org
The Indian Register of Shipping (IRS) is an internationally recognised independent ship classification society. IRS provides competent and independent third party technical inspection and certification services for all types of marine craft and structures. These services have also been expanded to cover a range of offshore and industrial projects.
You can join as a Navik
Q. I am a non-matriculate. Could you please tell me if I can join the Indian Coast Guard?
— Harish Khanna
A. As a non-matriculate male, you can join the Indian Coast Guard as a Navik in the domestic branch. The eligibility is a pass in Class VIII with 55 per cent aggregate (45 per cent for SC/ST).
If you have passed Class 10, you can join as a Navik in the general duty branch. The age requirement for both is 17-22 years (relaxable by five years for SC/ST and three for OBC). You will also be required to meet certain physical standards. Selection is on the basis of a written test/interview.
To join this paramilitary service, you must be physically fit, mentally tough, intelligent, bold and independent. If you love the sea and have a spirit of adventure and value a disciplined lifestyle, the Coast Guard is a great place to be in. For further information, contact: The Director (Training), Recruitment Cell, Coast Guard HQ, National Stadium Complex, New Delhi-110001 (www.indiancoastguard.org).
Everyone wants a business economist
Q. I am doing my bachelor's in business economics. Can you please tell me what job prospects I have after completing this course?
— Vineeta Lamba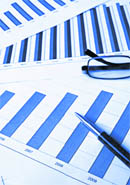 A. In the increasingly globalised world order with newer business risks stemming from inflation, currency fluctuation, varying interest rates, regulatory risks, foreign markets and now the WTO, large private companies are increasingly looking at business economists for help. The token one-man economic cell is now getting staffed.
These are tasks for which an MBA is not strictly geared. As a business economist, you may also specialise in market research or international trade, exports and imports.
While a good master's degree in economics or an MBE is a prerequisite for a corporate economist's job, the clincher is your ability to marry fundamental knowledge of economics with market and business requirements.
Banking and financial institutions also hire business economists. As a matter of fact, a number of recruitment advertisements for management trainees ask for an MBA/MA (economics) degree as a desired qualification.
You can also enhance your job prospects by doing an MBA or master's in finance, CFA, international trade or insurance. Besides teaching, you could also take up business journalism in television or newspapers, economic journals and business magazines as commercial editors, business reporters, feature writers, economic analysts and commentators. In fact, business journalists are amongst the better-paid journalists today.
After completing your master's in economics, you could even take a shot at the Indian Economic Service/Indian Statistical Service Examination conducted by the UPSC almost every year (www.upsc.gov.in). The age limit is 30 years. If you clear the test and interview, you would be absorbed in the various economic and statistical departments of the Central Government such as the Planning Commission, the National Sample Survey, the Central Statistical Organisation and the Indian Statistical Institute. Working in the Planning Commission can be particularly rewarding as economists in this service are involved in planning and development of policies for the country and in preparation of the budget.
Economists are also employed in the Ministry of Labour, State Bureaus of Statistics & Economics, National Employment Service, M/o Agriculture and other government departments.
You could of course take the Civil Services Exam conducted by the UPSC or other competitive exams conducted by the State Service Commissions, Life and General Insurance Corporations, nationalised banks, etc., where economics is permitted as one of the subjects. While the Staff Officer-Grade 'A' Exam is conducted by the Unit Trust of India, the Staff Officer Grade A & Staff Officer-Grade 'B' Exams are conducted by the Reserve Bank of India Services Board.  Probationary Officers Exams are conducted by various Banks in the country.
For further information regarding the Indian Economic Service/Indian Statistical Service Examination, log onto the UPSC website: www.upsc.gov.in
To join IPS, take the Civils
Q. What are the physical standards for joining the police force?
— Brajesh Sharma
A. Generally, to qualify for all police jobs, you need to be physically fit and meet certain physical standards (i.e. minimum height of 170 cm, 157 cm for women candidates and chest expansion of 85 cm, 80 cm unexpanded for men).
Minimum distance vision should be 6/6 and 6/9 in two eyes without correction + accurate colour vision. You should not have knock knees, flat foot, varicose vein or squint in eyes. 
For the gazetted cadre, you need to take the Civil Services Examination conducted by the Union Public Service Commission (UPSC) and join the Indian Police Service (IPS). The age requirement is 21-30 years (on August 1 in the year of the exam). This exam comprises three stages: preliminary (objective type) exam, main (written) exam and the interview. You have to clear all the three stages and secure a good rank to make it to the IPS. For details, log onto www.upsc.gov.in. And when you do, don't forget to live up to the motto: With you. For you. Always!
Alternatively, you can appear for the competitive exams conducted by the state public service commissions.
Management & accounting made practical
Q. What is CIMA? How does it enhance the prospects of a
CA abroad?
— Nikhil Dogra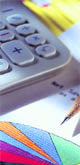 A. The Chartered Institute of Management Accountants (CIMA) is a UK-based organisation that offers an internationally recognised professional qualification with a syllabus and examinations that focus solely on the education and training of management accountants in business. A big cross-section of industry, commerce, NGOs and public sector organisations employs chartered management accountants as financial managers, accountants and auditors.
Although it has offices in Australia, China, Hong Kong, India, Ireland, Malaysia, Singapore, South Africa, Sri Lanka and the United Kingdom, CIMA claims to have over 88,000 students and 70,000 members enrolled in 161 countries. Its website shows substantial presence, including classroom coaching, in Europe, Africa, Asia and Commonwealth countries, but little in the Western Hemisphere. Hence, jobs are likely to be found in the same countries.
The course, though by and large similar to that of chartered accountancy in India, emphasises the practical aspects of management and accounting. Although the certificate level exams are computer-based and can be taken any time of the year, higher-level paper-based exams for professional qualifications are held twice a year in May and November. It is mainly an online course, though, in India, CIMA provides part-time classroom coaching in Bangalore and Mumbai, if you opt for it. The website is www.cimaglobal.com.
LPO is the place to be
Q. I have been reading about the boom in the LPO sector in the recent times. Is the work similar to the kind of work done in a BPO? Please tell me something about the kind of work one can expect in this sector.
— Sarita Mehra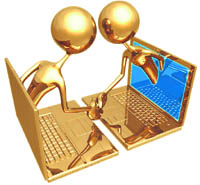 A. It would be somewhat incorrect to compare the nature of work in BPOs with that of LPOs. While the former focuses on process driven work, the legal outsourcing sector deals with the kind of work done in a corporate law firm. In the last few years, India's LPO industry has established a name for itself, owing to the quality of work that it has handled for some the largest corporate houses in the world.
Also, the fact that the industry has stood its ground despite the financial turmoil, with multinationals reaching out to legal outsourcing in times of crisis has reaffirmed people's faith in the sector. While most of the work is related to risk management and corporate compliance, the current economic scenario has proved to be a boon in disguise for the legal outsourcing and consulting sector, as new forms of businesses are coming in from a number of multinationals.
Presently, over 100 LPOs are providing high-value outsourced legal and IP services including contract drafting and management, litigation and document analysis, due diligence, legal research, and patent research, analysis and prosecution-related services for US and UK law firms as well as work related to foreclosures and mortgage for the banking sector.
Pangea3, UnitedLex, CPA Legal, and Mindcrest are a few of the leading legal consulting, analytics and outsourcing players in this $200-250 million space that offers challenging opportunities to students from various academic backgrounds besides law.
This column appears weekly. Please send in your queries, preferably on a postcard, along with your full name, complete address and academic qualifications to:
Editor, Jobs and Careers, The Tribune, Sector 29, Chandigarh-160030, or at careers @tribunemail.com