Gujjias & gulaal
The colours of Holi remain the same elsewhere in the country. Tricity folks from other states bring a taste of their traditions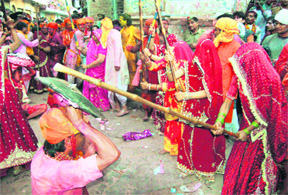 As spring paves way to bright and sunny days ahead, people across the country cut loose for a day of colourful rebellion. Thick with gulal and abheer, this day is about shedding all inhibitions and soaking in the colours of season. Holi is associated with numerous legends, spread over 16 days in Vrindavan and Mathura and the festival sees a lot of diversity as we move from North to South, East to West. And, when we talk to people from down South as how they celebrate the festival, we are told that they do not celebrate Holi at all. "We do not have any Holi celebrations in the South, but thanks to the cultural exchange between people of the North who are settled there and us, now we all know about the festival. But there is no such festivity, nor it is an official holiday," says Sundram, owner Sundrams-26.
In the confession box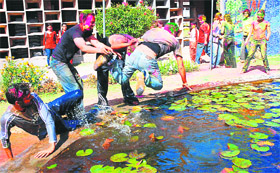 This gang of guys and gals like to play it dirty—muck, eggs, cow dung and sticky colours
Ugly, dirty, naughty…with mud, with muck, with markers…there are thousands of ways to celebrate Holi…there's a reason why that indelible ink used in Holi still remains equally inerasable from memory. No beating about the bushes. So, when was the last time you celebrated Holi?

Students at the Government College of Art getting down and dirty! — Photo by S. Chandan


Bips and Dhoni pichkaris a hot favourite in Bihar
Water sprayers splashed with the images of RJD supremo Lalu Prasad and his bete noire Bihar Chief Minister Nitish Kumar are selling like hot cakes in the state with Holi revellers wanting to add a dash of political colour to their celebrations. Pichkaris (sprayers) carrying photos of Lalu Prasad, Nitish Kumar are in heavy demand among the Holi revellers. Top cricketers and Bollywood stars also continue to be popular along with them in the market before the festival of colours.

Model moves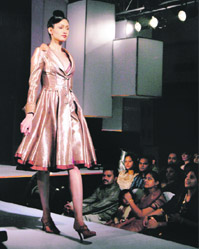 A model walks the ramp showcasing the creation of designer Rohit Bal during a fashion show in Bangalore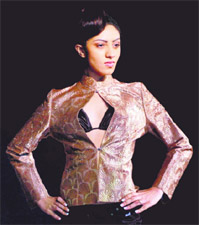 This chic design from Rohit Bal's collection sure makes a style statement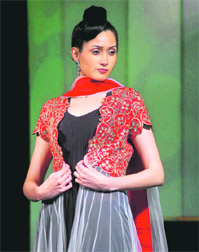 A model showcases the creation of designer Anamika Khanna at the fashion show PTI Photo


Hail heritage
Filmmaker Rakeysh Omprakash Mehra urges Indians to uphold and preserve the rich Indian culture
Bollywood filmmaker Rakeysh Omprakash Mehra, who is associated with the tourism ministry's Atithi Devo Bhavah campaign, urged Indians to uphold and preserve the culture, tradition and heritage of the country. "We have a lovely country handed to us from generation after generation... and we have messed it up. We have completely undone the thousand years of heritage. When we urge the youth to do something, they ask what has the government done," said Mehra.

Banoongi mein Bollywood star
I want to be an actor, says Sourabhee Debbarma
Country's first female Indian Idol, Sourabhee Debbarma aspires to become a Bollywood star. Winning the title is just a "stepping stone" to her dreams, she says.

Golden oldies top the charts on DJ consoles
Retro comes calling yet again! Though the shift in choice of music usually jigs at this time of the year, we are happy at least it does. And, the people who demand this music and those who remix it (one more time) term it-'cult'. Their question rather answers it all for us, "Do you think a holi bash is possible without the ever popular Rang Barse number?" We certainly got it! We might love to jive on the latest tracks with ultra fast and western beats at the usual parties, but when it comes to Holi, we want our DJ to play and mix the old Hindi tracks only. And well, they too oblige happily year after year.

Kuch thanda ho jaye!
Ringing in the summer season Coca-Cola in India is all set to unveil 'Open Happiness', the 2009 global campaign for brand Coca-Cola in the state of Punjab. The global communication initiative is all about inviting people to welcome small moments of joy and happiness into their lives. The idea is to pause, enjoy a bottle of Coca-Cola and also enjoy life's simple pleasures.

Holi hazards and how!
"To safegaurd your health, use organic colours instead of synthetic ones this Holi," stated Dr Vikas Bhutani, consultant, Internal Medicine, Fortis Hospital, Mohali, in an advisory issued in public interest by Fortis Hospital today.

Spice up
Red alert
Holi is celebrated at a time when Nature renews and refreshes herself. With a little care, we can do the same, sustaining and protecting our beauty. The dry "Gulal" and the wet colours that we play with are not derived from natural sources. They contain chemicals, shiny particles of mica and even lead, which not only irritate the skin, but also collect on the scalp. Since Holi is played out of doors, sun-exposure can also have a detrimental effect on the skin.

Gulaal glamour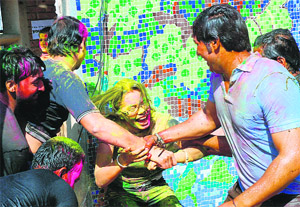 Students of Govt. College of Art at their colourful best. Photo: S. Chandan


i TONE
Lewd and clear
The Panjab University campus recently had Mika performing on stage for Jhankaar celebrations. The scene turned ugly with some of the students and girls alleging misbehavior and use of objectionable language on his part. We ask the girlies, what do they think. Should celebrities know where to draw the line or fans too are, at times, responsible?

The incident of ragging resulting in the death of a medical student makes us once again take a look at the system
Euphoric as you might be, revelling in the spirit of the festival today, but that's no excuse to not scratch uneven surfaces. It didn't happen for the first time. The heinous, ugly, inhuman, hideous, revolting, evil, shocking, callous (seriously, we ran out of adjectives) side of ragging didn't show up for the first time. And that, unfortunately, is the most unfortunate part of the incident. More unfortunate than probably the incident itself. A 19-year-old medical student's life was snuffed out even before it could begin.

Three masketeers

These three belles on a bike get a taste of gulaal on the geri route. Photo: Pradeep Tewari

Wheel of success
Girls are now adding to their desirability factor by driving SUVs and luxury cars
Act one: Long, lonely road. A swanky car zipping past, followed by screeching halt. It reverses and the door flungs open. Out comes a young and stunning looking beauty. Well, every guy's dream. Act two. The swanky car zipping past. The location is now PU campus. And it's not a dream. The campus is bustling with girls, who make a style statement on wheels.
Sounds of the sands
Chugge Khan, with two other musicians from Rajasthan, will treat people with a different genre of music on Holi. The folk singer and musician will sing traditional Brij, Sufi and Rajasthani Holi songs. "People these days party on Bollwyood songs even on Holi. But we believe the essence of holi celebrations lies in the traditional music. In places like Vrindavan, people sing folk music pepped up by beats of folk musical instruments. We plan to make people enjoy the same form of music and are hopeful they will like it," says Chugge who started his career as a musician at the age of 14. They are here to be a part of electro qawwali project with city based artistes Hari Singh and Sukhmani Malik. They will play instruments like Dhol, Khartal and Chang. He has to his credit performances with A.R. Rahman, Amjad Ali Khan and Hariharan. — TNS