Style gurus rave about Gandhi genes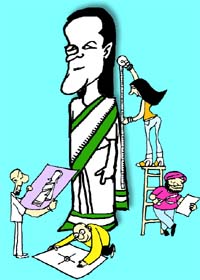 New Delhi, March 12
There are many Indian politicians who take care to dress up well these days, but guess who are the clear favourites of designers? Congress president Sonia Gandhi, her MP son Rahul and her homemaker daughter Priyanka.
The three have an impeccable sense of style and elegance runs in their blood, say designers. While politicians like Jammu and Kashmir Chief Minister Omar Abdullah (National Conference), Baijayant 'Jay' Panda (Biju Janata Dal), and Sachin Pilot and Jyotiraditya Scindia (both of the Congress) are also noticed for their attire, there are few who seem to beat the Gandhi family.
Veteran designer Ritu Kumar feels 62-year-old Sonia Gandhi - mostly clad in handloom cotton and silk saris - looks classy and elegant. Moreover, saris reflect her individuality.
Leena Singh of Ashima-Leena duo says Sonia Gandhi presents the true picture of an Indian woman. "She knows that she has a national image to carry and that she portrays very well," Singh said.
Younger designers root for the Gandhi scions.
"Priyanka's dressing sense is very meticulous and neat. She looks sober yet elegant in whatever she wears. I believe she has inherited this from her mother. I guess it is in their genes," designer Amit GT said.
"It's the same with Rahul also. He is fairly attractive and one of the most eligible bachelors around and when you look at him, he comes across as a very simple person with a bit of sophistication," he added.
Designer Jai of the duo Parvesh-Jai agrees. "He mingles his khadi and linen with modern day "purani" jeans to come up with a real cool look. Also he pays attention to his eyewear - it's very sleek with a little golden tinge to give him an intellectual look," he said.
Priyanka had taken the fashion world by storm last year when she walked into Parliament in a white shirt and stylish black trousers with a broad belt to hear her brother Rahul's speech during the crucial trust vote debate.
She hit the headlines for breaking the stereotype of saris and salwar-kameez clad women in Parliament.
"She doesn't stick to one dressing style and experiments a lot with her attire. We have seen her in every outfit and she has carried them all with poise and confidence. She is a youth icon," said designer Alpana of label Azara.
Apart from the Gandhi family, Sachin Pilot and Jyotiraditya Scindia also rank high among Indian designers.
"Sachin dresses up brilliantly. He experiments a lot with colour and you can see him in bright coloured shirts," said designer Rahul of label Sirali.
Designer Rina Dhaka also votes for Pilot. "He is extremely good looking and he looks good in everything. The best part about him is that he is a dynamic politician who knows his subject very well," Dhaka said.
Style guru Muzaffar Ali of the label Kotwara likes Jyotiraditya Scindia and feels he "looks confident and poised in his bandhgalas and waistcoats".
"His whole persona is majestic and speaks a lot about his character," Ali said.
Designer Samanth Chauhan agrees. "Jyotiraditya mostly wears bandhgalas. I have met him personally and I know that he is very conscious about the right kind of fabric and fit," said Chauhan. — IANS