M A I N N E W S
Long march shakes Pak, hurts Zardari
Defiant Nawaz Sharif alleges assassination plan
Tribune News Service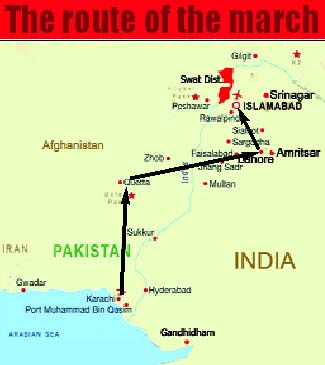 Karachi, March 12
While crackdown on protesters continued on Thursday, the Army and Pakistan Prime Minister Yusuf Reza Gilani appeared to have jointly advised President Zardari to give in to the demands.
Hundreds of protesters, chanting 'Go, Zardari, go", hit the streets in Lahore, Karachi, Multan and other cities across Pakistan. The government admitted arresting 350 of them and the police caned protesters at various places. Some of them, including human rights activist Tahira Abdullah, had to be released within hours. Pakistan, agreed observers, once again is at crossroads and the next 48 hours will be crucial, they said. The 'Long March'of protesters is expected to end with a sit-in before the Parliament House in Islamabad on Monday.
A concerned US Ambassador called on Nawaz Sharif during the day in search of a solution. In Delhi, Prime Minister Manmohan Singh chaired a meeting of the Cabinet Committee on Security, which was attended by the External Affairs minister Pranab Mukherjee, Defence Minister A.K. Antony and Home Minister P Chidambaram. India, said Mukherjee to the waiting media, hoped for a peaceful resolution.
Zardari himself was nowhere to be seen on Thursday, not even on Pakistan TV amidst speculation that he had flown to Dubai from Tehran. But the President's spokesmen maintained that Zardari had returned early on Thursday morning and was busy in evolving a consensus to defuse the situation.
Gilani is believed to be in favour of reinstating Iftikhar Chaudhry, the dismissed supreme court chief justice, which is the principal demand of the lawyers. Gilani has also gone on record to suggest that Pakistan Muslim League (Nawaz) government in Punjab province should be restored and central rule withdrawn. The government, he hinted, is trying to find a way out of the impasse created by the supreme court debarring Nawaz Sharif and Shahbaz Sharif from contesting elections.
Zardari is said to be wary because he apprehends Chaudhry, once reinstated, might withdraw the amnesty granted by Musharraf, which allowed him and Benazir to return to Pakistan from exile without fear of prosecution in corruption cases.
Nawaz Sharif himself remained defiant and seemed to be in no mood to relent. In an interview to Dawn newspaper, he declared that his biggest political mistake was to trust Asif Zardari. He went on to accuse Zardari of running an elected dictatorship' and alleged that a plot to assassinate him was being hatched at the highest levels of the government.
The PPP led by Zardari has been losing public sympathy because the party in Pakistan has been synonymous with the politics of protest. But PPP spokesmen today sought to draw a distinction by saying that while the party had frequently hit the street, unlike Nawaz Sharif it had not instigated people to rebellion.