For 30 yrs, this beach guy has truly been a 'dream MP'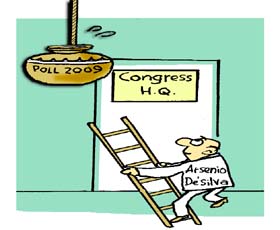 Panaji, March 13
Sniggered at in Goa Congress circles and the butt of jokes among the local media fraternity, Arsenio D'Silva has been trying unsuccessfully for over 30 years for a nomination from the party to contest elections.
For every popularly elected MP is a long winding queue of those who didn't manage a ticket, and D'Silva (59) is one such. Hope appears to be his only friend with another general election around the corner.
An executive committee member of the Goa Pradesh Congress Committee (GPCC), he has been filing his candidature for the north Goa seat since the 1977 general election.
"I have also been filing my candidature to contest the Assembly and Lok Sabha elections right from the 1970s, but the party never gives me a ticket," D'Silva said.
While it may appear that filing for a party ticket is a routine exercise, there is a financial implication that cannot be ignored. "You have to pay the GPCC of Rs 10,000 to file candidature for a Lok Sabha ticket and Rs 5,000 for an Assembly ticket in the Congress party," D'Silva said.
But that's not where it ends.
"I make at least two or three trips to Delhi every time to lobby with the central leadership. You have to try and meet the party leaders in Delhi. All this costs. But I am a landlord from Cansaulim. Money is not an issue for me. I spend Rs 200,000 each election to follow up my application," he said.
And there are yet other hazards, which one has to weather and manoeuvre. "You also have to spend money on entertaining state leaders. Pay for their lunch, breakfast and other expenses I should not be telling you about," he said.
D'Silva claims the Congress in Goa has as a matter of habit forgotten to recognise and honour its members who've stayed loyal to the party for decades.
"Today there is place only for defectors at the top in the Congress in Goa. The names of habitual defectors like Ramakant Khalap and Vishnu Wagh are being discussed for the north Goa seat," D'Silva complains.
While Khalap was a senior leader in a regional party, which he quit to become a Bharatiya Janata Party (BJP) minister before joining the Congress, Wagh has an even longer list of political flings.
"Look, Congress Chief Minister Digambar Kamat was a powerful minister in the BJP government. Our present Home Minister Ravi Naik was officially Deputy Chief Minister in the BJP regime," he said.
Goa Congress president Subhash Shirodkar, however, said: "We follow a democratic, transparent process while granting tickets. The names are shortlisted with the consent of the state Congress unit and then sent to Delhi for endorsement," he said. — IANS