Near-total absence of rural youth in professional courses
Rural students comprise just 3.71 per cent of the students enrolled in institutions affiliated to five professional universities in the state
Jangveer Singh
Tribune News Service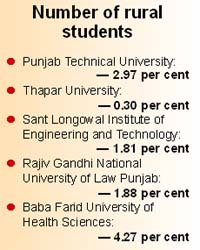 Chandigarh, March 13
The first comprehensive statewide study of the number of rural students enrolled in professional courses in Punjab has disclosed what was only feared till now. Rural students have been virtually excluded from professional institutions and at present comprise just 3.71 per cent or 2085 of the 56,240 students enrolled in institutions affiliated to the five professional universities in the state.
Incidentally, about two-thirds (66 per cent) of the state's total population and 70 per cent of its workforce live in rural areas as per the 2001 census.
The study, which was commissioned by Punjabi University, Patiala, and has been conducted over the last two years by three professors — Ranjit Singh Ghumman, Sukhwinder Singh and Jaswinder Singh Brar — is yet to be released officially.
It covers Punjab Technical University (PTU), Jalandhar; Baba Farid University of Health Sciences (BFUHS), Faridkot; Thapar University, Patiala; Sant Longowal Institute of Engineering and Technology (SLIET), Longowal; and Rajiv Gandhi National University of Law Punjab (RGNULP), Patiala. The study is based on data collected from 70 per cent of the colleges affiliated to PTU, 74 per cent to BFUHS and all courses run by other universities. The state's lone private university -- Lovely Professional University (LPU) in Phagwara -- did not provide the required information for the study.
According to the study "Professional Education in Punjab: Exclusion of Rural Students", the term rural student stands for one who has either studied till Class X or XII in a rural school.
There are just 2.97 per cent rural students in PTU, 0.30 per cent in Thapar, 1.81 per cent in SLIET, 1.88 per cent in RGNULP and 4.27 per cent rural students in BFUHS .
Shockingly, 53 per cent of all rural youth who have gained admission in institutes of higher learning in the state have studied from private schools in rural areas. As much as 70 per cent of these students come from villages located on the link roads and 30 per cent from villages located on the main roads. Most of these students have educated parents. The study maintains that 90 per cent of the fathers and 74 per cent of the mothers of these students have studied above the matric level.
The study says only 25 per cent of the rural students belong to families with an annual income of up to Rs one lakh. Most rural children seeking higher education come from families with an annual income between Rs 1 lakh and Rs 3 lakh.
Despite 25 per cent reservation in seats for Scheduled Castes, the number of SC students in engineering streams has decreased from 14.87 per cent (1991-92) to 9.55 per cent (2000-01) and to 7.52 per cent (2005-06). Backward Classes, which have 5 per cent reservation, comprise just 2.59 per cent of the population in the higher education sector.
Punjabi University Vice Chancellor Jaspal Singh in the preface to the study says, "It is disheartening to note that the budgetary allocation to higher education sector in the state has not increased during the last two decades." In fact, it has decreased over the years and at present forms only 1.2 per cent of the state budget and one-tenth of the total budget for the education sector.
The researchers say education in government schools in rural areas has collapsed and such schools today are largely meant for students from Scheduled Castes and Backward Classes. They also claim that entry of private entrepreneurs in higher professional education has only led to commercialisation of education and taken it out of the reach of the majority of the rural population. (To be concluded)