This Above all
Thank God we are in India
KHUSHWANT SINGH

I have a sinking feeling that there is much more involved in the so-called mutiny of soldiers of Bangladesh Rifles (BDR) than grievances against conditions of service. And the worse is yet to come. It was more a rebellion designed to topple a democratically-elected government than an angry outburst against senior officers. We will get to know the truth as witnesses come out with the evidence and are cross-examined. With a little experience of having appeared as a defence lawyer in a couple of court martial trials in pre-Partition India, I can say they are better conducted by Army officers than civilian magistrates.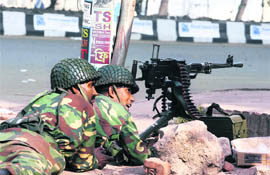 The mutiny by BDR soldiers seemed to be designed to topple a democratically elected government in Bangladesh
They are fairer and speedier. Also, the sentences awarded are more severe. For the murder of an officer, the only punishment is death by a firing squad. However, in the case of Bangladesh Rifles, there will be far too many men convicted of murder, and if all of them are shot dead, the repercussions are almost certain to be very grave and will shake the entire edifice of the country's political and social structure.
There is good reason to fear for Sheikh Hasina's safety, lest she meets the same fate as her father, Bangabandhu Sheikh Mujibur Rehman, founder-father of independent Bangladesh, along with many members of his family. After seeing what is going on in Bangladesh and Pakistan (latest being the attack on the Sri Lankan cricket team), if we Indians get a smug feeling of being a superior people, we can be forgiven for our arrogance. We should count our blessings that we are better off than our neighbours, and thank our stars for being so.
Victor Gorden Kiernan
Ask any Urdu-English knowing person interested in literature about the best translations of Urdu poetry, and, without doubt, the answer will be those rendered by Victor Gorden Kiernan. His translations of Faiz Ahmed Faiz and Allama Iqbal are close to the original and the most enjoyable. He died in the third week of February at the age of 95. I had the good fortune of meeting him and his Gujarati wife Shanta Gandhi during his sojourn in Lahore. At the time I was not even aware that he knew any Urdu. Kiernan was a man of extraordinary talents and vast erudition.
He came from a poor lower-middle class family and was educated in Manchester Grammar School. He won a fellowship to Trinity College, Cambridge. He earned his tripos in history, topping the list of examinees, and got a research grant for four years. He was a committed Marxist and member of the British Communist Party.
In 1938 he met Shanta Gandhi in London and married her. Perhaps that made him decide to come to India. He first joined the Sikh National College in Lahore and then moved to the most unlikely institution for a Marxist, Aitchison College meant for sons of Punjab's landed aristocracy. He was teaching there till 1946.
It was there that he picked up Urdu, befriended Faiz and got enamoured of Urdu poetry. His marriage to Shanta Gandhi ended in a divorce. She became a film actress, did some memorable roles and then faded out of my picture. I have no idea where she is or what she does now. In 1984 Victor married Heather Massey, who survives him. Victor would have liked to stay in Cambridge or Oxford but his avowedly Marxist leanings were not acceptable to his conservative colleagues.
He moved to Edinburgh University and taught there till his retirement in 1977. Amongst his many students was Prakash Karat, general secretary of the Communist Party (Marxist) of India. Victor never bothered about recognition or status. In Edinburgh he lived in a pokey little flat crammed with books. He did not bother to have a car and went about on a bicycle (much like our Professor Irfan Habib).
The range of his interests and the books he wrote included religion (Hinduism, Christianity, agnosticism), history, Shakespeare, Wordsworth, Iqbal, Faiz and much else. In one word, Victor Kiernan was a genius in the true sense of the word.
Punjabiyat
Five Punjabi women from Ludhiana's highly affluent families flew to Toronto, and from there motored 70 miles to Niagara Falls. They were met by a Punjabi-speaking tourist guide who started like this: "This Niagara Fall is the greatest and noisiest water fall in the world. The river Niagara falls from 173 feet over a breadth of 400 feet and the noise generated is equal to 20 fighter jets flying together. Now, dear ladies, will you please stop your chatter just for a while so that we can hear the Niagara fall ?".
(Contributed by Jaidev Bajaj, Pathankot)
To Somnath Chatterjee
Q: Why do our Members of Parliament behave like school children?
A: Because like school children they love school when it is closed.
So our Members of Parliament love Parliament when it is closed.
Girl vs gold
Q: What is the relationship between girl and gold?
A: The value of girl keeps going down; the value of gold keeps going up.
(Contributed by KJS Ahluwalia, Amritsar)