Classical corporate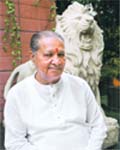 It's a jugalbsandi with a twist.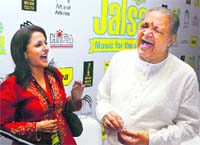 A collaboration of the classical legacy of music's GenNow with the presentation savvy of GenNext. And the product: concerts with a spirit that's traditional but a face that's chic Chetna Keer Banerjee
Friday the 13th. The day of the Devil. But when what you get to hear is Hari and dhuns from a musical instrument that embodies the Lord himself, the day ends up belonging to the Divine. —Photo by Kamal Kishore
Dynasty diva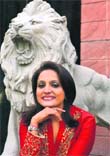 "Not only do the Jalsa concerts bring the maestros to the music lovers, but the interactive sessions with the audience after the concerts form a bridge with the listeners."
She's the heiress to a rich vocal musical legacy but as woman her voice carries a ring of her own. Her comment on Women's Day celebration articulates her independent beliefs. "I don't believe in only one day being dedicated to women. All days belong to us, else we should have a Men's Day too!" But it was not to voice any feminist concerns that she was in the tricity. It was the Jalsa concert series, which made a debut in our town after traversing various corners of the country, that's brought her here.
—Photo by Kamal Kishore
Hard work, the key to success
Miss India crown doesn't guarantee success, says Neha Dhupia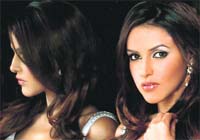 Former Miss India Neha Dhupia, who has as many as five films lined up this year, says winning a beauty pageant is no guarantee of striking gold in Bollywood and that it's only hard work that finally counts."It's not easy to create a place for yourself in Bollywood even if you have a pageant behind you. No one in the industry was holding special carpets for me because I had won the Miss India contest. You have to work hard if you want to prove something. It's taken me a long time to carve a niche for myself, but I'm glad that finally I have done it," Neha said.
Higher and higher
DDLJ crosses the 700-week mark, creates new record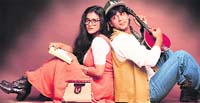 Fourteen years after it was first released Dilwale Dulhaniya Le Jayenge continued its successful run at the box office crossing the 700-week mark. The Shah Rukh Khan-Kajol starrer, which had previously broken the record of Sholay, to become the longest running film in 2007, has been playing continuously for 700 weeks at Mumbai's Maratha Mandir theatre, creating a record of its own.
— A still from DDLJ

Bebo's beauty secret
Less make-up and lots of water is Kareena's beauty secret
Bollywood actor Kareena Kapoor has revealed the secret behind her gorgeous skin - and it has nothing to do with regular trips to a beauty salon. The stunner revealed that water, less make up and genes were responsible for her charming skin.
Bonded with fame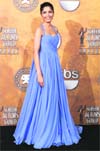 Slumdog Millionaire star Freida Pinto may become the new Bond girl in the next spy adventure. According to sources, the 24-year-old stunner was invited to a screen test for the 007 movie.The actor was first spotted by producers during the casting for Quantum of Solace. And following Danny Boyle's Slumdog's awards success she has become the hottest property in Hollywood. Freida could follow in the footsteps of Bond babes such as Plenty O'Toole in 1971 classic Diamonds Are Forever. "Freida came to the attention of the Bond team when they were casting Quantum of Solace. She was too young at the time to have a part as a love interest for a secret agent," a source said. "But she has blossomed into an incredibly stunning young woman and would look perfect on Daniel Craig's arm. "Danny Boyle is favourite to take the helm of the next movie, which would increase Freida's chances of a starring role," the source added. Meanwhile, director Woody Allen has signed her up for his new movie. — ANI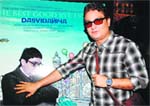 Straight from heart
Several top Bollywood stars along with famous actor Vinay Pathak attended the music release function of the film, Straight. Pathak, who plays the main protagonist, Pinu Patel who is confused about his sexual orientation in the film, told mediapersons on the sidelines of the function:
Vinay Pathak
Fling with fusion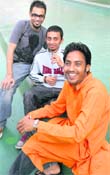 Zoravat's experiment with fusion is just a temporary affair. For this seventh- generation Wadali is a diehard Sufi singer at heart
Jigyasa Kapoor Chimra
Uncomplicated, with no strings attached, blessed with a honeycomb voice, Zoravat Wadali; grandson of Wadali brothers, is one of the few youngsters who are simple to the core. Dressed in a bright orange kurta, Zoravat was a little startled with all the media attention he got. "Are you also going to talk to me," says this 24-year-old. And we say, boy it's just the beginning.
Three is a company: Zoravat Wadali, Rohit and Sameer A few rare miniature paintings on Holi give an insight into how this Festival of Colours was celebrated in the 18th century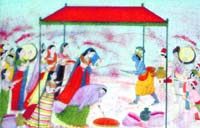 For once, let's imagine life without art. With no colours or shapes to educate us about our history, we would have flipped pages of epics to do the same. Agreed, they would have given us a fair idea but are mere words enough to make us visualise how certain festivals were celebrated centuries ago? And, can words give us the exact picture of how the traditions were followed then? This hollowness would have been so apparent as art serves umpteen purposes.
Bound to beats


Tabla wizard Yogesh Samsi may be a man of few words as he lets his musical instruments do most of the talking, but he's been instrumental in taking Punjab gharana's legacy far and wide. Son of noted vocalist Dinaker Kaikini and disciple of Ustad Alla Rakha Khan, he was described as the 'heir apparent" of Punjab's classical traditions by Durga Jasraj, daughter of Pandit Jasraj.
Yogesh Samsi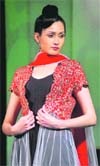 So much vanity!
Vanity Fair, a lifestyle exhibition with exhibits ranging from spring/ summer ensemble, Indo-western wear, saris, tunics, western wear, the latest in hand bags and shoes, precious and semi-precious jewellery, lifestyle accessories to artifacts to wrought-iron and wooden furniture, paintings, linen and home and garden accessories, will open on March 14 and conclude on March 15. This is what we called spring is in the air and Vanity Fair is a befitting way of welcoming it. — TNS
Bon Appetit
Berry extraordinerry


If you are fond of them, then go get them now, because one blink of the eye and they will be gone! Cape gooseberry makes a very brief appearance on our fruit scene lasting the lesser part of a month. Don't ask for it by this name though, for in India these tiny orange baubles are familiar by the name, 'Rasbhari', and rasbharees they certainly are, bursting with a somewhat sharp flavoured juice with a gritty contrast of little seeds.
Desert delicacies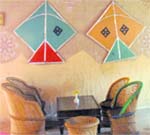 Taste authentic Rajasthani cuisine at Fort Ramgarh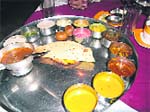 Be it ghee-soaked Dal baati churma, Paneer bhare papad, Kaer sangri or the honeycomb delicacy Malai ghewar; rich in flavour and chatpata in popular parlance, Rajasthani cuisine is one thing that you must try at least once. Well, it was on our visit to Rajasthan that we first savoured the desert flavours and then it was for an assignment that we got to know that Fort Ramgarh has a restaurant dedicated only to Rajasthani cuisine.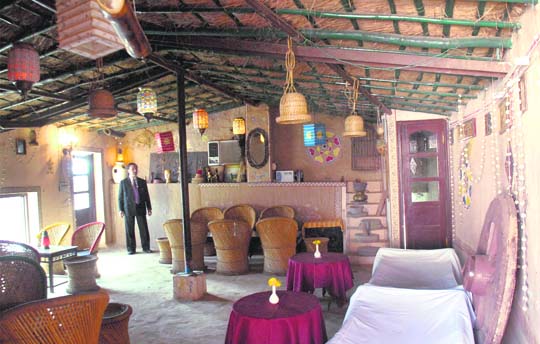 The interior of the restaurant spells rustic charm
For a taste so royal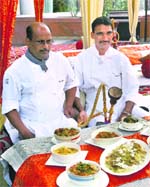 Hyderabadi food festival brings the nizami flavours to the city
Delicate in aroma, imperial in taste the Hyderabadi cuisine is known for its distinct flavour and fine cooking. And getting the essence of Nizami flavour to the city, Taj-17 begins its three- day Hyderabadi food festival. While here you can savour the world famous Hyderabadi biryani and Shekmbori kebab, concocting some gastronomic delights to whet your appetite Chef Sayed Iqbal and Lalit Parsad have come from Taj Krishna, Hyderabs
Chef Sayed Iqbal and Lalit Parsad present Hyderabadi fare
Secret in a teacup


A group of psychologists has confirmed what many people always believed: tea and coffee taste better out of your favourite mug. According to Sheffield University researchers, an individual's brain is wired to believe the daily routine of making a brew should be done in a certain way for maximum enjoyment.In the study, Dr Tom Stafford even compared making a cuppa to drug addiction."Drinking tea and coffee is very ritualistic. People become very addicted to the way they want their brew made," he was quoted."All drugs hack the brain's learning systems so we are taught to enjoy the hit if administered in a certain way. "Caffeine is very much a drug of reward and like any addict, people develop passions on how the drug is delivered. Where there is drug use then rituals develop," he added. —ANI


Talented twosome

Bollywood actor Preity Zinta with director Deepa Mehta at a press conference of
Videsh - Heaven on Earth in Mumbai. — PTI Photo

Against gravity

A boy tries out a few stunts on his bike at Parade Ground-17. Lifestyle photo:
S. Chandan