Mosaic of life in Mumbai
Nonika Singh

Window Seat: Rush-Hour Stories from the City
by Janhavi Acharekar.
HarperCollins.
Pages 244. Rs 250.
During a flight, we all clamour for a window seat to gain a better view. So, what does Janhavi Acharekar's Window Seat, a compilation of short stories, offer? Expectedly, it is a panoramic expanse, however, not a bird's-eye view of life—an impassioned perspective, but not one that lacks depth.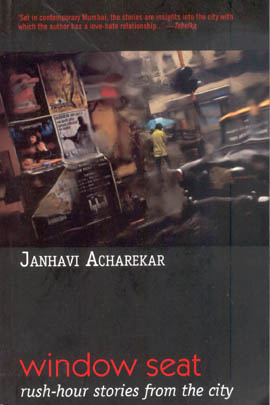 In a wide range of stories that are moving, introspective and engaging, Mumbai breezes through. In fact, she even divides the book into two parts titled Mumbai Montage and Mumbai Medley and in the process, creates a mosaic applicable to India. Sure, there are tales typical of Mumbai and Mumbaikars, set in its local trains and slums, pegged around bomb blasts and riots. But at the same time, Mumbai, which she calls a city of contradictions and assimilations, represents India. For which Indian metro wouldn't have its shocking accounts of incest, lesbianism and striptease parties.
Jahanvi jolts sensibilities, stirs senses, absorbs one's attention and provides a mini socio document of emerging India where Moksha in the story Moksha finds salvation in a live-in relationship, in living life at her own terms. Love, loss and love reclaimed are a recurring leitmotif in several stories. Human touch pulsates in many more like Home for Christmas. The ones that linger on are Sneha 25, The City as Cinderella.
Senha 25 is a riveting account of a virtual romance tampered with a hint of a real love story. And romance falls flat in the face of incest in yet another captivating story The City as Cinderella. China tugs at one's heart stings. Easily, one of the most moving tales, it recounts the travails of a woman with her unusual name derived from the word 'chai na' meaning unwanted, finding her own identity. The subtext—how girl children in India are rejected—is evident. Rather what she writes of this protagonist's books in her story "China's book had a right mix of exotic and pathos, contemporary and the classic, popular and the literary, fiction and reality" could well be appropriate for Janhavi's writing prowess.
Straddling with ease, the ground between fantasy and reality, her characters are flesh and blood, believable, even loveable. With all their human frailties intact, these are men and women one can easily relate to, empathise with. Then, there are simple metaphors of life, "the treadmill only reminds you of life in Mumbai, where you are running all the time but getting nowhere" and from another point of view, "life was one long party". While there are no direct value judgments, the irony, the hidden nuances, the subtexts be it in A Good Riot or Moonshine or Sold are not lost. In new India, new norms, new values are in place and Janhavi's perceptive eye misses none of it.
Actually, Janhavi, a freelancer, who has worked as a journalist, advertising copywriter, wine-seller, art researcher and a curator at literary festivals, brings varied experiences alive in vivid details. Expectedly, there is a take on the advertising world where hard sell could have a different meaning altogether. The art galaxy and its downside are encapsulated too.
By and large, it's the 'shining India', its dilemmas, insecurities, joys and sorrows that surface. However, there is the other side of reality too. Since in India, life between different economic classes is so inextricably woven, expectedly, Driving Mr Dasgupta is as much about the philandering ways of Mr Dasgupta as the driver who manages to blackmail his master. In a peep into the beauty world, in the section subtitled At the Salon, the middle class beauticians bare the not-so-pleasing facets of their large families' one-bedroom unromantic existence. Then, there is a Slumdog Millionaire clone too in The Storyteller. Only in this rags-to-riches story, one needn't suspend reality, for the meteoric rise of a slum dweller to an entrepreneur is credible. Though most stories are about modern India, in one Freedom at Midnight she interweaves past with present, harking back to times when India got its freedom at midnight.
The USP of Janhavi's book is that she is presenting a world you bump into everyday. Only, she allows you glimpses that probably remain hidden beneath the surface. Discovered and Sold reveal an account, which only an insider can have access to; however, the I is not immanent, only manifests by way of astute perceptions.
Easy to read, but not flippant, here is a wordsmith at work. Janhavi's idiom is not forced or artificial. A natural flow defines her writing narrative. The flavour is quintessentially Indian. Most certainly, her stories belong here to Mumbai, India. She possesses the knack of dramatising (sans melodrama) her flight of ideas, pausing at the right junctures and building from there on, structuring her tales with a deftness that appears effortless. Not all stories are, of course, great. However, on the whole, the book is worth reading, worth returning to as well. Many of her characters acquire a life on one's mindscape as flesh and blood beings. "Rush-hour stories from the city" but not to be dismissed in haste or clubbed as literature in a hurry.