A life in music
M. L. Dhawan on Gulzar, whose Oscar award-winning number from Slumdog Millionaire
has taken the world by storm
Little did Makhan Singh Kalra, father of Sampooran Singh, alias Gulzar, know when he once reprimanded Gulzar for writing poems that his son would one day do him and India proud by winning an Oscar. In no uncertain terms he had told him, "As a writer you will have to depend on your brothers". Today, instead of a degree in chartered accountancy, Gulzar has in his kitty an Oscar award, three National awards, best director award for Mausam, best screenplay writer award for Koshish for his contribution to Hindi cinema.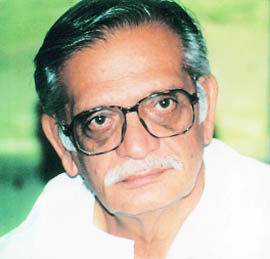 After migrating to Amritsar following the Partition, Sampooran Singh alias Gulzar came to Bombay and started working as a garage mechanic while pursing his interest in poetry. Soon Gulzar became a well-known figure in the film industry. During the making of Bandini, when there was a stand off between composer S.D. Burman and lyricist Shailendra, young Gulzar, who was then working as an assistant to Bimal Roy, penned his first film song "Mora gora ang laiy ley mohe shaam rang daiye dey/chhup jaoongi raat he mein mohe pee ka sang daiye dey."
With Khamoshi, Gulzar took as a lyricist. He revealed his true colours as a lyricist in the unusually worded song "Humne dekhi hai un aankhon ki mehakti khushboo/Haath sey chhoo ke ise rishtoon ka koi naam na do". The song marked the emergence of an abstract, surreal imagery that was to mark most of Gulzar's subsequent lyrics. A love song with the lover praising the eyes of his beloved had rarely sounded so evocative and resonant. The song clicked with the audience.
Gulzar, who began as an apprentice with Bimal Roy, joined Hrishikesh Mukherjee after his death. He wrote for Kabuliwala, Sannaata, Do Dooni Chaar Biwi Aur Makan etc. With Mere Apne (1971), he turned director. The film explored an old woman's (Meena Kumari) life, loneliness and death against the backdrop of gang wars among the unemployed youth. Gulzar's lyrics "Koi hota jisko apna hum apna keh lete yaaro" touched a chord with the audience. Gulzar's films are a study in human relationships. The success of his Mere Apne encouraged Gulzar to experiment with novel subjects. Next in the line came films like Koshish, Parichay, Achanak, Kinara. His protagonists are always decision makers — domestic or social, they took their initiative and bore the brunt. Along with stories, his lyrics contributed in no small measure to the impact of his films. In Aandhi, Gulzar wove a story of estrangement between a couple (Sanjeev Kumar and Suchitra Sen) against the backdrop of politics. Gulzar is at his sublime best in the song "Tere bina zindagi se shiqwa to nahin." The lyrics reflect the agony and regret of the choices made. Ironically though Aandhi showed Gulzar's non-judgemental stand of wife Aarti Devi (Suchitra Sen) leaving husband Sanjeev Kumar for a career, in real life when Gulzar's wife Raakhee, wished to make a comeback to films, their marriage disintegrated.
In Gharonda, Gulzar wrote breezy numbers "Do deewane shehar mein" and "Ek akela shehar mein raat aur dopahar mein" about the ruthlessness of Mumbai and its relentless pace. Mere Apne was set against the backdrop of student unrest caused due to the disillusionment of the youth with a political class. Maachis (1996) was an extension of Mere Apne. It encapsulates Gulzar's ire at the state of affairs that led to the spiralling of violence in Punjab. In "Chhod aaye hum woh galiyaan" one feels the pain on behalf of the young terrorist-in-making for the lost innocence of the world they have left behind. For all the waves "Chhaiyya chhaiyaa" (Dil Se) made despite Gulzar's ability to remain relevant and popular in the age of techno-music with something as trendy as "Kajra re kajra re" (Bunty Aur Babli), Gulzar laments that the films do not excite him any more. But still at a time when film lyrics and music have reached a point of no return, Gulzar retains his integrity as a lyricist and wrote the song of hope "Jai ho....Aaja aaja zinde aasmane ke taley" for Slumdog Millionaire winning Oscars for the original lyrics.