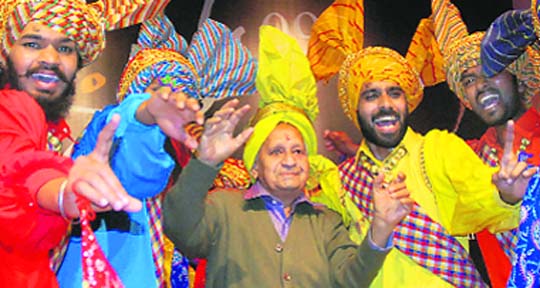 Nek Chand enjoys a dance with students of College of Art at Tagore Theatre in Chandigarh on Tuesday. Tribune photo: S Chandan
Land worth crores, but worthless without road
Chandigarh, March 24
For want of a road, the prime piece of land worth multi crores in Sector 19 has been lying abandoned.
ICSE Class X geography paper 'leaked'
Subject exam shifted to April 2
Chandigarh, March 24
The ICSE Class X geography paper scheduled for tomorrow has been postponed to April 2 following a "leak" in a Bangalore centre yesterday.
Teachers come to blows; one injured
Chandigarh, March 24
Tension prevailed in Government Middle School, Indira Colony, today with two teachers retorting to a fistfight allegedly to decide upon their rightful seats in staff room.
81 booths, 12 areas identified sensitive
Chandigarh, March 24


The Chandigarh police has identified about 81 booths and 12 areas as sensitive in various parts of the city for the forthcoming Lok Sabha elections. The police has sought eight companies of reserve force from the Central Government for election duty. Police sources say that emphasis would be put on all 18 slums in the city. Besides five villages in the city have also been termed sensitive as far as poll related violence is concerned.
Development real poll issue: Bansal
Chandigarh, March 24
Playing development card to the hilt, Congress candidate Pawan Kumar Bansal today claimed that anti-incumbency was not an issue in the May-13 elections to the Chandigarh parliamentary constituency.
Follow poll code, DC to parties
Chandigarh, March 24
The returning officer-cum-Deputy Commissioner today again reminded the political parties that sending bulk SMS shall be counted as election expenditure and slandering will tantamount to violation of the code of conduct.
BJP wanting in second-rung leadership
Chandigarh, March 24
While the BJP may boast of being a strong cadre-based party, personal ambitions of its senior leaders in the city seem to have acted as a major impediment for the party's growth at the grass roots and the cutting edge levels. And this could well prove to be its nemesis in the coming Lok Sabha polls.
Cong, BJP cross swords over rehab issue
Chandigarh, March 24
The war of words between the BJP and the Congress over rehabilitation of the Faidan villages intensified today with senior Congress leaders Rampal Sharma, Subhash Chawla, D.D. Jindal, Bhupender Badheri, Pardeep Chhabra and Pawan Sharma lashing out at the statement of BJP leaders, in which they alleged that Pawan Bansal has misled people of Faidan village.
Tenders for finishing items delayed
Chandigarh, March 24
The Chandigarh Housing Board today confirmed that the tender process for finishing items of 208 units of two-bedroom flats have been delayed because of legal implications.
270 examined at eye camp
Chandigarh, March 24
A free eye check up camp was organised by Mahajan Sabha at Mahajan Bhawan, Sector 37, here yesterday.
TIMER
Youth must come forward


I believe that we must vote. The anti-incumbency factor is certainly there and I feel there is a need to change now. The nation has suffered due to perilous issues like terrorism. The issues that concern the life of a common man have not been addressed in the past few years. The youth brigade also need to come forward and take the charge and should not have a laid back attitude.
Richa Gupta, MSc student
| | | |
| --- | --- | --- |
| | | |
Move to abolish BEd entrance test
VCs of three universities to meet soon
Chandigarh, March 24
Universities in Punjab are pondering over a proposal to abolish the entrance test for the admission in B.Ed colleges affiliated to the universities.
Need for more women in police: Dean
Chandigarh, March 24
A special lecture on professional training for police officers organised at MA police administration at Panjab University today. Prof D J Singh, Senior Deputy Director and Dean, Social Sciences, Maharaja Ranjit Singh Punjab Police Academy, Phillaur, delivered the lecture on this occasion.
Lecture on Hindi literature
Chandigarh, March 24
Panjab University, department of Hindi, organised a public lecture on "vichardhara aur sahitya" today.
Vibha tops informatics olympiad
Panchkula, March 24
Vibha Talwar, a student of Class VI of Manav Mangal School, has bagged the first position at International Informatics Olympiad 2008 organised by the Computer Literacy Foundation , New Delhi.
College lecturers seek new pay scales
Kalka, March 24
Great resentment prevails among college cadre lecturers regarding non-implementation of the Sixth Pay Commission to the university and college cadre lecturers in Haryana.
Students apprised of cultural heritage
Chandigarh, March 24
The British School (TBS) organised a cultural programme to apprise students of our rich cultural heritage and history.