Death by ragging
In the wake of the death of medical student Aman Kachroo due to ragging, Nonika Singh explores reasons behind the social problem, while V. Eshwar Anand advocates the need for a stringent Central law to check this practice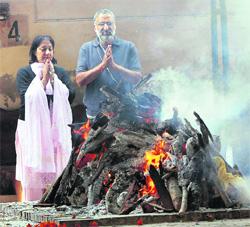 Parents of 19-year-old Aman Kachroo, who died after he was severely beaten up by his intoxicated seniors

A young boy is beaten to death. Another one is belted and slapped incessantly. A young girl is made to sit naked all day in a tub of freezing water. Many are stripped and forced to dance or walk barefoot for miles.
These are not jail inmates being tortured but young students who have entered educational institutions as freshers. The treatment being meted out to them is called ragging by society and 'some harmless fun' by their seniors.
What started as a harmless ritual has taken sadistic proportions, where fun is sought in utmost acts of depravity and abuse qualifies ragging.
Ragging, an innocuous mode of interaction between seniors and juniors, has acquired fatal ramifications today in the wake of medical student Aman Kachroo's death .
Though Aman, who was 'ragged to death" by his seniors, isn't the first victim of this menace. In 2005 Amit Sahay, an NIT student at Jalandhar, threw himself before a running train, holding his seniors responsible for his death in the suicide note. His desperate act had provoked Coalition to Uproot Ragging from Education (CURE) to mark October 11 as 'no ragging day' .
Amit's is not the only suicide attributed to ragging. Between 2001 and 2007, there were 31 more such cases.
Freshers weren't the only victims. In Andhra Pradesh, mother of a ragging victim, disturbed by the sexual abuse of her son, killed herself.
Ragging is not limited to beatings, as even rapes and sexual harassment have been committed under the guise of ragging. In Bilaspur engineering college, a girl was not only raped but her tormentors even made a CD of the act. Another girl student of nursing college of School of Medical Sciences, Kottayam, was gang-raped by her seniors in October 2005 on the pretext of ragging. Two of the accused were sentenced to 10 years' rigorous punishment, while six were acquitted by a special court recently.
In 2007, CURE analysed 64 ragging complaints and found that over 60 per cent of these were related to physical ragging, while 20 per cent were sexual in nature.
Dr Kushal Banerjee, founder of SAVE (Society Against Violence in Education), calls ragging an organised crime. A Bill, tabled in 2005 to prevent ragging, is yet to become a law. But it will need more than a law to change the mindset or deter those who indulge in ragging and care two hoots for the law. Even as a shocked nation was still coming to terms with Aman's death, there came the news of suicide bid by a girl from Andhra Pradesh, forced to dance naked by her seniors as well as another ragging incident in Himachal at Indira Gandhi Medical College, Shimla.
Because of India's failure recognise ragging as a social problem, both Central and state governments have failed to adopt harsh measures required to check ragging.
Dr Rajendar Kachroo, Aman's father, questions the authorities' indifference, "If there was a law to prevent ragging, why wasn't it put into action?"
But can law alone suffice? After all, nobody can police thousands of colleges and hundreds of universities, except the institutions themselves, admits Dr Kachroo.
A collective change in the societal mindset maybe the only answer, which has to begin with parental guidance. Institutions may now take an undertaking from parents that their children will not indulge in ragging.
Parmod Sharma, coordinator, Yuvsatta, calls this a step in the right direction but he claims, "Value education at the school-level is the only answer."
Though the Raghavan committee made a pertinent observation that it is more rampant in medical colleges, but argues Dr Banerjee, "Give any institution a hostel and ragging pervades it." Almost 63 per cent ragging incidents reportedly take place in hostels.
So what makes students indulge in inhuman acts in the name of ragging? Dr Monica Singh, a clinical psychologist, says, "So preoccupied are we with academic excellence that we have ignored the emotional quotient of our young generation."
Do the victims, too, have a social profile? The Raghvan committee found that most of them were either from the rural areas or socially backward communities. Even girl students were as much the perpetrators as victims. Dr Singh says that often the non-assertive introverts are at the receiving end, while Dr Banerjee deems, "The more one resists, the greater are the chances of ragging turning severe."
Students, who have been at the receiving end, feel the trick lies in lying low. Anyone who stands out by virtue of strength or weakness is a likely target.
Does ragging have a soft side? Tushar Sharma, a student of Symbiosis Law College, Pune, thinks so and says it is harmless fun.
But Mohit Garg of SAVE is aghast: "It is precisely this harmless song-and-dance image of ragging, fuelled by movies and media, that has allowed ragging to continue unchecked and made even parents of the victims treat it lightly."
Dr Kachroo agrees that he did not take his son seriously when Aman complained of ragging. Though he may never forgive himself for doing so, he is determined that others do not meet the same fate. He has started 'Aman movement' intended to instil zero tolerance against ragging. Mohit interjects: "But don't expect the victims to complain. That has and will always backfire. In South India two brothers, who had complained against ragging, were repeatedly failed by the institution."
Dr Banerjee confesses that he has to often face resistance from colleges and universities in Kolkata. Whenever he approaches them for conducting seminars on ragging, the standard refrain is, "Ragging does not happen in our institution."
Mohit suggests proactive measures like surprise checks, anti-ragging committees. Cutting off financial aid as the Supreme Court has ruled, too, he thinks is a perfect tool to make educational institutions, especially private ones, accountable. And above all he quips, "Right now, ragging sustains for it is considered hep. Let us make it unfashionable. Get celebrities to endorse anti-ragging campaigns and spread the word that raggers are sick minds."
Dr Singh suggests,"Equip children with coping skills. They must know their right to privacy and that no one has the right to infringe upon it." NCERT now plans to introduce human rights as a subject in schools.
Clearly, to counter the menace of ragging a multi-pronged approach is required and is easier said than done. SAVE's anti-ragging cell initiative so far has succeeded only in Jadhavpur University. But Dr Kachroo says that an overnight miracle is not possible because we are an amnesiac nation which forgets as easily as we are outraged. But for the sake of Aman and many like and before him let us hope that ragging becomes history. — NS
The horrific death of Aman Kachroo due to ragging by his seniors at Dr Rajendra Prasad Govt Medical College at Tanda in Kangra has shaken the nation's conscience. It has also brought to the fore the callousness and negligence of the authorities at various levels — the Centre, the state and the institution concerned — in checking the menace.
The fact that the college authorities had turned a deaf ear to Aman's complaints of torture and harassment typifies the total breakdown of the institutional machinery. Despite the Supreme Court's rulings and guidelines, there was a complete collapse of authority and responsibility in the command structure.
Barely a week after Aman's death, a girl student of the Bapatla Engineering College in Andhra Pradesh attempted suicide after she was forced to dance in the nude by her seniors. This shows that ragging is not confined to one state or region but is widespread in the country. The Supreme Court has rightly asked the authorities concerned in Himachal Pradesh and Andhra Pradesh to explain why contempt proceedings should not be initiated against them.
The sickening regularity with which this abominable and despicable practice continues shows the brazen infraction of the apex court's directions and poor enforcement of the law. Andhra Pradesh, Tamil Nadu, Kerala, Chhattisgarh, Maharashtra and West Bengal have enacted laws banning ragging. (Himachal Pradesh has now realised the need for an ordinance making ragging a non-bailable offence).
The Supreme Court had appointed an expert committee headed by former CBI Director R.K. Raghavan to examine the problem. Significantly, while comparing the existing legislation in the six states as mentioned, the committee found that except the one in Chhattisgarh, no other state law is intended to prevent ragging. Interestingly, it said though prohibition and prevention seem to serve the same intended purpose, it is important to understand the subtle difference between the two.
Prevention implies anticipating the problem of ragging, forestalling its occurrence and taking precautionary measures to make it difficult for ragging to take place. Consequently, the law, which is preventive in approach would necessarily create conditions that anticipate, forestall and check ragging, all of which help in the law becoming a facilitator in enforcing the prohibition of ragging.
However, while prevention must lead to prohibition, the reverse need not be true. According to the committee, prohibition is intended to restrain the act and check the menace. The subtle difference lies in the fact that while prohibition of ragging is a "top-down approach" where the law can be cryptic, any law on prevention must be more participative with a "bottom-up approach" laying down the detailed mechanism of preventive measures and instrumentalities.
After the committee submitted its voluminous report, the apex court asked regulatory bodies like the Medical Council of India, the Dental Council of India, the Bar Council of India, the All-India Council of Technical Education and the University Grants Commission to frame guidelines banning ragging in the institutions under their control. Predictably, the response has been lackadaisical. It is only now that we hear of some right noises like fund-cut from bodies like the UGC.
In its interim ruling on May 16, 2007, the apex court had ruled that for every incident of ragging where the victim or his/her parents are not satisfied with the educational institution's arrangements, a first information report (FIR) must be filed without exception by the institutional authorities with the local police. Any failure on the part of the institutional authority or negligence or deliberate delay in lodging the FIR shall be construed to be "an act of culpable negligence", it ruled.
In its final ruling on February 11, 2009, the apex court had asked the institutions to strictly enforce the ban on ragging. However, no state has implemented even the basic recommendations. If some institutions had tried to make a beginning, they have left the initiative midway.
The Raghavan Committee had directed every institution to set up anti-ragging committees and squads. The committees at the institutional level, headed by the institutional head, should consist of representatives from civil and police administration, local media, NGOs involved in youth activities, faculty members, parents, students from the freshers' category and seniors and non-teaching staff. However, most affiliated colleges have failed to do so. The squads were to conduct raids on hostels and other ragging hot spots. Barring a few initiatives, no major attempt has been made to form such committees.
Similarly, the recommendation for district–level committees headed by the Deputy Commissioner/ District Magistrate and the Superintendent of Police and mentoring cells in each college to oversee and involve senior students as mentors for the freshers have also not been implemented.
Though the judiciary can administer justice, the responsibility to implement the Supreme Court directives squarely rests with the state governments and the college authorities. Ragging should be made an explicit penal offence under the Indian Penal Code.
There is no need for the states to frame separate statutes. Let the Centre frame a tough law for tackling ragging in all states and Union Territories on priority. The offence of ragging should be made cognisable and non-bailable, with a sentence of at least 10 years of rigorous imprisonment. The punishment must be exemplary for the law to act as a deterrent.
Unfortunately, the Centre has done precious little to enact legislation on ragging. The UPA government did not demonstrate the political will needed to resolve the problem. On May 6, 2005, the Prevention of Ragging in Colleges and Institutions Bill was tabled in the Rajya Sabha. However, it is yet to see the light of the day. The new government that comes to power after the ensuing Lok Sabha elections should enact a law banning ragging.
The Raghavan Committee has its own limitations. Devoid of statutory status, it could only lay down broad guidelines, with the Supreme Court's mandate, and it is for the enforcement authorities at the state, district and institutional level to implement them.
There is also the need for expeditious trial of ragging cases by fast track courts. The usual delays of the criminal justice system should not be allowed to operate here. Speedy justice by fast track courts can infuse fear into malcontents in the campuses who have no fear of the law at present. — VEA