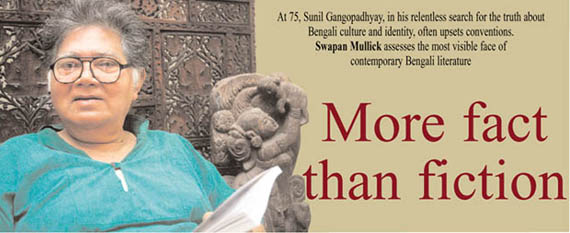 Literary legends in Bengal have generally come in threes. In the 19th century, the names that burst upon the scene were Bankim Chandra Chatterjee, Rabindranath Tagore and Sarat Chandra Chatterjee. However, Bankim arrived slightly earlier than the other two who were contemporaries and had a great regard for each other although their literary styles and social objectives were wholly different.
Bengalis prefer girls
While female foeticide is rampant in parts of the North, childless couples of West Bengal prefer to adopt girls. The kind of attachment that Bengalis have for girl children is seldom seen elsewhere. Many couples who already have daughters are also keen to adopt girls, says Soma Mitra
IT had been a long and stressful journey for Saikat and Julie. They had exhausted their savings on fertility treatments only to arrive at the conclusion that they could never have children of their own. The one-line medical certificate had ruined their dreams. That was some years ago.
The pull of Pisa
Pisa in Italy may be famous for its leaning tower but the town has many more beautiful monuments, discovers J. L. Gupta
Italy is not merely a country of mountains and highlands. Or known just for its Fiat and Ferrari or pizzas. It is a treasure trove where every stone has a story to tell and its each city offers a slice of history. And it does not take long to discover it.
Braveheart Porus
Jagjit Puri puts together various accounts by Greek and Indian historians in an effort to answer who emerged victorious in the battle between Alexander and Porus
Punjab has a distinctive culture that distinguishes it from the living patterns of other places. Its indigenous traits gradually mixed with those brought by invaders and resulted in a vibrant language, lifestyle and civic society that make the region unique.
Tribal jewellery for funky look
Banalata Bipani
WITH the price of gold rocketing to Rs 1,600 a gram, the modern miss has to look towards other sources for her jewellery, and in the hundreds of types of tribal jewellery all over India, we have a veritable treasure chest of patterns, mostly in silver and other affordable materials.
Special delivery
Irrespective of the length of the role, many an artiste has eclipsed the
entire film with a brief role, writes Surendra Miglani
LENGHT does matter. Or so believe the actors of the Hindi film industry. So we often hear about heroes and heroines trying to hog maximum footage in case they are able to dictate terms to filmmakers.
Neetu is back
The actor tells Joginder Tuteja that she was nervous facing the camera after 25 years
HER vivaciousness was her trademark in the many films she acted in, but Neetu Singh admits she was nervous while facing the camera after more than 25 years for comeback film Do Dooni Chaar, in which she stars opposite husband Rishi Kapoor.