BJP targets Swiss bank accounts
Chandigarh, March 29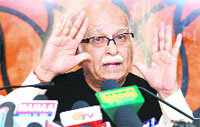 Switzerland is known as much for its chocolate and cheese as its secret bank accounts. And the BJP president Lal Krishna Advani today set the cat among the pigeons by demanding that Prime Minister Manmohan Singh raise the issue forcefully at the G-20 summit in London.
NDA will bring back illegal money stashed abroad, says Advani
New Delhi, March 29
Quick to borrow the issue of secret bank accounts abroad from the Left and JD-U who raised it first, BJPís prime ministerial candidate LK Advani said the NDA, if voted, would take all legal and executive measures to get the illegal money back to India for investment.
BrahMos Block II version test-fired
New Delhi, March 29
For the second time in a month, the Block II version of the supersonic BrahMos cruise missile with a striking range of 290 km, successfully hit its target during a test at the Pokhran firing range today, DRDO officials said.