M A I N N E W S
BrahMos Block II version test-fired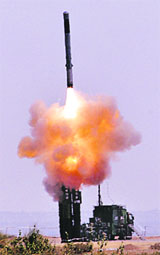 In this handout photograph from BrahMos aerospace, the Army successfully tests a surface-to-surface version of the BrahMos cruise missile it has developed jointly with Russia, at the Pokhran range in Rajasthan on Sunday. The BrahMos has a range of 290 km and can carry a 300-kg conventional warhead. — AFP

New Delhi, March 29
For the second time in a month, the Block II version of the supersonic BrahMos cruise missile with a striking range of 290 km, successfully hit its target during a test at the Pokhran firing range today, DRDO officials said.
"The missile was successfully launched at 11.15 am in the morning and in the next two-and-a-half minutes, it hit the bull's eye in the Pokhran firing range in Rajasthan," an official told.
This was the third test-firing of the latest Block II version of the missile.
During the test, Army's Director General of Military Operations Lieutenant General AS Sekhon, Artillery School Commandant Lt Gen Rao and Additional Director General (Artillery) Major General VK Tiwari were present.
The launch of the latest land attack version of the missile being developed for the Army was also witnessed by DRDO's Chief Controller and BrahMos Aerospace Chairman A Sivathanu Pillai and DRDL Director P Venugopalan.
After today's test, officials said the development phase of the Block II version of the missile was over and it was ready for induction in the Army. They said the mission objectives of the test were completely fulfilled.
The third trial of the missile has come at a time when the Army has not yet come out with its findings about the analysis of the flight and the mission of the March 4 test, when the missile hit its target from a distance of around 90 kms at the Pokharan test-firing range.
In the first test on January 20, the missile failed to hit its target due to glitches in the homing device of the missile. The missile had taken off successfully but deviated from its path in mid-course and landed far away from its target. Sources said the defects were rectified at the time of the last test when it went on to hit the target.
They said the "unique" technology in the Block II missiles made them "unparallelled" and would help the armed forces hit even "insignificant targets" hidden in cluster of buildings.
"The new seeker is unique and would help us to hit our targets, which are insignificant in terms of size, in a cluster of large buildings. India is now the only nation in the world with this advanced technology," an official claimed.
DRDO officials claimed that BrahMos would be able to start deliveries of the 240 missiles ordered by the Army in two years from now as per the original schedule. The Army has already inducted one regiment of the Block I version of the missile. — PTI