CLOCKWISE:
1. Punjab Chief Minister Parkash Singh Badal pays floral tributes to the late Akali leader 2. MP Preneet Kaur visits the family of Capt Kanwaljit Singh 3. People converge at the Sector-25 cremation ground to pay last tributes 4. Jawans of Punjab Armed Police fire a volley of gunshots as a mark of respect 5. Jasjit Singh Bunny lights the pyre of his father. Tribune photos: Manoj Mahajan and Vinay Malik
Poll Freebie?
Cops go soft on traffic violators
Fatehgarh Sahib, March 30
The number of erring drivers being challaned has registered a sharp reduction. The number of challans has come down from 40 per day to less than five.
Bansal too on IT bandwagon
Chandigarh, March 30
Congress candidate Pawan Bansal has finally woken up to the need of harnessing information technology for his election campaign. In a bid to connect better with voters, specially the generation next, Bansal today launched his website, www.pawanbansalforchd.com --- an effort viewed as a last-ditch effort to blunt the hi-tech campaign of his rival BJP candidate Satya Pal Jain who already has a website and a blog.
... And liquor flows out of UT
Rajpura, March 30
With the election scene hotting up, smuggling of liquor from Chandigarh to various states has gone up. Boozers are having a field day as political parties are leaving no stone unturned to woo voters.
Accused in assault case untraceable
Panchkula, March 30
While the police continues to dilly-dally with investigation into the alleged confinement and thrashing of businessman Bhupinder at a house in Sector 21 here on Tuesday last on the pretext that the house number provided by the victim was incorrect, The Tribune team has managed to locate the house.
Xenon lights have Admn dazed
Chandigarh, March 30
The traffic police has urged the Union Ministry of Surface Transport and Highways to make amendments to the Motor Vehicles Act to ban xenon lights in vehicles.
City Scope Letters
Encroachments go unchecked
This is with reference to the article "This endless land-grabbing mania" published in Chandigarh Tribune dated March 23 written by Raveen Thukral. It is surprising that Chandigarh administration is not able to handle the encroachment when there is no political hindrance, as compared to states. Religious place too don't need any leniency on encroachments and must be handled like others. Chandigarh is known for beautiful planned city in India as well as abroad and its eccentricity must be maintained at all cost.
Sons e-campaign for fathers
Chandigarh, March 30


While three candidates for the only Lok Sabha seat here may not be facing each other for the first time, yet this election can boast of various firsts, like the young sons of three fathers. Manish, son of Pawan Kumar Bansal, Dheeraj Jain, son of Satya Pal Jain, and Bikram, son of Harmohan Dhawan, are nowadays busy wooing voters through the internet and are leading their fathers' e-campaigns.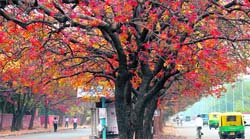 SCARLET HUES: With mercury soaring, leaves change colours and spread their own warmth in Sector 11, Chandigarh on Monday. Tribune photo: Vinay Malik
Round-up
Jain offers ownership rights to GPA holders
Chandigarh, March 30
Close on the heels of promise of extra floors on residential and commercial buildings, BJP candidate Satya Pal Jain today promised that if voted to power at the Centre, the NDA government would ensure ownership rights to those who have purchased property on general power of attorney (GPA).
DBA Polls
2 contenders make way for Mittal
Chandigarh, March 30
After last year's high-voltage drama during elections to the District Bar Association (DBA) at the district courts, the elections this year seem to be more subdued. Perhaps for the first time in the history DBA elections, two contenders for the post of president have withdrawn their candidature with an intention to let their third opponent win unanimously.
Monitoring panel set up
Chandigarh, March 30 The Chandigarh administration has constituted a monitoring committee for coordination with the Election Commission of India, the UT chief electoral officer and the Cabinet Secretariat, an official spokesperson of the administration said. The committee would also sort out outstanding issues and expedite clearances for various schemes.
TIMER
Vote for change


The main target of any party or candidate should be issues concerning the common man. Their problems should be solved with a positive outlook and discrimination on the basis of caste, religion and creed should be done away with. No one bothers to look at the basic amenities being provided to people living in slums. Politicians don't take the initiative to bring forth issue of national integration. We should vote for change now. Development works should be on top priority.
— Dinesh Chauhan
Irregularities in Pancham Society
Deputy registrar accused of delaying probe
Mohali, March 30
The deputy registrar, Ropar, and assistant registrar, Mohali, have been accused of dilly-dallying the inquiry into the serious wrongdoings by the managing committee of the Puncham Cooperative House Building Society, Sector 68 here.
Kandahar hijacking convict claims implication
Chandigarh, March 30
The CBI wants death sentence for Abdul Latif, but the convict in the Kandahar hijacking case says he has been implicated because he is a "religious person"
Scribes must have positive outlook: Sobti
Chandigarh, March 30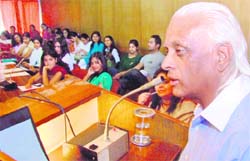 Panjab University Vice-Chancellor Prof RC Sobti today accused the media of indulging in too much of "negativism" and urged journalists to have a positive outlook.


Prof BK Kuthiala, director, Institute of Mass Communication and Media Technology, Kurukshetra University, delivers the keynote address at a seminar on issues of media at Panjab University, Chandigarh, on Monday. Tribune photo: Pradeep Tewari
Lt-Cols' pay hike stuck with finance ministry
Chandigarh, March 30
Even though political activity has largely relegated issues related to the armed forces personnel on the backburner, some matters pertaining to anomalies in the Sixth Pay Commission recommendations continue to be on the government's agenda.
Pollution Act being defied: Seechewal
Chandigarh, March 30
To create awareness among masses about natural water resources getting polluted by dirty influx of towns, villages and factory wastes, renowned environmentalist Sant Balbir Singh Seechewal today held a brief at Rajasthan Bhavan, Sector 33, here.
Kanwaljit's driver still critical
Chandigarh, March 30
The driver of the car in which Capt Kanwaljit Singh met with fatal accident is still struggling for life at the PGI. Doctors attending on him said the condition of 21-year-old Parminder Singh was still critical.
Shopkeepers condole Captain's death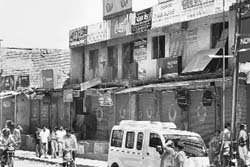 ohali/Zirakpur, March 30
From observing a two-minute silence to closing the business establishments, residents of Mohali, Zirakpur, Dera Bassi and Lalru expressed their solidarity with the family of Punjab Cooperation Minister Capt Kanwaljit Singh who was killed in a road accident at Kharar yesterday.

Shops close their shops as a mark of respect to Captain Kanwaljit Singh at Zirakpur on Monday. A Tribune photograph
Bank Heist
Police yet to recover booty
Panchkula, March 30
The two accused of PC Jeweller heist Pawan Saini and Amit Yadav were handed over to the Rohtak police on production warrant after their police remand ended here today. However, after the interrogation of the accused the police could not recover the jewellery looted from the shop on January 27 by the robbers.


PEC in soup again
Accounts not audited for three years
Chandigarh, March 30
Punjab Engineering College (PEC) has run into troubled waters once again for allegedly not getting its accounts audited for past three years.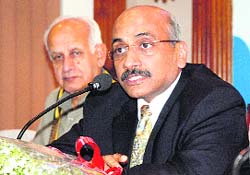 Panel discusses ragging woes
Chandigarh, March 30
The Rotary Club, Sector 18, organised a panel discussion on the problem of ragging in educational institutions. Justice Hemant Gupta who was the chief speaker opined ragging to be a social problem rather than legal.



Justice Hemant Gupta discusses laws pertaining to ragging at the Rotary Club in Chandigarh on Monday. A Tribune photograph
PG course in healthcare mgmt announced
Chandigarh, March 30
Chitkara University announced a tie-up with Fortis Healthcare for medical education at a press conference here today. The two have joined hands to commence a postgraduate management degree programme in the healthcare management.
From Schools & Colleges
Capt's death irreparable loss to Punjab: VC
Chandigarh, March 30
The Vice-Chancellor, Panjab University, RC Sobti, condoled the death of state's cooperation minister Kanwaljit Singh, who died in an accident near Kharar yesterday.