Mock tales
On All Fool's Day, the funny men of the industry share moments when the joke was on them
The way the 'fools' were indispensable to Shakespearean dramas, these comedians are integral to small-screen and the big-screen scripts nowadays. They have even given birth to a special award category, award ceremony and comedy shows on the small screen. And no stage show is complete without their performance.
Keep safe distance
For the young brigade, voting is a choice between the bad, the worse and the worst
Elections this year are not the usual affair. The basics have been twisted, innovations included and politics is turning techno. Issues may remain the same, but the power has been shifted. And guess who's calling the shots? Over one million first-time voters who are set to cast their votes and political parties trying every trick in their hat to woe the young India.
Men's day out

Actor Akshay Kumar walks the ramp wearing Tarun Tahiliani for Levi's denim for LFW Photo: Reuters

Bollywood actor Arbaaz Khan walks the ramp on Day 4 of LFW. Photo: PTI


Bollywood actor Shah Rukh Khan presents a creation by designer Manish Malhotra during Day 4 of Lakme Fashion Week in Mumbai. Photo: Reuters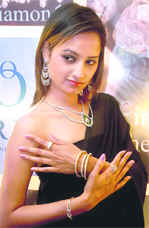 Photo: Parvesh Chauhan

Diamond desire
From the time period unaccounted, the friendship bond between women and diamonds hasn't gone weak even by an iota. It's still the same, intact and strong. And diamonds are definitely a woman's best friends. So, on Tuesday, when we were all agog to celebrate this relationship once again at Orra, a Diamond boutique in sector 17, S. Raja, Regional Sales Manager, ORRA questioned the authenticity of the claim, "Women in India still prefer to buy gold for various reasons. It is a general perception here that only elite can afford diamonds." He next states some vital facts, "Diamonds are now coming in very affordable range. Anyone who can spare money for gold can do it for diamonds as well."

Campbell and a cause
Indian designers have much influence in West: Campbell
British supermodel Naomi Campbell, who is quite fascinated with the sari which she wore for the first time at Lakme India Fashion Week 2009, feels Indian designers have much influence in the West. "There are so many (favourite Indian designers). There's so much influence on the Western world of your Indian designs," Campbell, draped in the six-yard-long apparel designed by Sabyasachi Mukherjee, said. "I just love the Sari. I think it's elegant.

Bollywood beckons
Naomi Campbell planning to return to India for Hindi movies
International supermodel Naomi Campbell might be looking at a career in Bollywood after she floored film executives at the Lakme Fashion Week relief fund raiser in Mumbai recently. Campbell was in Mumbai on March 27-31 to walk the ramp in aid of victims of the 26/11 Mumbai terrorist strikes.

Fashion funding
eBay auctions designer wear to raise funds for 26/11 victims
Designer outfits including gowns and saris, showcased at the Lakme Fashion Week, are available on online marketplace eBay India as part of charity auction to raise funds for the victims of Mumbai terror attacks. The outfits, designer gowns, saris and tee shirts among others, are from the 'Mai Mumbai' show held at the ongoing LFW in Mumbai. eBay India in a statement said bids for the outfits starts at Rs 1.

Foolproof
The pranks played on All Fools' Day become memories for a lifetime. And, the campus is sure packed with such memorable moments
Rub your palms, raise your brow and smirk! Feel free to call a fool a fool and the unsuspecting poor thing might probably smile! Viola! It's April Fool's Day. Settle your scores, even out grudges or just indulge in sheer harmless fun. Didn't they say, 'On Fool's Day we celebrate what we are on other 364 days'? Paying tribute befitting the day, we ask some famous and some 'somehow famous' on the campus, their experiences, experiments, exploits…

i Tone
Fooling around
Today's the notorious April Fool's Day…While playing a prank on friends is round-the- year-affair, we ask students if given a choice, which celebrity would they chose to play a prank on and how?

Old is bold
Some age-old tricks never go out of fashion. Try your hand at these…


Milk of unkindness: If your milk comes in a cardboard container, add a few drops of food coloring. It's harmless April Fool's joke but the results are pretty colourful.