Rajdoots in the sky!
New VVIP jets to ferry PM, President inducted
Tribune News Service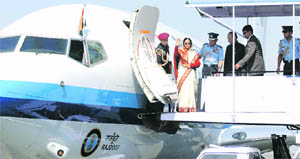 President Pratibha Patil at the inaugural ceremony of the first VVIP Business Boeing Jet at Air Force station in Palam, New Delhi, on Wednesday. A Tribune photograph
New Delhi, April 1
The President and the Prime Minister of the country will now fly around in style on their official visits. New aircrafts with the latest communication aids and a security protection suite on board, among other paraphernalia, were formally inducted here this morning.
The state-of-the-art VVIP Boeing business jets, that will henceforth carry the dignitaries, special guests and senior ministers, were inducted into the Indian Air Force by the President Pratibha Patil, who embarked on a flight to Assam and Arunachal Pradesh on board one of the jets.
Explaining the functioning of the new 747/700 Boeing jets officials said these have been designed to work as an "office-in-the sky" and also serve as a command centre in event of an emergency, like a nuclear attack. Since these aircraft can fly upto 11,000 kms with refueling, most of the VVIP journeys will be on board these aircraft.
A total of three such jets have been purchased and specially re-furbished for the modern needs of communication and security. A sum of Rs 734 crore has been spent on the same. These can fly upto a height of 41,000 feet and can fly at a speed of 750 km per hour.
The self protection suites (SPS) for electronic warfare integrated into the aircraft to provide greater security from enemy missiles cost Rs 33 crore. This includes radar warning receivers, missile-approach warning systems and counter-measure systems. The aircraft would have the capability to shoot metal chaff and flares to deviate radar-guided missiles and heat-seeking missiles off the track.
It has a secure satellite-based communication system in addition to a VHF communication system, which helps the travelling dignitary to be in touch with base. The sparkling white coloured jets have been patterned on the US President's famous Air Force One aircraft. "The aircraft has some of the finest high technology systems and is equipped with excellent communication systems," said Air Chief Marshal Fali H Major.
The aircraft, which can seat upto 60 passengers, has four sections with the first one being that of VVIP, which is decorated with light and dark wooden panels with six leather seats. The section also has a bedroom along with all the major entertainment and communication facilities. The Boeings have been christened as 'Rajdoot'.
For procuring these jets India had to sign a specific end-user monitoring agreement (euma) with the US, required under American laws. This is ensure that India uses it for the purpose it was bought during the entire service span of the aircraft.