M A I N N E W S
Anjali defies Sena
Agrees to defend Kasab
Tribune News Service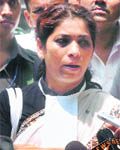 Mumbai, April 1
One day after activists of the Shiv Sena threatened her at her residence, Anjali Waghmare, the lawyer appointed by the Maharashtra government, agreed to defend Mohammad Ajmal Amir, alias Kasab, the lone terrorist involved in the November 26 Mumbai attacks to be taken alive.
Waghmare who asked for a day's time from the special court set up to try Kasab said she was heeding her conscience while taking up the case. "By bringing Kasab to trial I am doing my bit for the people of Mumbai," Waghmare told reporters outside the court.
The Maharashtra government has provided Waghmare with Z category security at her workplace as well as her residence, Home Minister Jayant Patil said.
The government also appointed a second lawyer, KP Pawar to assist Waghmare. A junior lawyer too would be inducted in the legal team, officials said.
Among those who attacked Waghmare's residence included relatives of police constable Tukaram Omble who jumped on Kasab and held on to him despite taking five bullets from the terrorist. Omble died on the spot, but allowed other policemen to catch Kasab alive.