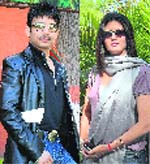 Tinsel take on terror
Desh Drohi might have bombed at the BO, but the never-say-die director Kamaal Khan is ready with its sequel
Born in Saharanpur, studied in Roorkee and settled in Delhi, Kamaal Rashid Khan believes in fulfilling one's desires before life is over. And he is all set to fulfill his dreams by coming out with his second movie (Desh Drohi, being the first one) Desh Drohi 2.
Photo by S. Chandan Kamaal Rashid Khan/Fiza
Lawful pursuit


From real courtroom to a reel one, Fiza is now game for another legal battle
Fiery Fiza is not bogged down by the circumstances surrounding her. She stirred the Press meet with her strong comments in reaction to some questions. "Whatever is happening in my life, we all know about it. I am waiting for Chand Mohammad to face me and I will give him a befitting reply," she says. Though she ' feels betrayed', Fiza is still going strong: "I have embraced Islam and I will be Fiza till the end of my life. I will make the most of whatever life offers me."
Photo by S. Chandan
Think and choose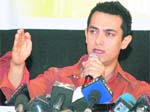 Aamir launches awareness campaign for voters
Bollywood actor Aamir Khan has launched a nationwide campaign to increase awareness among people about their candidates contesting Lok Sabha polls, urging them to make an informed choice. The campaign "Sacche ko chune, Acche ko chune" (vote for integrity, vote for good people) by Association for Democratic Reforms (ADR) and National Election Watch (NEW) was launched by Khan in Mumbai on Tuesday.
Bips tops the list
Bipasha Basu Bollywood's most experimental dresser


He has dressed Bollywood divas like Priyanka Chopra, Kareena Kapoor and Katrina Kaif, but designer Gavin Miguel says Bipasha Basu outshines them all when it comes to experimental dressing. She will surprise everyone with her new look in forthcoming film Pankh, he predicts. "She gives me complete freedom when it comes to dressing her up. She is very experimental and tries to change her look in every movie. The best part is that she carries herself so well that everything looks good on her," Miguel said.
Marathon man
Irrfan sports a new passion for his latest film


He is one of the most versatile actors in Bollywood, but for now Irrfan Khan has stopped signing on new assignments because he wants to focus on the role of a steeplechase runner in Tigmanshu Dhulia's Paan Singh Tomar. "This is the most physically and mentally demanding film of my career. If I give attention to anything else, I won't be able to do justice to this role," Irrfan said.

Raj Kapoor's films to be main attraction at the cultural festival in Russia
The films of showman Raj Kapoor will be the main attraction at a year-long cultural extravaganza to mark the 'Year of India' to be held in Russia, where the late actor enjoys a huge popularity.

Structuring Sindbad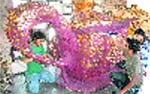 CITCO's three-day Arabian food fest promises to dish out works from the tricity's art fraternity too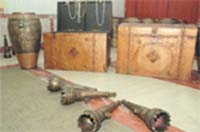 There are fests for entertainment and then there are food fests for flavour. Drawing a sea of gourmets, we all know food festivals are more about fare than about ambience. But adding a subtle twist to their three-day Arabian Food festival at Hotel Mountview-10 would be a luxurious ambience. Under the able guidance of Prof D.S Kapoor of Government College of Art-10, students are creating an Arabian ambience of 'Ali Baba, Chalis Chor' with 40 caskets and a cave type of entrance to the Arabian theme village.
If you have the attitude, a mission and an open mind, then the Morpheus partners have a business venture for you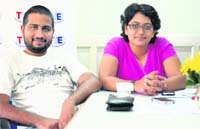 I wish I had my own company, I wish I could start my own venture, I wish I could'…who hasn't at one point of time reflected on similar lines? Do success stories of McDonald's, Google, Microsoft not inspire but possess you? And did you just get laid off too? Perfect! Sameer Guglani and Nandini Hirianniah, founders, Morpheus Venture Partners (MVP), are set to lead an entrepreneurial revolution. The details…

Sameer Guglani and Nandini Hirianniah

Pet THEORY
Top ten


It has been said that a well-trained dog is a happy dog. Dogs need the security that a consistent set of boundaries brings to their lives, and dog training is the way to instill those boundaries. Here are the 10 essential dog training principles you should follow to provide your Hugo with the structure and boundaries that both you and it require for a happy relationship.
Pet pick
For your kitty
People for Animals, Chandigarh has the perfect companion for anyone who is ready to be loved unconditionally and just forever and ever:

A new mathematical model can predict failure or success of love
Couples wondering if true love will last need not visit astrologers, for a mathematical model by a top Oxford don may provide the answer.
Poles apart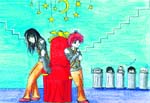 Opposites don't really attract, says a study
They say people with opposite traits make for loving couples, but a new study is not obliging with the belief. The research, published in the journal Evolutionary Psychology, says when it comes to personality, people seek partners with their same qualities - but say they want someone who is different.
Renee writes
No woman, no life


I am 21 and have serious problems on confidence level. I feel I lack self-esteem and although I have everything a college going young man could ask for, except a girlfriend. The only time I approached a girl and asked her to be friends with me, she rejected me. Ever since I have had problems with talking to girls. I feel I will make a fool of myself again. My confidence is shaken. Each time I gather the confidence to talk to a girl, I shy away. My studies are being affected. Please help.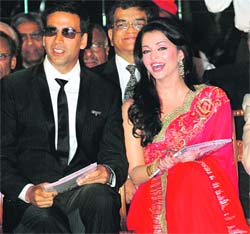 Actor, Akshay Kumar and Aishwarya Rai Bachhan sharing the lighter moments during Padmashri awards ceremony at Rashtrapati Bhawan in New Delhi on Tuesday.
Photo: Mukesh Aggarwal
All phool's day

Some phool's paradise, this. This bounty of blooms is a sight from the tricity's own floral fiesta, the Bougainvillea Garden Lifestyle photo: S. Chandan

BIRD WATCHING

This bird Roc is part of the Sindbad-The Sailor fable that's being recreated by tricity artists Lifestyle photo: Parvesh Chauhan