Architect-author Vikramaditya Prakash is carrying forward the legacy his father Aditya Prakash had created
To most of our readers, the news that Vikramaditya Prakash, son of Aditya Prakash, was here for 10 weeks, will practically mean nothing. It was 'the event' in the architect's world and 'significant development' tangentially concerning the city's history. Just before leaving for the US, the professor from the University of Washington, shares with Lifestyle, the projects he took up during this period.


Photos: Parvesh Chauhan
Pride, no prejudice
Lushin Dubey teaches us how to be proud Indians
Myriad traits and roads of influence meet in the persona of acclaimed actor, director Lushin Dubey, who along with her illustrious sisters Lillete Dubey and Bubble Sabharwal, has taken the contemporary modern Indian theatre to a spectacular level. This time Lushin brings her prestigious panorama Salaam India under the aegis of the Durga Das Foundation at Tagore Theatre.
Objet D' ART
For Christ's sake
From Michelangelo, the great Renaissance man, to Michenangelo Francis, the homegrown artist of this century, Christ still makes for a great artistic muse

Had Pope Julius II not commissioned Michelangelo to paint the ceiling of the Sistine Chapel in 1508, we wouldn't have been able to write this story. Agreed, the popular belief is that it was his contemporary Raphael and Bramante who convinced the Pope to commission Michelangelo this huge responsibility in a medium which was not familiar to the artist out of sheer jealousy, but it still makes a great reading.
COUPLE OF ART: Michelangelo Francis with wife Kelly

Record fame
The Limca Book Of Records celebrates its 20 glorious years by felicitating 20 extraordinary Indian luminaries who have made India proud. The icons are — Amitabh Bachchan and Naseeruddin Shah and Mohanlal, renowned space scientist and chairman, ISRO, Dr G. Madhavan Nair, distinguished sports personalities – Sachin Tendulkar, Abhinav Bindra, Saina Nehwal and Baichung Bhutia, leading media personality Rajdeep Sardesai, legendary singer Lata Mangeshkar, renowned heart specialist Dr P. Venugopal and other eminent dignitaries.
Side Lanes


An Indian abroad
Travelling abroad, most of us stick out like sore thumbs. It's not that we are a race apart, uncouth or untidy, as is the general impression. All that is true but our most endearing habits are not understood by the rest of the world. Yes! That's what we are-the brownies who have the most beautifully defining features with khol-rimmed dark eyes, full pouty lips and glistening black hair. We travel in herds and share all that we have with the gushti.
Fast feast
On the auspicious festival of Navratra, Nirula's will be offering a Saatvik thali till April 4. These thalis will be available both at restaurants as well as through delivery, affordably priced at Rs 130 plus taxes.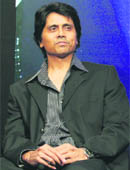 Koffee break
Bollywood calling
Multifaceted actor and director Nagesh Kukunoor talks about his latest— 8x10 Tasveer
A surprise is what Hyderabadi boy Nagesh Kukunoor (who started as a chemical engineer in the US and then debuted with Hyderabad Blues in 1988) wants to spring on his audience every time he directs a new film. One of the new breed of directors, who has given meaningful cinema to Bollywood he is now ready with his supernatural thriller 8x10 Tasveer, which stars Akshay Kumar and Ayesha Takia. The filmmaker talks 8x10... and more….


Park-ing blues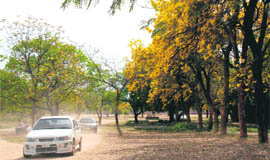 Speedsters don't think twice before zipping through Leisure Valley-10, not meant for vehicular traffic. Lifestyle photo:
Pradeep Tewari
Say Cheers
After hockey and cricket, Shah Rukh promotes cheerleading
After promoting hockey through his hit film Chak De! India and joining the Indian Premier League (IPL) to encourage cricket in India, Bollywood superstar Shah Rukh Khan is now popularising cheerleading as a sport.
Inspiring Aamir, admiring SRK
Imran Khan says uncle Aamir is his motivation, but he is a big SRK fan
He finds inspiration in his uncle Aamir Khan, but Imran Khan says he is a big Shah Rukh Khan fan.
No big deal!
While the rest of the film industry is buzzing about the famous hand pump wielding scene from Gadar recreated by Hollywood legend Sylvester Stallone in Kambakkht Ishq, Bollywood's original action hero Sunny Deol just wonders what the hype is about.
Hello TUNEZ
Penning melody
Sikandar (Big Music): I have always been of the firm belief that a good story line is an absolute must for a great film and good lyrics are equally important for a song. How good lyrics can elevate a track is more than visible in the haunting nazm, gulon mein rang bhare from this film which has been borrowed from Faiz Ahmed Faiz while the rest of the song has been penned by Neelesh Mishra.